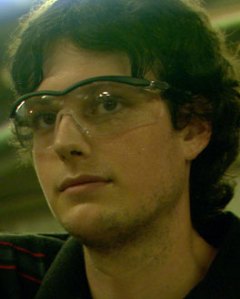 Steven Soderbergh's Bubble, from a screenplay by Coleman Hough, extends Mr. Soderbergh's convulsively experimental career that took off with his first film, Sex, Lies and Videotape (1989), a sensational hit here and abroad. He bombed with his second, Kafka (1991); rebounded with his third, King of the Hill (1993); bombed again with the failed film noir Underneath (1995), a strained remake of Robert Siodmak's Criss Cross (1949); marked time with two low-budget avant-garde enterprises, Gray's Anatomy (with the late monologist Spalding Gray) and Schizopolis (both 1996); then broke out into Oscar territory in 2000 with Erin Brockovich, which won an Oscar for Julia Roberts, and Traffic, which won one for Mr. Soderbergh's direction.
Since then, he has had one out-and-out flop with Full Frontal (2002) and two supposedly soul-selling, pay-the-rent, all-star commercial blockbusters in Ocean's Eleven (2001) and Ocean's Twelve (2004). In the meantime, he has amassed producer credits for congenial projects, much like Martin Scorsese, Quentin Tarantino and Steven Spielberg in the same period.
So what is the always-unpredictable Mr. Soderbergh up to now with Bubble? It turns out that this 72-minute, low-budget, minimalist, amateurishly cast and acted, low-key murder fiction, set in a small Ohio town, is being released almost simultaneously in 32 theaters, via the cable network HDNet Movies and on DVD. This unusual distribution plot thickens when one learns that the movie was financed by HDNet Films, one of the companies owned by Mark Cuban and Todd Wagner, who are partners as well in the ownership of some of the theaters showing the movie. I chose to participate in this somewhat postmodernist marketing exercise by reviewing Bubble via a purchased DVD. One oddity I encountered on my DVD print in this experiment was the presence of Spanish subtitles. There might be a button somewhere on my DVD remote that I could press to remove the subtitles, but since I am almost completely technologically helpless (and hopeless), I simply accepted the gift of a free lesson in minimalist Spanish.
Much of the film is concerned with the mechanics of making dolls in a doll factory. At times, the attention given to the "births" of the dolls takes on creepy sci-fi overtones. The film's three major characters all work in the factory. Martha (Debbie Doebereiner), a middle-aged woman who cares for her ailing father, has established a platonic friendship with a much younger male worker, Kyle (Dustin James Ashley), who lives with his own mother (Laurie Lee). Kyle occasionally goes out on dates, but we're never shown with whom; indeed, it's only through Martha's gently probing questions that we get anything out of the taciturn Kyle at all. These conversations are about as deadly dull as any dialogue I've ever heard even in the earliest talkies.
Things pick up a little, but not much, when Rose (Misty Dawn Wilkins), a pretty young girl, is hired at the plant because of the booming business. She quickly intrudes on the relationship between Martha and Kyle by constantly asking Martha for favors, including baby-sitting for her out-of-wedlock child when Rose goes out on a desultory date with Kyle.
Sorry, folks, no sex to liven things up: After Kyle and Rose return from their date, Rose chats briefly with Martha before there comes a furious pounding on the door. When Rose answers it, she is confronted by her angry ex-lover, who forces his way in to demand that she return the money she's stolen from him. The aggrieved ex-lover is an unpleasantly unkempt individual, and as Martha looks on with curiosity, Rose terminates their screaming argument by virtually throwing him out of the apartment. When Martha asks what that was all about, Rose shouts at her to mind her own business and then storms into the next room. Martha just sits there, looking off into the distance. Fade in to the next morning, when Rose's body is discovered in the apartment by the police after the neighbors report noises from the night before.
The police question Kyle and the still-unkempt ex-boyfriend (who seems to have been shoehorned into the film mainly as a false suspect), and, finally, in abbreviated CSI style, Martha. Not that there's much suspense as to whodunit: Martha seems to be in complete denial about what happened and why until near the end of the movie, when Mr. Soderbergh visually confesses for her. All right, I've broken the guild rules for giving away plots, but I'm not sure that the "mystery" of the murder is the real point of the film. Then again, I'm even less sure of what the real point of the film actually is.
The reactions of Kyle and Martha's father to the news of Martha's arrest are almost comically deadpan and unresponsive, to the point that I began to wonder if Mr. Soderbergh meant to say something about Hannah Arendt's "banality of evil" as it occurs in everyday circumstances. In her New York Times review on Jan. 27, 2006, Manohla Dargis reports: "This filmmaker has said that the genesis for Bubble was his curiosity about whether he could hack factory work, which may have been inspired by his experience inside the studio machine."
But with the imaginative way in which Mr. Soderbergh and Ms. Hough approach the operations of the doll factory, the job has less to do with the monotony of the industrial assembly line—as in, for example, Charles Chaplin's Modern Times (1936)—than with a comparatively creative form of handicraft labor. We are never told, for example, how well or how badly the workers are paid. Indeed, there is very little sense of contemporaneity in the virtually cloistered lives of the characters, and no comments, direct or indirect, about the problems of working-class people in America.
Still, I'm reminded of François Truffaut's comment about a time in his life when he worked in a factory: The last thing he wanted to do at night was go out to see a movie about people who worked in a factory. I'm also reminded of why movies have generally required performers with abnormally high levels of photogeneity and charisma for persuasive characterizations. Critics of Hollywood can complain all they want about the resulting sociological improbability and lack of realism, but a more sophisticated view is that the beauty of the outer surface is simply a metaphor for an inner beauty that would otherwise be inaccessible in a largely visual medium like the cinema.
The 78th Annual Academy Award nominations have aroused more than the usual portion of raised eyebrows and outraged sensibilities, particularly in the acting categories, in which one transsexual and three gay characterizations are honored, each with a strong chance of winning the top prize. Furthermore, two of the five nominated pictures are dominated by gay characters. These are Capote, with Philip Seymour Hoffman in the title role, and Brokeback Mountain, with cowboy co-leads Heath Ledger and Jake Gyllenhaal—though for tactical reasons, Mr. Gyllenhaal was dropped into the Best Supporting Actor category to give Mr. Ledger a better shot at winning as the lead. Felicity Huffman in Transamerica has no such competitive problems in her category, which finds her pitted against the straight-arrow characters played by Judi Dench in Mrs. Henderson Presents, Keira Knightley in Pride and Prejudice, Charlize Theron in North Country and (my personal favorite) Reese Witherspoon in Walk the Line.
Still, the biggest surprise for me was the nomination of Terrence Howard for Best Actor as the gun-toting pimp turned rap star in Hustle and Flow, probably the most expressive movie title of the year. Not that Mr. Howard doesn't display a certain talent and charisma in a vehicle that is by turns shamelessly self-indulgent and self-pitying, foolishly sentimental and coldly cynical. (And after Anthony Hopkins' Academy Award–winning turn as the cannibalistic Hannibal Lecter in The Silence of the Lambs, Mr. Howard's DJay, a misogynous exploiter of "hos" and "bitches" both for lucre and lyrics, is comparatively humanistic.) To top off the Academy's broadmindedness, the rap song "It's Hard Out Here for a Pimp," also from Hustle and Flow, was nominated for Achievement in Music Written for Motion Pictures. But when one recalls Mr. Howard's character sending his women out on drive-by and stay-in assignations with the occasional slap or chokehold to keep them in line, the ghost of Betty Friedan may be haunting the Oscar ceremonies this year.
Readers familiar with my likes and dislikes won't be surprised to learn that I had other preferences ignored by the Academy voters. I have given up predicting the outcomes of the various competitions, and I don't feel like bad-mouthing any of the choices, but I do have a few grudging preferences to report in the way of lesser evils to accompany my unqualified endorsements of Ms. Witherspoon in Walk the Line for Best Actress, William Hurt in A History of Violence for Best Supporting Actor, Wallace & Gromit in the Curse of the Were-Rabbit as Best Animated Feature Film, and March of the Penguins as Best Documentary Feature (with Enron: The Smartest Guys in the Room not far behind). Actually, the plight of the penguins demonstrates conclusively that there is no such thing as intelligent design.
The lesser-evil competition begins and ends with Mr. Hoffman in Capote for Best Actor and Amy Adams in Junebug for Best Supporting Actress. The writing categories give me an opportunity to return to unqualified enthusiasm: A History of Violence for Best Adapted Screenplay, and a tie between Match Point and The Squid and the Whale for Best Original Screenplay. I know that ties don't count at the Oscars, but I couldn't care less about that technicality, or about the actual winners in the other categories.
Karin Albou's La Petite Jérusalem, from her own screenplay, sets her female rite-of-passage story in the Paris suburb of Sarcelles, or La Petite Jérusalem, which is the nickname of a low-income housing project with a large proportion of Jewish residents—including many Jewish immigrants from North Africa. One dwelling shelters a Tunisian-Jewish family of eight: Laura (Fanny Valette), a French-born 18-year-old philosophy student; her older sister, Mathilde (Elsa Zylberstein); their Tunisian mother (Sonia Tahar); Mathilde's straying and hypocritically devout husband, Ariel (Bruno Todeschini); and the couple's four young children.
The action takes place in 2002, in the midst of a rising tide of anti-Semitism in France, much of it fueled by the country's growing Muslim population. In her efforts to find her own voice in a cacophonously crowded household, Laura refuses Ariel's ethical codes and renounces her mother's superstitious rituals and conventional marital aspirations for her daughter. Instead, she pours all her energies into her studies in Kantian philosophy, to the point of following Kant's philosophical prescription of a one-hour walk each day to clear the mind of all noisy distractions. Laura has also vowed to close her heart to strangers, in the firmly held belief that all romantic love is a dangerous delusion.
Her eventual sexual awakening occurs, ironically, at the eager hands of an ex-journalist and Algerian Muslim émigré named Djamel (Hedi Tillette de Clermont-Tonnerre), who shares the custodial duties at the local high school with her. As with Romeo and Juliet, both of their families are violently opposed to the relationship—and in the end, Djamel turns out to be the one less able to resist his family's pressure. Laura is heartbroken, but newly resolved to stay on in Paris when the other members of her family decide to move to Israel, alarmed by the increasing number of synagogues being desecrated in La Petite Jérusalem.
Meanwhile, Mathilde has won back Ariel by following the advice of a sexually liberated Orthodox woman counselor (Aurore Clément), who convinces her that it is permissible and even desirable to take an active role in making love to her husband. In their separate ways, Laura and Mathilde have discovered how to shape their own destinies in a turbulent period of clashing civilizations.