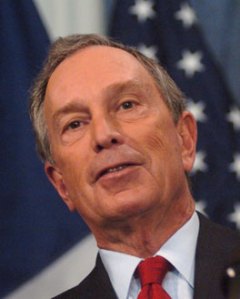 Back in the late 1990's, Mike Bloomberg was just another media mogul and Kevin Sheekey was a young aide floating a crazy idea: that his boss would run for Mayor of New York.
Now Mr. Bloomberg is Mayor, and Mr. Sheekey, freighted with a long City Hall title, has been floating another suggestion: Mike for President.
Of the United States. Perot-style, only less weird. As a Democrat or an independent, on a platform of competence and nonpartisanship. Shooting up the middle in a national election between, let's just say, Rudy Giuliani and Hillary Clinton. (Would he live in the White House? The townhouse? Would he, finally, marry his girlfriend?)
"Still not ready to discuss the strategy for the early primary states," Mr. Sheekey, now the city's deputy mayor for government relations, said in an e-mail.
But Bloomberg insiders say the Mayor's closest political aide has been pushing a 2008 bid. "Kevin—he's a big dreamer. He has great confidence in the Mayor," said Bill Cunningham, who was until recently Mr. Bloomberg's communications director. Mr. Cunningham called the national speculation a "parlor game," but went on to note that "crime and balancing budgets and working on education—those issues translate nationally."
And to many political professionals, Mr. Sheekey's dream isn't all that improbable.
"He would have a very strong record to run on," said Robert Shrum, the noted consultant and veteran of Democratic Presidential politics. "That old Dukakis line might have some resonance, though it didn't work for Dukakis: The issue in this election is competence."
"If he was to run for office again, he would run for President," said Richard Bryers, who worked with legendary city consultant David Garth on both of Mr. Bloomberg's campaigns. "Obviously Mike would be able to get his message out, and in the right environment he could be an incredibly compelling candidate."
Mr. Sheekey's only obstacle, it seems, is his boss. In his autobiography, Bloomberg by Bloomberg, Mr. Bloomberg expressed a passing interest in the Presidency. "If I ever ran, it would be for a job in the executive branch of government—mayor, governor, or president. I think I'd be great," he wrote, adding parenthetically that he had "no current plans to enter the public arena."
More recently, however, he has all but ruled it out. "I'll send my mother a copy of a letter that suggested I had an interest in running for President, which I don't," he said last year. "She'll be very pleased that anybody even mentioned my name."
Most people around Mr. Bloomberg take him at his word, as do the camps of other 2008 hopefuls.
"Kevin must be bored in his new position to be thinking this up," said Senator John McCain's political advisor, John Weaver, who added that Mr. McCain "thinks the world" of Mr. Bloomberg.
It's open to debate what Mr. Sheekey is up to. After agreeing to an interview, he didn't return telephone calls or e-mails from The Observer, though he did e-mail over the suggestion that a reporter contact a former Perot campaign manager. Some speculate that he's simply raising Mr. Bloomberg's stock locally by floating the prospect of a national run. Others wonder if the target of the spin isn't the Mayor himself, who would need some convincing to abandon a job he appears to love for the snowy fields of Iowa. "I think they think over time, they'll grind him down," said New York Times City Hall bureau chief Jim Rutenberg on WCBS-TV last month.
A Driving Force
Mr. Sheekey has emerged as something of a driving force in the second Bloomberg administration, which has been characterized by a flurry of his trademark high-concept political gambits, such as picking fights with President George W. Bush and State Senate Majority Leader Joseph Bruno. Mr. Sheekey first publicly floated the notion the day after Mr. Bloomberg's sweeping Nov. 8 re-election victory over Fernando Ferrer. He raised it, unprompted, by knocking it down during an interview on NY1 News, saying that a Bloomberg '08 campaign was "not likely."
Since then, people in Mr. Bloomberg's camp acknowledge, the deputy mayor has fed a low-grade buzz about the possibility, including an editorial in The New York Sun pushing the prospect. And it was picked up by gossip queen Liz Smith on Feb. 12. "By the by, the 'Bloomberg for President' bandwagon has already begun rolling!" she wrote.
"People are coming up to me all the time and saying Mike Bloomberg should run for President," said Mitchell Moss, a New York University professor who worked for the Mayor's first campaign.
And so Mr. Sheekey is feeding a dream that, in part, comes with the job. "If you're the Governor of New York or the Mayor of New York, there's always some speculation," Mr. Cunningham said. Mayors of New York notoriously fail to advance to higher office—but they're always rumored to be trying.
All of this could be more than theoretical, and the difference between Mr. Sheekey's whimsy and his boss' determination is never entirely clear. What's more, the expensive business of putting together a campaign infrastructure is of no concern to Mr. Bloomberg, one of the few Americans who could afford to self-finance a campaign anticipated to cost between $200 million and $300 million. Indeed, he's already built a national-quality campaign organization, with consultants and pollsters drawn from the top ranks of the Democratic Party's political apparatus. (Yes, that's right—the Democratic Party apparatus. And yes, Mr. Bloomberg currently is a Republican.)
"He can put a national campaign together," said Ester Fuchs, a Columbia University professor and former City Hall policy advisor. "Somebody like Sheekey, and the rest of the team—Patti Harris, Doug Schoen, Bill Knapp, Ed Skyler—these are people who have done or are capable of doing national campaigns."
Political analysts concurred that Mr. Bloomberg would have little hope in a Republican primary, where he could be one of three New York liberals in the race, along with Rudy Giuliani and George Pataki. Still, the Mayor would face a difficult decision: run in a crowded Democratic primary (which could include another New Yorker, Hillary Clinton), or create his own line and risk serving as a spoiler—perhaps at Mr. Giuliani's expense, more so than any Democrat's.
Each path has its history. Mr. Bloomberg's Republican-Liberal predecessor, John Lindsay, sought the Democratic nomination for President in 1972, Mr. Shrum recalled.
"It's not a happy precedent," he added, noting that Mr. Lindsay did poorly in that year's primaries.
The alternative is the Perot model. The Texan financed a 1992 campaign that brought him over 19 percent of the vote despite an eccentric, undisciplined personal style that had him drop out of the race in July, only to re-enter in October.
"It's as plausible as Ross Perot running," said Bill Hillsman, a political adman who has worked for independents including Mr. Perot, professional wrestler turned Minnesota governor Jesse Ventura and the rocker Kinky Friedman, who is now making a plausible bid to be Governor of Texas.
"If he ran as an independent, it gets very interesting very quickly," he continued. "You're going to have the Democrats shooting at the Republicans and the Republicans shooting at the Democrats. Mike can make the argument of competence."
A Democratic political consultant, Hank Sheinkopf, offered a message for the Mayor: "He'll clean up the mess in Washington; he'll make the economy work."
Mr. Shrum offered another suggestion: "If you can make it here, you can make it anywhere."