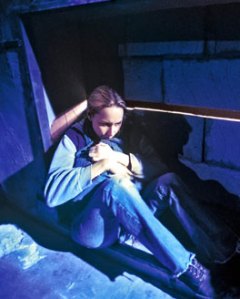 For me, the most disturbing aspect of the craven postponement of the production of My Name Is Rachel Corrie isn't that it happened, but that it was the adventurous downtown New York Theatre Workshop that did the postponing.
We have reached the unacceptable face of the New York arts scene when the theater that produced the original Rent—and, more to the point, the conscience plays of Tony Kushner and Caryl Churchill—should cave in like this to peculiar, unspecific pressure.
We've heard about unnamed Zionist pressure groups and anonymous theater donors who object to the telling of a humane story about a utopian 23-year-old American girl who was killed by an Israeli bulldozer in the Gaza Strip as she protested the destruction of a Palestinian's home. We've heard the theater's cornered artistic director, James Nicola, talk darkly about realizing suddenly that there existed "a very edgy situation" that had taken root in the city "after Ariel Sharon's illness and the election of Hamas." We've heard it all—including the whirring sound of the New York Theatre Workshop backpedaling all it can to rationalize its weird decisions.
But when I asked Mr. Nicola, as well as the president of the board of trustees and the New York Theatre Workshop's managing director, exactly who—and how many—have been protesting about the play, no one could tell me. Mr. Nicola was in Italy last week, and he kindly responded to my questions via e-mail. Here's the substance of our exchange:
"How many members of the Jewish community in New York have made their feelings known to you opposing the play?"
"I haven't personally spoken to any members of the Jewish community who've opposed the play," he replied. "I have spoken to many Jewish friends who have had degrees of discomfort with the topic."
"When you said in The Times that it was a 'fantasy' to present the piece as a work of art 'without appearing to take a position'—what is the position that would prevent you from doing what you do?"
" … when I first read this play, it affected me deeply," he said. "I thought it presented an opportunity to share with our community a powerful message that the good fortune to be born into comfortable circumstances comes with the responsibility of conscience. One must always be aware of the misery of others and take compassionate action."
He went on to explain that "there was much unsubstantiated speculation from different quarters on the circumstances of Rachel's time in Gaza. It became apparent that by presenting the play on the current schedule this speculation might become the event itself instead of the play …. "
What do we have so far? Mr. Nicola hasn't actually spoken to anyone who opposes the play. He has spoken to Jewish friends only "with degrees of discomfort with the topic." The play itself affected him deeply. But he fears its production would open him and his theater to the accusation of "taking a position." While he empathized with the tragedy of the young American activist with a conscience, the "unsubstantiated speculation" about the play might become bigger than the play. He therefore postponed the play.
Almost all of us, I might add—including myself—had never heard of the play until its postponement. But in a tight production schedule, Mr. Nicola said, "our goal … was to enable ourselves more time to thoughtfully prepare." He explained, for example, that Homebody/Kabul, Tony Kushner's clairvoyant epic about Afghanistan, was twice delayed before its production.
But Homebody/Kabul was pre-empted by a New York in darkest trauma and mourning (and Mr. Kushner agreed with the postponement). My Name Is Rachel Corrie is a one-woman show that was due to arrive later this month via its successful—and peaceful—run at the Royal Court Theatre. It's about to transfer to the West End.
Katharine Viner of The Guardian, the co-author of My Name Is … with the renowned actor Alan Rickman, believes the play has been censored here for political reasons. "The political climate, we were told, had changed dramatically since the play was booked," she wrote, and asked, "If a voice like this cannot be heard on a New York stage, what hope is there for anyone else?"
She also criticized Mr. Nicola for telling The Times that it wasn't the people who saw the play he was actually worried about. "I don't think we were worried about the audience," he said. "I think we were worried that those who had never encountered her writing, never encountered the piece, would be using this as an opportunity to position their arguments."
Ms. Viner then asked, "Since when did theater come to be about those who don't go to see it?"
I asked Mr. Nicola: "Why do you think the play was produced without difficulty or apparent protest in London?"
"I think it's dangerous to speculate as to why an audience did or did not behave in a particular way, because I don't know the London community nearly as well as I know my own," he said.
The London community either lives far more dangerously than the New York theater scene (and Mr. Nicola), or its nonprofit theater is more phlegmatically open to risk. England also possesses a strong element of anti-Zionism. But there's a powerful Jewish community whose vigilant Jewish Board of Deputies has been known to prosecute all forms of anti-Semitism.
"What do you think your decision is saying to the Arab community?" I asked Mr. Nicola.
He replied, "We haven't heard from anyone in that community, and I can't speculate as to their reactions."
"Dangerous to speculate …. " "Can't speculate …. " The enraged American Arabs with whom I've spoken find Mr. Nicola's decision to postpone the play condescending and naïve. He talks a lot about "our community," they point out, but it excludes them.
"Who produces a play according to opinion polls?" asked the Palestinian-American comedienne Maysoon Zayid derisively. "I mean, what's that? How many other plays have they polled? It's insane. An American woman wrote the play. Who else has to be polled before we can hear her voice?"
"Maybe they're waiting for peace in the Middle East," said Maha Chehaoui of the Nibras Theater, a small Arab-American theater company in New York. Ms. Chehaoui is one among her own marginalized community who, like Ms. Zayid, is making her voice heard.
May the New York Theatre Workshop cease their poll-takings and ''soundings" and listen to them. This has not been Mr. Nicola's finest hour. We look to his theater—and all great theaters—to be our forum, pulpit, truth-teller and witness to a world that has lost its reason. Plays written in blood are not meant to be "acceptable" or "reach consensus." That is for weaselly politicians. Give us plays of consequence, for heaven's sake—not caution, compliance and fear.