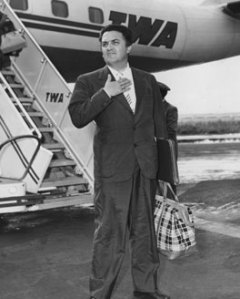 Federico Fellini was great with people, terrible with money. He adored his wife and was flagrantly unfaithful. He loved whiling away the hours in cafés, but was a workaholic. He was a scamp, a victim, a victimizer. And he was a great director.
"He believed in chance meetings, in love affairs, and in friendships," writes his biographer Tullio Kezich, a film critic and a friend of Fellini for more than 40 years, "all of which came to him with incredible speed, and were like constant revelations that tended to endure. He lived inside of things with indomitable curiosity and unflappable openness. He abandoned himself to what Dostoevsky called 'the river of life.'"
My favorite Fellini movie is I Vitelloni (1953), but my favorite Fellini moments come much later, when the films became spasmodic exercises in mood and production: in Satyricon (1969), when a bunch of dry branches is thrust between the heaving legs of a prostitute and the branches immediately catch fire, and in Amarcord (1973), when a peacock spreads its feathers in the snow. The first is a stunning metaphor for creation; the second is beauty itself.
In most respects, Fellini the man was an archetypal Italian male—an overgrown momma's boy, always having affairs of varying duration, always running back to his wife, Giulietta Masina, who seems to have defined the term "long-suffering." One family friend describes her as "[not] only his support; she was his breath."
Because of his disinclination to say "No," much of the time Fellini's life resembled a Fellini movie. When he cast Sandra Milo in 8 1/2 (1963), to play a part based on a long-time mistress named Anna Giovannini, he promptly began sleeping with Milo as well, and I frankly think a movie based on that episode would be at least as interesting as 8 1/2, although the ideal director would probably be Blake Edwards. This kind of episode never got into the papers until it was ancient history; until then, it had to be intuited through confessional works such as Juliet of the Spirits (1965).
Fellini's life was a blizzard of assignations and haphazard plans for movies which never got made—there was a secret trip to California in the mid-80's, for a proposed collaboration with Carlos Castaneda, and if anybody took notes on their conversations, they aren't here. Because of the surreptitious nature of Fellini's private life, Mr. Kezich spends most of his time talking about the movies that did get made.
Unfortunately, he's not a great critic, so the primal connection between the life and the work in an overtly autobiographical artist is muffed.
There are intriguing connections. I wasn't aware that Fellini's favorite director was John Ford, or that Fellini worked on the script for a 1944 movie directed by Jean de Limur, a protégé of Chaplin's in the 1920's, whose American career came to nothing. And there are moments of authentic tragedy: In 1945, Fellini and Masina's only child died of encephalitis when he was only a month old. Fellini always refused to discuss Pierfederico's brief life and death.
A lot of people who love the early Fellini, the period from the waggish The White Sheik (1952) to the coolly observed decadence of La Dolce Vita (1960), got off the train around the time his name became an adjective ("Felliniesque") and became part of the titles of his movies. Fellini called Satyricon "a movie I don't want to be friends with," and in retrospect there's a sense of a man slowly losing his sense of intimacy with everyone but himself. The movies become less like life and more like vast, slightly remote frescoes. There's little characterization, and sometimes they're frighteningly empty—Il Casanova (1976), City of Women (1980).
Still, like most gregarious men, Fellini was determined to be entertaining; he knew the part he was to play and played it exceedingly well, so the book is often amusing. Mr. Kezich tells a story about the first time Fellini visited Forest Lawn. When he inquired as to the price of a luxury mausoleum, he was told $35,000. "If I get it without music, can I have a discount?" he asked.
It's possible that a great biography of Fellini can't be written. Mr. Kezich reports that he ritualistically destroyed contracts, letters, etc. Beyond that, there's a sense of a man so totally in touch with his subconscious that he was able to work without a lot of mediation from his intellect.
But certainly a better stab could be made than this. Mr. Kezich's prose is graceless. For some reason, much of the book is written in the present tense. Budgets and salaries are given only in lira, which is no help at all without some sense of the exchange rate at the time. More importantly, Mr. Kezich never really addresses the precipitous decline in Fellini's work after Amarcord, when he was only in his early 50's.
It sho uld be noted that Amarcord brings out Mr. Kezich's best: "Fellini is incapable of hating anyone, even the Fascists; he's left to depict them as clowns only slightly more sinister than the rest of the clowns …. Amarcord is a long conversation rife with memories, made for the director's own pleasure and with an eye to amusing its audience." This affectionate regard for humanity is part of the reason why audiences love Fellini.
For the time being, Tullio Kezich's book will have to do, but I eagerly await someone else's biographical effort at some point down the road—someone who wasn't a friend, someone who can ask hard questions.
Scott Eyman's Lion of Hollywood: The Life of Louis B. Mayer was published last year by Simon & Schuster. He reviews books regularly for The Observer.