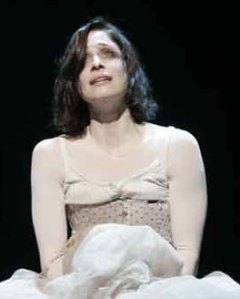 Before coming to my tale of two musicals, there's something I must tell you:
The problem with the film reviewers who've found the remarkable documentary Shakespeare Behind Bars only so-so is that they're seeing it purely as a movie. If only they could see it from a theater perspective, they would be raving about it as I am now.
Every stage actor and director in town should make it their highest priority to see Hank Rogerson's film about a production of The Tempest that's rehearsed and performed by the dregs of the earth in a Kentucky prison. The cast comprises multiple murderers, a child molester and a thief.
Yet, performing from the gut and exploring the text with direct, unadorned, un-tricksy honesty and passion, they offer us all an acting lesson. They are, firstly, without vanity or pretense, and the stakes are high. Unlike our annual Shakespeare in the Park, the inmates of Shakespeare Behind Bars relish the language and understand the complexities of character. So did the prisoners of San Quentin, incidentally, to whom Beckett's Waiting for Godot was performed by Herbert Blau's San Francisco Actor's Workshop in 1957. The lifers there had no difficulty understanding Godot, just as the Kentucky prisoners and actors grasped the redemptive meaning of The Tempest:
Now I want
Spirits to enforce, art to enchant;
And my ending is despair
Unless I be relieved by prayer;
Which pierces so, that it assaults
Mercy itself, and frees all faults.
As you from crimes would pardon'd be,
Let your indulgence set me free.
There will be no salvation for these Shakespearean performers, except in the acting. But try to see their film, if you can. The actors behind bars will disturb you and they will delight you, in their honest endeavors to please.
Here's my tale of two musicals—one named Carnival!, the other Ring of Fire. The first reveals the infinite, magical possibilities of the once-great American musical, the second doesn't. Thank goodness for the revival of the rarely staged 1961 Carnival! at New Jersey's adventurous Paper Mill Playhouse. Erica Schmidt's memorable production of the beguiling, even disturbing, piece gives us unexpected hope.
Carnival! has the reputation of a collector's piece, an odd gem of a musical that has found cult status without some of us—certainly myself—knowing quite why. I had never seen it before, though from what I knew about it going in, it has three big things going against it for my mercilessly cold-hearted taste. Its central love story involves Lili, a lonely, wide-eyed orphan, and Paul, a crippled puppeteer who can only express his real feelings through his puppets. Furthermore, the puppets come to life—a fox, a flamenco dancer, a walrus and Paul's alter ego, who's known as Carrot Top.
Now that would usually be more than enough to send me running. The cartoon infantilization of our culture is overextended as it is. But I have thought highly of Ms. Schmidt's imaginatively daring productions in the past, and was not let down by her here. She has taken this story of a third-rate traveling circus—which in itself is about the creation of theatrical magic—and made it weirdly, miraculously adult.
Despite its obvious, sweet showbiz charms, perhaps the children's fable within Carnival! was always intended for adults. Based on a 1950 Paul Gallico story entitled The Man Who Hated People, Ms. Schmidt has returned to the ghostly seriousness of its original source. With music and lyrics by Bob Merrill and a book by Michael Stewart, Carnival! was, in fact, the first Broadway musical to be adapted from a film (the 1953 Lili, starring Leslie Caron). But it must have always possessed a seductive, dark undertow, like the better-known Carousel.
Ms. Schmidt has staged the show in an empty space, taking the setting to the back wall and the loading dock of the stage itself. The wonderful, dreamy opening begins with a lone figure seated on the apron of the bare stage, playing a concertina. He plays the show's lilting theme song—"Love Makes the World Go 'Round"—until a Felliniesque parade of shabby troubadours enters like eternal strolling players. Some look weary; some are no longer young. They have come to town to set up their booths and sideshows, like any performers who have seen better days.
From the unlikely start, we are thrust into a world that emerges from the shadows, and, to my own delight, nowhere is the show more enthralling than in its innovative use of puppets. Judging from the photographs I've seen of the original 1961 production, the puppets look about half-size and cuddly. Ms. Schmidt has transformed everything by making them life-size in a modern—and unpretentious—adaptation of Japanese Bunraku. (The puppet designer and builder is Jesse Mooney-Bullock; Frank Maugeri is the puppet advisor.) The outcome is that nothing could be less cute.
Who—or what—is real becomes the intriguing question of this lost, near-great musical about stage magic and unrequited love. I say "near-great," for its flaws—including a pro forma musical-comedy subplot—are apparent. The Bob Merrill score is atmospherically pleasant rather than inspired. And though Elena Shaddow is a very appealing Lili, there is as yet an emotional distance to the show—a disconnect in stardust memory, as if we're peering through the looking glass. But there are sublime moments when we see astonishing things, and then, hovering giddily between reality and dreams, Carnival! achieves the miraculous.
On the other hand, the question of who—or what—is real in the clap-along, sing-along Johnny Cash show Ring of Fire at the Ethel Barrymore has a regrettable answer: Nothing is real and everything wrong. Rarely has the sincerity of earnest mediocrity been in such dogged pursuit of the lightning.
In fairness, I must say that country-and-western music and maudlin, shit-kicking cowboys with faux twangs and washboards have never been my cup of tea. But the six game performers, accompanied by various spirited musicians, are not, alas, of the first rank. That the ill-conceived show has been created by Richard Maltby only makes it worse. Mr. Maltby was the inspired creative force behind one of my favorite musical revues, Ain't Misbehavin', the Fats Waller songbook of the 1970's. Its performers—including the great Andre de Shields, Charlaine Woodard and the late Nell Carter—ignited the show with the irresistible joy of their talent and individualism. But I'm afraid the anemic cast of Ring of Fire manages to make more or less every number—from hard-living blues, to goyishe farming-community uplift, to prison-interlude spiritual—bloodlessly, tamely the same. The troubled man in black must be spinning in his grave.
As someone announces righteously during the show, "Ma momma always taught me that good things come from adversity if you put your faith in the Lord."
Well, fair enough. But not this time.