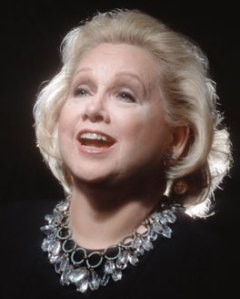 Barbara Cook is always opening somewhere. This is good for those of you who are still interested in hearing what the most beautiful voice on the cabaret planet sounds like. But this is bad for those of us who get paid to write abut her. Every time she works Carnegie Hall or Lincoln Center or a jazz club lit by neon, I tell myself, "I'll pass; I'll hold off awhile." I mean, what else is there to say about perfection? Plenty.
When the current season ends, so will the legendary Café Carlyle. The furniture will move to the basement, and a golden era will vanish from the diminishing world of Manhattan after dark. No better time to catch Barbara Cook's final appearance in the room that Bobby Short made famous. I don't think she knows how lucky she is. While everything else goes to the dogs, Barbara always stays the same. Almost everyone from her age group and musical persuasion is gone. She carries the torch where Mabel Mercer and Sylvia Syms left off, and she lights it with her own gas and gusto. Celebrating the songs and highlights of her 25-year career as a headliner at the Café Carlyle, from a playful "I Got the Sun in the Morning" right through a stunning tribute to one of her favorite singers, Dick Hayes, with plenty of the obligatory Hammerstein and Sondheim, she is in wonderful shape, and there is something here for everyone.
It's a thrill to see what so much talent and preparation can accomplish. "You Could Drive a Person Crazy," usually performed by three women simultaneously, is an acting class. She crystallizes the notes, but she also acts the words. On a hilarious romp introduced a zillion years ago by Ukulele Ike called "My Dog Loves Your Dog," she even barks like a terrier. ("I love you bow-wow-wow, and how-how-how!") She can be dark and contemporary (John Bucchino's sad lament for hustlers who meet in a bus station, "Sweet Dreams," is musical film noir at its best), or flip and frivolous ("Hard Hearted Hannah" rocks). But songs are always playing in her head. Something is always dancing in her eyes. This sensitive and articulate interpreter of lyrics refuses to compromise her artistry for gimmickry or fads. She always chooses songs that have something to say and makes every phrase wonderfully clear and audible. As a result, she never fails to establish a rapport with her audience that is admirable and true.
I have never seen or heard Barbara Cook so radiant, relaxed and reckless. In one hour of reasons why she is the Queen of Cabaret, she rules from her own unique and exclusive cloud. For the entire month of March, become her willing vassal. She takes you to a brighter, sunnier, more graceful and superior world, and—take my word for it—you'll feel richer in life for taking the trip.
Damn Sox
A lot of unlucky people who can't roll two sevens in a row strike out again in the fatally confusing Game 6. Michael Keaton is a reliable actor who hasn't made a good movie in years. Michael Hoffman proved to be a director of range, texture and discipline with The Emperor's Club, a film I loved more than most of my colleagues. And novelist Don DeLillo is a writer admired by many. Game 6 is a disaster of such dimension I fear it will disappear before anyone can say, "Gee, fellas, we hardly knew ye."
The day is Oct. 25, 1986. Mr. Keaton plays playwright Nicky Rogan, a writer who has devoted his career to turning out Neil Simon–like plays that have pleased the audiences but not the critics. Tonight is the opening night of his first serious work, the best play he's ever written. But it is also the sixth game of the World Series, and his beloved Boston Red Sox are poised to win. Nicky starts off for the theater with nothing in mind but getting a haircut.
Then he gets the first crippling round of reports that will change his life: His wife (Catherine O'Hara) is divorcing him after 19 years. His mistress (Bebe Neuwirth) informs him his leading actor has a brain disease and can't remember his lines. A cynical writer (Griffin Dunne) scares his socks off with horror stories about a new and powerful drama critic named Schwimmer (Robert Downey Jr.), a man so venomous he turns writers bitter and self-destructive. This monster is so hated he goes to the theater every night wearing disguises, carrying a loaded gun. He has no phone and no friends, and he has driven the entire population of Broadway into a state of paranoid schizophrenia. Will it be the opening night, or the Boston Red Sox? Miserable and stricken with terror, Nicky heads for the stadium and spends the whole day in New York traffic, trapped in the back seats of gridlocked taxis driven by foreigners who speak every language except English.
As the curtain rises, Nicky ends up in a trashy saloon pretending to be a gangster, with a lady cabdriver who is like Dr. Phil in drag and says things like "Life is good because faith is rewarded" and "Take a risk—it is humanizing." Of course, the Red Sox play their most humiliating game and blow the series, and Nicky becomes so unhinged that he stalks his way to the critic's apartment to kill him, only to find him in bed with Nicky's own daughter! There's more, but why go on? This movie is D.O.A.
In a movie of many mistakes, the biggest mistake of all was hiring Don DeLillo to write the screenplay. How do you know if Game 6 is meant to be a fantasy, fable, comedy, farce or deeply, intensely personal drama about neurotic failure? I mean, when the radio warns that the Apocalypse is just around the corner and a man isn't just a man, he's someone "who sits in a small, dark apartment eating soft, white bread" … you sort of give up on the hope that logic will arrive and just start laughing. Game 6 talks itself to death before it can find its way to Blockbuster. It's like a janitor searching for the keys to all the doors after the locks have been changed.
Scary Teens
Kinetic and suspensefully charged with the underlying themes of societal abuse and ignorance of teenage angst, Evil is an excellent new Swedish import, masterfully directed by Mikael Hafström, which reminded me in many ways of Nicholas Ray's Rebel Without a Cause. Based on a scandalous best-selling autobiographical novel by Jan Guillou from 1981, it focuses on Erik Ponti, a handsome, 16-year-old student whose life has been plagued by violence. Constantly tormented by an abusive stepfather (in the opening scene, Erik is slapped across the dinner table and then dragged from the room and beaten with a double-folded belt while his mother plays the piano to drown out the noise), the boy hits back the only way he can: by giving a good thrashing to anyone in his way. Labeled "evil" and expelled from public school, Erik is told he has one last chance to make something of himself and is sent to Stjarnsberg—a prestigious private school where he is determined not to mess up again.
Steeped in traditions strange to this wild but decent kid, Stjarnsberg has strict rules—coats and ties, prayers before meals, lights out after study—but Erik welcomes some kind of sane discipline in his life. He quickly bonds with his roommate—a shy, bookish introvert named Pierre who loves James Dean movies. Initially, Erik is overjoyed to escape his unhappy home, but he soon discovers he has merely substituted one prison for another.
The school is, in fact, run by a rigorous and unjust code, enforced by senior students rather than the faculty. The teachers (including an unregenerate Nazi who even spouts anti-Semitic tirades in class without fear of recrimination) prefer to ignore what goes on among the students, passing off severe beatings and a wide variety of humiliations as harmless "hazings." Standing up for his rights and refusing to be bullied, Erik incurs the wrath of the upperclassmen, but he also wants to avoid the violence that landed him there in the first place. Refusing to knuckle under or apologize, and unfairly punished with detentions and hard labor because he refuses to fight, he's nicknamed "Rat." To make matters worse, he wins the school swimming championship, which makes him untouchable. That forces the seniors to change tactics and take out their resentment, jealousy and cruelty on his weak roommate, Pierre.
This is the story of a decent boy faced with a dangerous decision: confront his oppressors and risk expulsion, or ignore them and suffer humiliation at their hands—or, worse, let his friends suffer for him. No matter what choice Erik makes in order to graduate, it is bound to be the wrong one. Evil caused a sensation in Sweden, where distinguished private academic institutions have always been considered above reproach. This book and film led to many reforms in the private-school system, and echoes of the same kind of "hazing" are deeply felt at home, where new scandals are revealed on an annual basis. Director Hafström skillfully incorporates many 50's flourishes—the school cafeteria is as cold and somber as a leftover set from a Troy Donahue picture—and gets a memorable performance out of newcomer Andreas Wilson.
But the most touching thing about Mr. Hafström's writing and directing is the way he shows the mixed-up emotions of youth: Erik's anger and ferocious sense of outrage is a resentment of class and privilege, but at the same time he longs for the respectability and acceptance that same sense of class and privilege also brings. Before the novel was published, Jan Guillou was best known as a writer of pop mysteries. The movie has the same kind of incendiary power.
An Oprah Movie
Matthew McConaughey, who can't act, and Sarah Jessica Parker, who's been doing entirely too much of it lately, are forced upon each other in more ways than one in Failure to Launch. Has there ever been a worse title? It writes its own review. They talk a lot of crap on Oprah. One of the things they talk about is the new trend among lazy college graduates who can't find a job to move back into the nest for free meals, laundry and car keys. Presto: an Oprah movie, condensed-book-club-excerpt division. He's a boat salesman who is practically 40 and doesn't look a day under 50. He lives at home with his cranky pop (Terry Bradshaw, replete with nude scene for people on antibiotics) and doting mom (Kathy Bates, at what point was your career ambushed?). His friends all live at home freeloading, too. Enter Sarah Jessica, a professional "interventionist" hired to trick him into moving out of the house to raise his self-esteem, which is higher than the Himalayas already. These people have names like Tripp, Ace, Demo and Kit. By the time somebody wisely puts an end to the agony, it is no wonder they are all high as Goodyear blimps. Silly, obvious, hokey, predictable and funny as a knee replacement, Failure to Launch is a 30-minute sitcom pilot stretched over one hour and 37 minutes. It's being hocked off as a date movie. True enough, if your date is a raisin.