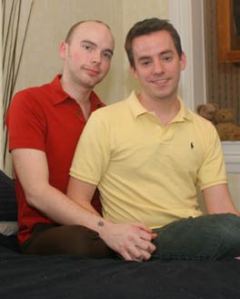 Lucky Michaels and Billy Siegfried
Met: June 28, 2002
Engaged: Oct. 25, 2005
Projected Wedding Date: October 2007
Toned, dark-haired Billy Siegfried was dancing to 80's music at the Roxy when he first noticed Lucky Michaels (yup, his real name) executing his signature "turn and spin." Mr. Siegfried, then an aspiring dancer, was impressed.
"One thing led to another," said Mr. Michaels, 25, a sweet-natured photographer and facilitator at Sylvia's Place, a homeless queer-youth shelter in Hell's Kitchen.
For two weeks, the two men dated, schlepping between Mr. Michaels' share in Union Square and Mr. Siegfried's in Astoria. "I swear I fell in love with him that first week," Mr. Michaels said. He even postponed a trip home to Michigan to hang out with his new beau.
But Mr. Siegfried, who is 28, had commitment issues. "When I first came out, I fell in love hard-core with this one guy, and he completely broke my heart into a million little pieces," he said. "From then on, I started dating over and over again, trying to fix that pain. I didn't trust guys, I guess."
He and Mr. Michaels broke up, then got back together, then broke up again. "I never knew how long it would last," said the latter, "but it was worth it to me, even if it would only be for a week or a month. I just knew that I really enjoyed that time I spent with him, so when he came back, I would be like, 'O.K., we'll give it a go again.'"
They reunited for Mr. Siegfried's favorite holiday, Halloween. He painted his face and donned a tux for that Joel-Grey-in-Cabaret look, while Mr. Michaels simply put on a pair of devil's horns. They set out for a party thrown by a colleague of Mr. Siegfried's (he had abandoned his dancing-fool dreams and is now an administrative assistant for the educational software company Wireless Generation), but found themselves searching for something to do at the end of the night.
"I'm going home," Mr. Michaels said.
"No, don't go," his companion pleaded.
"If you figure something out, give me a call," Mr. Michaels huffed. "I'll be happy to join you." He went up to his apartment. Five minutes later, there was a knock on the door.
"Listen," said Mr. Siegfried, standing on the threshold, fortified by a hundred therapy sessions. "I want to start taking us seriously. I want to give it a try."
A few months later, in the midst of an argument, he blurted: "I think I'm falling in love with you."
Now that's a breakthrough!
Except … later, in bed, Mr. Siegfried denied ever uttering those words.
"I was crushed," Mr. Michaels said.
From that day forward, though, the L-word began flowing freely between them. "There was just so much pressure that builds up before saying it for the first time," Mr. Siegfried said. "I'm good at that: building up pressure where there doesn't need to be."
The fights dwindled, and the men found themselves keeping house in a spacious Greenpoint one-bedroom.
On their second anniversary, Mr. Siegfried arrived home, stressed out about an impending decision to leave his job, to find that his sweetie had filled the apartment with roses and cooked a filet mignon feast.
"Let me just put my bag down," he said.
"No, you can't go in the bedroom," Mr. Michaels said, practically stamping his foot.
After dinner and a relaxing shower, the duvet was pulled back to reveal a black box containing a sparkling cubic zirconia tension-set in a surgical-steel band from the West Village jeweler B. Tiff. "Oh, my God! Oh, my God!" Mr. Siegfried screamed.
The details are still being worked out, but the two men expect to be married by the Reverend Pat Bumgardner of the Metropolitan Community Church of New York.
Alexander Cardinale and Daphna Yarom
Met: April 18, 2002
Engaged: Feb. 13, 2005
Projected Wedding Date: June 17, 2006
An aspiring actress, Daphna Yarom had just begun a three-month stint in Los Angeles when she was Evited to a sleazy Hollywood dinner party (admittance: $15). There, she happened to sit next to Alexander Cardinale, a somewhat shaggy, bespectacled actor-singer-songwriter. "I remember thinking he was so cute," said Ms. Yarom, 27, an alabaster-skinned, delicate-featured brunette who's pretty darn cute herself.
They spent a bit too much time watching blonde-bombshell wannabes hanging over 80-year-old "producers." Finally, Mr. Cardinale asked: "Do you want to get out of here?"
"Please," Ms. Yarom said. They went to the Pig and Whistle pub nearby and "ended up talking for hours," she said. "It was weird. It was as if we already knew each other." As they left, Mr. Cardinale held the door open and brushed his hand on her back. "I was like, Whew! That's when I knew," she said.
She called him from her car the next day, and he invited her to hear his brother's band at Dragonfly in Hollywood. When she showed up, his entire family was there.
At one point, Mr. Cardinale's mother pulled him aside. "I tell you," she said, "you're going to end up marrying that girl."
"Mom!" he hissed. "Shut up, you're freaking me out. She's just a friend."
Meanwhile, Ms. Yarom was obliviously flirting with some of the band's British members. The following week, when Mr. Cardinale was in Palm Springs, she hung out with the guitar player but rejected his advances.
Ms. Yarom was feeling poorly when Mr. Cardinale returned, wanting to see her, so he brought over some Zankou chicken (L.A.'s finest … and messiest). "I was so sick I couldn't even speak," she said. "I was horrified, because I'm eating chicken with my hands in front of a boy I really like. The first time you're with a boy, you want to be all proper, not sloppily eating chicken with your hands and with your nose running."
When she returned to her one-bedroom in Greenwich Village, she encouraged him to visit. "I introduced him to humidity," she said with a cruel laugh.
"My first experience of New York was the hottest, drippiest thing I've ever experienced," said Mr. Cardinale, 25.
They spent a night strolling through Washington Square Park, listening to spoken-word poetry on the street (who said bohemianism is dead?). "There were all these little bodegas," Mr. Cardinale said. "I didn't even know what a bodega was."
Since then, they've been "dividing their time," as they say, between the two coasts. Mr. Cardinale landed a gig on Malcolm in the Middle, while Ms. Yarom was working on an independent-film project. "It was very obvious we were going to get married," she said. "It was just a question of when."
But Mr. Cardinale seemed to be getting cold feet. "You know, the careers aren't happening right now," he'd tell her. "Let's be realistic: We need a couple of years."
So when he suddenly announced, "I want to marry you!" during a torrential downpour on a Valentine's Day trip to Coronado Island, Ms. Yarom merely smiled.
"I want to marry you too," she said sweetly.
"No, I don't think you understand," Mr. Cardinale said, whipping out a simple three-quarter-carat princess-cut, platinum-set solitaire diamond that made her understand real quick.
Tears began to mix with rain. "Of course I will, you stupid idiot," Ms. Yarom said.
Interfaith minister the Reverend Laurie Sue will conduct a hippie-inflected ceremony at the Tavern on the Green's Crystal Room, after which the couple will continue to fly back and forth between America's two greatest cities. "We're like a couple of little nomads," said the bride-to-be.