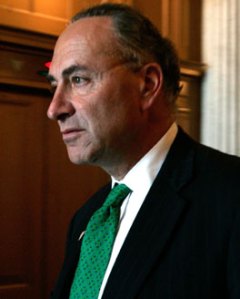 Even by Chuck Schumer standards, there were a lot of cameras set up outside the Farley Post Office in midtown, where he and Attorney General Eliot Spitzer were expected to denounce illegally mailed cigarettes. As Mr. Spitzer and the press pack waited for the Senator to arrive, Mr. Schumer's press secretary, Risa Heller, fielded a steady stream of requests from the networks. "Everybody's going to want to do a one-on-one," an NBC producer told her. "I want you to have a one-on-one; he wants you to have a one-on-one," Ms. Heller assured a producer from Fox News.
"Next thing, he's going to force President Bush to sign an executive order banning A.T.M. fees," one member of the crowd joked.
The joke was that what had begun, inauspiciously, at a slushy, ill-attended, classic Chuck Schumer press conference one month earlier had turned into President Bush's most serious political defeat. New York's senior Senator was the first politician to criticize the sale of the operator of several American ports to a company owned by the government of Dubai. Just over a week later, Mr. Schumer and his unlikely allies in conservative talk radio had stampeded the Republican Congressional leadership into open opposition to the President.
"It was utterly amazing—who would believe it?" Mr. Schumer said as the deal appeared in its death throes by mid-March. "I did always think, if it achieved a certain level of visibility, that we could stop it. I thought it would be maybe at the jet-plane level, and it ended up being an intergalactic missile."
Mr. Schumer's campaign against the Dubai deal was a Sunday press conference gone nuclear, a political explosion fueled by the tabloid-honed, bread-and-butter Brooklyn populism that has driven Mr. Schumer's remarkable success with the New York and, increasingly, the national media. The ingredients were familiar: a suspicion of Arab governments; an immediate grasp of an issue's visceral appeal (Terrorists! Ports!); and a wonky intimacy with the arcana of a relatively obscure policy area, maritime security.
The Senator's position came under fire from many quarters, with some critics suggesting that opposition to the deal was driven by xenophobia or anti-Arab racism. Mr. Schumer heatedly disputes that view.
"Let's say skinheads had bought a company to take over our port," he said. "I think the outcry would have been the same."
Now the question is whether this was merely a spectacular, one-time takedown of the President by a New York Senator, or some kind of broader model for a Democratic Party that, pollsters say, many voters don't trust with security. The driving force behind much of the Bush administration's national-security policy has been an alliance between hawkish coastal intellectuals and patriotic inland conservatives. For a moment, Mr. Schumer and his Democratic allies tapped into the power of the national conservative movement. Critics called him a demagogue, but Mr. Schumer, for one, thinks the Dubai fight offers a model of sorts.
"This gives Democrats a window that opens on other security issues," Mr. Schumer said.
The sale of the Peninsular and Oriental Steam Navigation Co. to Dubai Ports World was nearly complete in January, when a lobbyist for a small Florida shipping company launched a long-shot bid to derail the deal. The Florida company was concerned about the sale for business reasons unrelated to security. The lobbyist, Joe Muldoon III, put together a white paper arguing that the deal could compromise U.S. security, then started working the halls of Congress.
Mr. Schumer was an obvious choice for Mr. Muldoon. The Senator has been demanding more money for port security for years, and the deal would affect Mr. Schumer's home territory.
In late January, Mr. Muldoon gave a Schumer aide, Josh Vlasto, a copy of his white paper.
"I have to say, I didn't even ask them to go public on this," Mr. Muldoon said, adding that he still hasn't actually spoken to Mr. Schumer.
There really was no need to ask.
On Friday, Feb. 10, Mr. Schumer's office received a call from Ted Bridis, an Associated Press reporter in Washington who had also gotten word of the deal. Referring apparently to Mr. Muldoon's white paper, the Senator struck a cautious, critical note.
The story ran on Saturday and was little noticed. Mr. Schumer scheduled a press conference the next day to advance his complaints on a day—Sunday—that the New York press had long ago ceded to his demands for everything from improved cellular-telephone service to fair milk prices. But that day, New York was hit by a record-breaking blizzard, and the weather story turned it into a rare weekend without a Schumer press conference. Finally, on Monday afternoon, Mr. Schumer trekked to the passenger-ship terminal on Manhattan's far West Side. With the Hudson River as a backdrop and slush underfoot, he hammered the port deal to a pair of tabloid reporters and a few local television cameras. It had all the makings of a fast-fading tabloid story, like the Sunday press release that Mr. Schumer had put out a couple of weeks earlier: "In Wake of National Body Part Transplant Scandal, Schumer to Unveil Critical Legislation."
Mr. Muldoon, in the meantime, held his breath, fearing that Mr. Schumer's stance would turn the issue into a partisan fight, allowing Congressional Republicans to hold firm.
Odd Allies
But Mr. Schumer had allies outside the halls of Congress. The radio host Michael Savage, the third-most-popular talker in the nation, had seen the A.P. story on a conservative news site.
"I oppose everything he stands for specifically," Mr. Savage said of Mr. Schumer. "To me, he appears to be on the socialist wing of the Democratic Party—tax the rich, reward the lazy. I'm on the opposite side." But he put Mr. Schumer on his radio show on Feb. 17. "We agreed on this issue," Mr. Savage said.
While Mr. Savage—who was fired from the cable television network MSNBC for telling a gay caller to "get AIDS and die"—had found a new friend, Mr. Schumer was generating skepticism on a typically friendlier corner of the dial, National Public Radio. There, reporter Adam Davidson echoed the skepticism of experts on port security like the former Coast Guard commander Stephen Flynn.
Mr. Davidson noted that he had not been able to find a single port-security expert who agreed that the Dubai takeover of some terminals in several U.S. ports was a genuine concern. Mr. Schumer's office, Mr. Davidson said, "gave me the names of two experts who they said agree with them that Dubai Ports World is a real security threat. I called both those experts, and both of them said, 'No, there's no security threat here.'"
"We thought they shared our belief that there were serious security concerns," Mr. Schumer's spokeswoman, Ms. Heller, said.
Mr. Schumer, meanwhile, pressed the Senate to vote on the issue immediately, before the White House could tamp down the furor, by introducing legislation to block the deal as an amendment to an unrelated bill on March 8. The next day, Dubai Ports World appeared to give up the fight, releasing a statement that agreed to turn the U.S. ports over to a "U.S. entity." The exact form of the transfer remains contentious.
And somewhere in the process, the steamroller had flattened even Mr. Schumer's considerable ability to stay in front of a story. National coverage of it has focused on the intramural Republican battle, which is what finally doomed the deal. Even CNN's timeline of the story notes political involvement beginning on Feb. 15, when Mr. Schumer led a bipartisan group of Senators in opposition to the deal. But the only New York Senator that the timeline credits is Hillary Clinton.
"Oh, that sort of thing doesn't bother me," Mr. Schumer said.