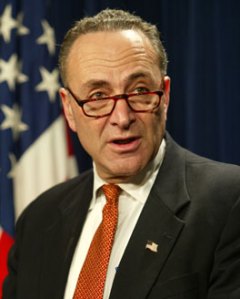 We should have known it: It turns out that Senator Charles Schumer was never really interested in the thing he calls, with a burst of Yiddish syntax, "The great between-Spitzer-Schumer blah-blah-blah."
"If I was running for Governor, I would have run a whole different race," the newly re-elected Senator told The Observer in a telephone interview. "The primary vote is 80 percent downstate. I would have been downstate all the time. I was upstate."
Mr. Schumer spoke a day after dousing a rumor that had him and New York State Attorney General Eliot Spitzer playing a game of chicken, with the Democratic nomination for Governor in 2006 as the prize. On Nov. 15, Mr. Schumer announced that he had accepted a sweet deal from new Senate Minority Leader Harry Reid: a leadership post and a prized seat on the Finance Committee. And suddenly, as he had it, there was only one player in that game all along.
"I would never say 'never' and would not be pushed into that, either by my opponent or the press," Mr. Schumer said of his long refusal to rule out a run for Governor. "People got one and one and equaled 11."
But if Mr. Schumer doesn't want to be Governor, what does he want to be? The answer, it seems, is that New York's senior Senator would like to be Daniel Patrick Moynihan. At age 53 and about to begin his second six-year term, Mr. Schumer's decision to stay in the Senate marked a clear choice for the future. Mr. Schumer wants to be judged by the standards of New York's handful of large Senate figures: Robert F. Wagner, Jacob Javits and, of course, Moynihan, with whom he served for two years before the late Senator retired in January 2001.
"He's on track to be a lion of the Senate," said William Cunningham, a former Moynihan aide who is now Mayor Michael Bloomberg's communications director. "With this decision to stay in the Senate, he is what Pat Moynihan hoped he would be when he first ran. When Senator Moynihan campaigned with Chuck, Pat made the point that it's good to have somebody that age, because you have the time that you need to build up seniority."
The parallel between the son of a Hell's Kitchen saloonkeeper and the son of a Brooklyn exterminator isn't an obvious one. The four-term Senator Moynihan was unorthodox, distant and occasionally cryptic, better known for his academic research than for his devotion to constituent service. The Brooklyn legislator is blunt and ubiquitous. Moynihan was a party maverick; Mr. Schumer just took a party leadership role. Moynihan sequestered himself on his farm to write books; Mr. Schumer, recalled State Senator David Paterson, is the kind of politician who wakes up early on New Year's Day to attend the inauguration of the North Hempstead supervisor.
"Unlike with Moynihan, you'll never be able to say 'I don't know where my Senator is' with Schumer," said U.S. Representative Charles Rangel, the dean of New York's Congressional delegation.
But Mr. Schumer told The Observer that he regards Moynihan, who died last year, as a model.
"Moynihan is somebody I've always looked up to, aspired to be," said Mr. Schumer, who recalled auditing Moynihan's comparative-government course as a freshman at Harvard.
"I'll tell you a very interesting story," Mr. Schumer continued. "The week after I won [in 1998], I'm sort of flush with victory and Moynihan calls me up and he says, 'Come to my office.
"'In a few days, I'm going to announce I'm not running for another term,'" Mr. Schumer recalled Moynihan saying. "'The fact that you are there allows me to do this.' He felt I could continue his legacy." Moynihan did, in fact, announce his retirement on Nov. 8, 1998. Hillary Clinton succeeded him.
Moynihan's legacy–from laying the intellectual groundwork for welfare reform to fighting for federal money for New York–stemmed in part from his own seniority and his seat on the Finance Committee, one of the two most sought-after Senate perches, which he chaired from 1993 to 1995. The Senate Finance Committee writes tax legislation.
Mr. Schumer's move to that committee won him praise from even his old nemesis, former Senator Alfonse D'Amato, whom Mr. Schumer defeated in '98.
"He's made the right decision, and not so much for his party but–much more importantly–for the good of New York," said Mr. D'Amato. "The fact that he will now be on the Finance Committee is very important."
The Finance Committee will be the setting for two of President Bush's second-term initiatives: his plans to change the tax code, and his announced intention to allow Americans to invest a portion of their Social Security savings in private accounts. Mr. Schumer, who has close ties to Wall Street, told The Observer that he is skeptical of Mr. Bush's Social Security plan, but open to changing Social Security "to modify the system and give people some more control."
"It's an amazing committee," an ebullient Mr. Schumer said of Finance, "because you can take [on] ideas, big ideas. I have a little card I keep in my pocket. I have new ideas all the time."
Sometimes overshadowed by his superstar junior Senator, Mrs. Clinton, Mr. Schumer now finds himself one of the most powerful, and highest-profile, Democrats in the country. Along with his new post leading the Democratic Senatorial Campaign Committee for two years, and the coming Finance Committee wars, he is also a key player in the Democrats' stand against some of President Bush's judicial nominees. As New York State Democrats celebrate averting a civil war between Mr. Schumer and Mr. Spitzer, Mr. Rangel speculated on Mr. Schumer's new prominence.
"They're giving Chuck Schumer the ability to become a Presidential candidate in four years," he said.
Even if it's, well, the other Senator from New York who runs for President in four years, however, Mr. Schumer is a fixture on the political scene. He'll likely hold that Senate seat–to which he was re-elected with 71 percent of the vote this year–for "as long as he wants," said Mr. D'Amato.
Job Security
Senate seats don't carry the life tenure of the federal bench, but in a Democratic state like New York, it's pretty close. No New York Democrat has lost re-election to the Senate since the 17th Amendment established the direct election of Senators in 1913. (Trivia buffs: The last New York Democrat to lose his Senate seat was Edward Murphy Jr., in 1898.) With just a decade or two of patience, Mr. Schumer–who turns 54 on Nov. 23–could hold a prime chairmanship on a key committee (assuming the Democrats manage to win control of the Senate at some point), and vital seniority on others.
"He is, by Senate standards, a very young man," said Mr. Cunningham.
On the Banking Committee, Mr. Schumer is younger than any of the four Democratic Senators who rank ahead of him in seniority. Of six more senior Democrats on the Judiciary Committee, only Wisconsin's Russell Feingold is younger than Mr. Schumer. And on the all-important Finance Committee, which Mr. Schumer will join as one of the junior members next session, only Blanche Lincoln (of unsafe–for Democrats–Arkansas) is younger.
Now Mr. Schumer will wait on two things: time, and control of the Senate, which will make the difference between tacking programs onto Republican legislation and steering a national agenda.
"This is clearly a long-term decision on his part, a sense that six, eight years down the road, the Democrats will retake the Senate," said Robert David Johnson, a professor of American history at Brooklyn College. "If he's right, he will be one of the three or four most influential players in the body. But it's a big gamble. If they don't get the majority back, he'll be consigned to permanent minority status."
Or maybe not. The Governor's race comes up, after all, every four years. And Mr. Schumer is ruling nothing out.
"I would say this, as I said before the election: The only thing on my radar screen is being a good Senator and delivering for New York," he said. "Maybe now, people will believe me."