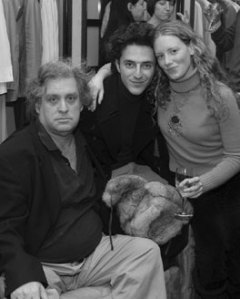 On a warm Thursday evening last September, Charlie Finch sat at a corner table at Bottino in West Chelsea, surrounded by covey of young women with fashionable cleavage and budding art careers. It was the first night of the new art season, and Mr. Finch was holding court before heading out to the gallery openings.
It was surprising that he had a court at all. As the world of art criticism has become indescribably bland, Mr. Finch has remained vicious and victorious; in his 14 years of art writing, he has managed to offend nearly everyone who's anyone in Soho and West Chelsea.
A black-clad waiter dispensed another round of gin and tonics, and someone raised a glass: "To Charlie's angels!" Mr. Finch, who was drinking hot tea, took a sip, chuckled—and picked up the tab.
With his entourage in tow, he headed west on 24th Street.
"It's like a Swiss village here tonight," he said, stopping every few yards to greet artists, dealers and collectors in a manic flurry of hand-shaking and air-kissing. He was dressed in his usual rumpled, preppy uniform: a Brooks Brothers blazer over a faded polo shirt, loose khakis and dirty white sneakers.
"You're looking good, Charlie," a collector called out.
"Ronald Reagan used to say there are three ages," Mr. Finch said. "Young, middle-aged and 'You're looking good.'"
At 52, he is a voluble, gregarious man with a Falstaffian physique, a tangle of graying blond hair and a smile that bares several missing teeth.
His Artnet column, which appears about twice monthly, is an acerbic blend of art criticism, news and gossip. He gleefully dissects the personal quirks of artists, dealers and collectors, and dishes dirt about backroom deals and price-fixing scams.
His writing is fluent, witty and opinionated; it can also be crude, puerile, venomous and gratuitously scatological.
"He's a classic gadfly," said veteran dealer Jeffrey Deitch, who was a frequent target of Mr. Finch's attacks in the mid-90's. "What he writes is kind of an extreme version of what people in the art world really do talk about."
For the most part, the subjects of Mr. Finch's poison-penned barbs don't return fire. "When you're in the public realm," said Mr. Deitch, "you really look like an idiot going after someone like Charlie, who in the end is kind of harmless."
Or is he? After the publication of his Feb. 9, 2006, Artnet column, Mr. Finch found himself at the center of a storm of invective.
It was "Another item for the prosecution in Women Everywhere v. Charlie Finch," blogged the art critic Kriston Capps.
"Charlie Finch has reached a whole new level of disgusting," declared an anonymous blogger who calls herself Edna V. Harris. His piece was "sexist trash masquerading as art criticism," she wrote.
Greg Allen, a collector, condemned Mr. Finch's "pawing prose" as "an unenlightened, retrograde blight" in an open letter to Artnet posted on his blog.
The column that had the art gang up in arms is a short piece on a young artist, Natalie Frank, whose lush, figurative paintings of dead girls and decaying flowers are on view at Briggs Robinson Gallery in Chelsea through March 11.
The article is essentially a play-by-play recap of what Mr. Finch did to promote the career of this 25-year-old Columbia M.F.A. student.
He visited her studio and critiqued her works-in-progress; he talked her up to dealers and collectors; he helped her land her first solo show. (Mr. Finch also name-checks me: Ms. Frank was a student in a seminar I taught at Yale several years ago, and I introduced them when I began researching this article.)
The tone of the piece is paternalistic, with Mr. Finch assuming the role of art-world Svengali. It's also mildly lewd. The most objectionable passage is a description of the artist in her studio, "sweat[ing] through acrylics and oils in a wife beater shirt for twelve hours at a time."
But of all the crude and caustic columns Mr. Finch has penned over the years, why a kerfuffle over this one?
"Charlie's a genius!" Artnet's editor, Walter Robinson, crowed over the phone last week. "I wish a had a dozen more—no, that's too many. I wish I had several more like him."
"One of the things that's interesting about this piece is that it's intensely gendered," he said. "It's an older man writing about a woman young enough to be his daughter. I don't think that makes it sexist. The identity of the people is very clear—and you don't usually see that in art criticism."
And the description of Ms. Frank, sweating in her studio?
"The bloggers' reactions are much more prurient or obscene than anything he wrote," said Mr. Robinson. "You mention a wife-beater T-shirt to them and they go crazy."
THE WALLS OF MR. FINCH'S CRAMPED EAST VILLAGE APARTMENT are covered with art, mostly small paintings and photographs by some of his favorite young artists: Su-en Wong, Ellen Altfest, Lisa Ruyter, Adam Stennett … and yes, Natalie Frank.
"I'm no Charles Saatchi," he said, perched on a wooden chair in his bedroom, the floor of which was scattered with loose change and old gallery announcements. "I collect what I can afford, mostly in the under-$5,000 range."
More often than not, he writes about the artists whose work he buys. He usually discloses not only what he's bought, but also what he paid.
"I believe that as a critic, you should really be out there with both feet, as an activist," he told me. "Nowadays, critics will tell you, 'I won't go to studios, I won't be an advocate, I won't be a spokesman.' But the old New York, Greenberg and Rosenberg tradition is that the critic is an advocate. A tummler, as they would say in the Catskills."
While Mr. Finch's self-comparison to venerable mid-century critics like Clement Greenberg and Harold Rosenberg might be self-aggrandizing, it's true that art writing today has become pretty bloodless.
At one end of the spectrum, you've got the critics at general-interest magazines and newspapers, who fill their column inches with history lessons and dry descriptions of the art.
Even Peter Schjeldahl, once an incisive interpreter of cutting-edge art for The Village Voice, is now relegated to silver-tongued swooning about Important Shows of dead artists for The New Yorker.
At the opposite pole are the glossies, like Artforum and Flash Art, which fill the blank space between pictures with turgid, post-Marxist analysis that often reads like badly translated German.
Mr. Finch may not be anyone's ideal alternative, but he does have a distinctive voice—and judging from the furor, an active readership.
The son of a utilities-company executive and "a debutante model turned homemaker," Mr. Finch grew up on the Upper East Side. He went to school at Andover and Yale, where he studied political science and got involved in Democratic Party politics, running George McGovern's student campaign in 1972.
After college, he hit the campaign trail for Presidential hopeful Gary Hart and New York Mayoral candidate Carol Bellamy. Soon thereafter, he abandoned politics and worked briefly as a zookeeper in New Orleans. He enrolled in Union Theological Seminary, but dropped out after three years.
In the late 80's, he got involved in the East Village art scene, where for several years he ran a gallery called Real Art. He also hosted Artbreaking, an afternoon talk show on WBAI.
In 1992, he began writing for the scrappy, newsprint art 'zine Coagula. His column—which he published under the pseudonym Janet Preston—was full of snarky, insidery items about art-world A-listers like former Whitney Museum director David Ross, dealers Larry Gagosian and Arne Glimcher, and art stars Cindy Sherman and Jeff Koons.
His sources, he said, "were always disgruntled gallery workers who felt screwed over by the big shots."
Coagula quickly developed a cult following among art-collecting celebrities like John Waters, Leonard Nimoy and David Bowie. Distributed for free in art galleries in New York and Los Angeles, it was the 'zine the art world loved to hate.
"In any other field—politics, show business, whatever—a gossipy scandal sheet would be nothing out of the ordinary," said Mr. Finch. "But since the art world is so secretive—it's the last unregulated business out there—this kind of thing was explosive."
In his heyday at Coagula, he carried the real menace of a gossip columnist who doesn't give a damn, and his mere appearance at gallery openings would often send dealers running for cover.
Mr. Finch's stint at Artnet began in 1997, when Mr. Robinson, the magazine's founding editor, recruited him to write a gossip column.
"I needed some heavy artillery—a loose cannon," said Mr. Robinson. "There's no shortage of loudmouths in the art-criticism business, but Charlie's the loudest loudmouth of them all."
Though his column is only available online, Mr. Finch doesn't own a computer and does all of his writing by hand.
"He delivers his text scrawled in block letters, usually on the back of a press release or a piece of Yale Club stationery," said Mr. Robinson. "Then he'll call me up and curse at me about the mistakes.
For Mr. Robinson, publishing the loudest loudmouth in town also means dealing with the backlash—the people who log onto Artnet only to find themselves or their friends slandered and maligned.
Last fall, Mr. Robinson's patience was put to the test when Mr. Finch filed a column about Becky Smith, owner and director of the start-up Bellwether Gallery, which had recently moved from Willliamsburg to the gold coast of West Chelsea.
The piece began with a general critique of the "Chelsea zeitgeist," but quickly devolved into an ad hominem attack on Ms. Smith, whom Mr. Finch described as "sardonic, self-interested and fleshy," with a "lumpy persona," "globular eyes" and an "art purveyor's natural talent for petty dissimulation."
The day the column was posted, Artnet was flooded with angry e-mail.
"It was the low point of my editorial career," said Mr. Robinson. "We got more negative reactions to that piece than we ever had for anything. Finally, Becky corners me at a cocktail party and rags on me for half an hour. I asked her if she wanted me to take the piece down, and she said yes."
Mr. Robinson kept the column online for two weeks, then deleted it from Artnet's archive. "It didn't seem fair that one negative review should haunt her forever," he said.
But Mr. Finch, enraged at what he perceived as censorship, went "on strike" and refused to file a column for six weeks.
Things came to a head in early January, when Mr. Finch and Mr. Robinson found themselves face to face at the opening of the Museum of Modern Art's new building on 53rd Street.
"We had a huge, screaming fight on the escalator, which kind of cleared the air," said Mr. Robinson. "Then Charlie insisted that we make up."
For Ms. Smith, the column felt like a stinging betrayal. "What hurt my feelings is that I really thought he was my friend," she said by phone. "I mean, the week before, he was sitting on my couch very loudly telling the world I'm the next big thing."
She said: "And there's definitely an element of schadenfreude in the art world. If someone is attacked, people feel better about themselves for a minute."
Undeterred by the Bellwether incident, Mr. Finch is now shopping around what promises to be a scathing, unauthorized biography of dealer Larry Gagosian, who may be the second-most-hated man in the art world.
The last time I spoke to Mr. Finch, he told me he was house-hunting in Westchester County. It didn't come as a total surprise. The crackpot curmudgeon has found true love.
In a column posted on Feb. 1, Mr. Finch made the announcement: "A beautiful art-history professor and I went to Las Vegas last weekend to get married."
Could this be the beginning of a kinder, gentler Charlie Finch?
"I'm not so angry any more," he said. "I'm older, I'm sick, and I'm tired." Last year, he was diagnosed with hemochromatosis, a hereditary blood disease. "A few years ago, I was seeing maybe 30 to 40 shows a week," he said. "Now I see that many in a month."
He knows that there are people who despise him; it's even a point of pride. Not long ago, he slipped me a hand-scrawled list of 14 names—all prominent figures—under the heading "People Who Hate Me."
"Now in the art blogs, there's this younger generation who thinks I'm this fat, old guy, that I'm out of it and know nothing. People are treating me the way I treated them. But it's fine. What goes around comes around."
He chuckled and thrust a finger into the air. "Sharpen your swords!"