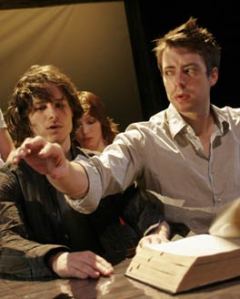 There's been dance everywhere these past weeks, and not only at the City Center, where Paul Taylor was shutting down, and at B.A.M., where Mark Morris was moving in.
Susan Marshall presented a 20th-anniversary season at the Dance Theater Workshop that confirmed her reputation as an inventive and persuasive dance maker. Her new extended piece, Cloudless, proceeds in 18 short takes, performed by five dancers, and it involves a number of tired devices that usually deflect my attention. At one point, for instance, a film running on a monitor shows, more or less, the very things that are taking place on the stage (in this case, all five dancers sardined into a small square space like a sandbox); and the music is a trendy mix, from Philip Glass to "Crimson and Clover" (remember Tommy James and his Shondells?), to the great duet "Au Fond du Temple Saint" from Bizet's The Pearl Fishers performed by David Byrne and Rufus Wainwright. There are ladders, pulleys, chairs—props upon props.
But as the solos, duets and group sections parade by, they add up—if not to a coherent narrative, then to a coherent view of life, a highly personal view of how people relate to each other. Like very few other choreographers (Doug Varone is another), Marshall understands intimacy and is moved by it. For me, the most affecting section of Cloudless is the one called "Book." Two men are seated at a table that's holding a large book; another man and a woman are seated behind them. An electric fan riffles the book's pages. The man behind leans over and gently kisses one of the men in front of him; later, the woman does the same thing. The specifics of the relationships don't matter: These four people are in quiet, intense connection—and it's beautiful.
A man clasps his hand over a woman's mouth; again and again, when he takes it away, she screams, and so it goes on ("The Sound"). A woman lying on the ground blows tissues gently upward, and a man seated next to her snatches them out of the air and puts them in his pocket, then makes her a cup of tea, at one moment resting the cup on her upended bottom ("Cup"). A man's solo is constantly interrupted by other dancers intruding on his space ("Solo"). The five performers have to be people as well as dancers, and they succeed. Cloudless reveals both a fertile mind and a convincing humanity.
Alas, Benjamin Millepied & Company reveals not much more than a large ambition and a shallow aesthetic. Millepied joined City Ballet in 1995, welcomed as a potential classicist in the tradition of Helgi Tomasson. But in the last half-dozen years, his dancing has thinned and weakened, and he's been getting by on his good looks and assured manner. Now that he has a company of his own—actually, a group of pickup dancers, many of them from NYCB—we can see why he's moved away from classicism: His real taste is for pseudo-Euro-trasho. The repertory he presented at the Joyce included three long—no, endless—pieces danced in darkness or semi-darkness, accompanied by clangorous noises or peculiar combinations of music: Short-Lived by Aszure Barton juxtaposes the Cracow Klezmer Band with the 18th-century Jean-Marie Leclair. (Twyla, you really started something when you married Joplin and Haydn in Push Comes to Shove.)
Why anatomize these pieces? The best of them was Silence Text by Luca Veggetti, which utilized a respectable vocabulary and had some effective moments but was solemn and portentous. The worst was Phrases, Now—a "world premiere" by the Greek Andonis Foniadakis in which five dancers fling themselves around interminably. Foniadakis has danced for Béjart, and it shows.
And then there was Millepied's own world premiere, a duet called Closer made for those stars of A.B.T., Ethan Stiefel and Gillian Murphy. Stiefel, with his endangered knees, bowed out and Millepied replaced him, but so what? Any two capable dancers could have handled this smooth generic exercise. The score was by Philip Glass, and there was a lot of running around. Only the final moments were interesting, with the couple on the ground, tenderly discovering each other's feelings and bodies. It was too little, too late.
I feel I should mention that overlooked area of dance, the opera ballet. At the Met, in Act I of the new production of Tchaikovsky's Mazeppa, a lot of dancers in a lot of cloth were crammed into a small space and faced with a violently raked stage. How sad I felt for them, coping with the hopeless conditions and the hopeless "choreography," by Russia's Sergei Gritsai. You could sense their grim yet plucky determination to survive with honor, though one boy was so young and so obviously excited at being on a stage that he actually looked happy. Luckily, your attention was distracted from the dancing by the glare from acres of gold lamé costuming the singers.
A signal event of the week was City Ballet's announcement that it was promoting nine(!) corps dancers into the soloist ranks. I've never heard of such a wholesale promotion, but it makes some kind of sense. The company this past season featured 23 principals, at least a third of whom either weren't dancing or shouldn't have been dancing, and 11 soloists, only two or three of whom are ever likely to become principals. And there's a lot of talent at the bottom—most of the newly minted soloists have real promise. But what's to become of them? If we can extrapolate from the last dozen years, a few will be shot to the top too quickly and others will wither from lack of nurture. Where the company needs change most is in its ballet-master/ballet-mistress structure—and in its attitude toward staging and coaching. Very few dancers, however talented, can do it on their own.
A final note: The smart-ass question I recently raised about aphids has been answered definitively by Paul Taylor, who writes, "Aphids are insects—family aphididae, also disrespectfully known as 'plant lice.'" Certainly the dancers in his sprightly Spring Rounds bore no relation to lice of any kind.