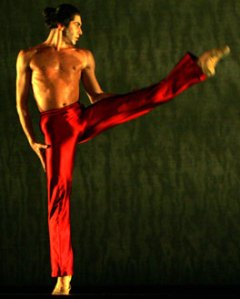 "You gotta get a gimmick," Stephen Sondheim instructed us in Gypsy, and the guys behind Kings of the Dance were listening. (They include the producer, Sergei Danilian; the "Artistic Associates," Angel Corella and Ethan Stiefel; and the Orange County Performing Arts Center, to which Stiefel is connected and where the Kings premiered a week before they began their run at the City Center.)
It's been a bumpy ride. The four kings were always to have been Corella, Stiefel, Johan Kobborg (from the Royal) and Nikolay Tsiskaridze (from the Bolshoi). But they were to be complemented by the brilliant Diana Vishneva, and they were to perform Roland Petit's Le Jeune Homme et la Mort, which galvanized us back in 1949 when Petit brought it to Broadway starring the great Jean Babilée. (It was less galvanizing—because more dated—when Nureyev, and then Baryshnikov, tried it.) By the time the show hit Orange County, Vishneva was gone, and so was Jeune Homme (problems with Petit), but the ravishing Alina Cojocaru was on hand, and so was Flemming Flindt's The Lesson, just as dated as Jeune Homme and less interesting. A few days later, in New York, no Cojocaru. Oh, and the four classical variations promised for the men were gone, too.
None of this mattered, at least to the opening-night audience, which was clearly determined to be present at An Event, as if we were back in the days of the famous Dance Explosion, when the town was littered with galas and superstars, not mere kings of dance but gods and goddesses. As it happened, Kings of the Dance was less dopey than most of those galas, but also less fun. There's something to be said for gods.
To kick off the program (and to fill it up to a respectable length) was a 20-minute film showing the kings at work and play and saying things like "What an honor to be working with such great dancers." Christopher Wheeldon, choreographer of the main new piece, was honored to be working with all four of them. The film segued into his piece, cunningly called For 4 and set to Schubert's Death and the Maiden. (Another quartet—get it?)
The four kings start out lined up on the stage, ready to be put through their paces. Since Wheeldon is a master of entrances and exits, and always fluent with groups, everything proceeded pleasingly. But instead of highlighting the distinctive qualities of his four extraordinary dancers, he created a one-size-fits-all texture of movement, so that no one really stood out; each of them looked less than himself. The four kings added up to more than zero but less than revelation.
The Lesson, which followed, was a revelation—or, more accurately, a reminder of the kind of overwrought and under-choreographed dramatic ballet that flourished in the 50's and 60's. Flindt was a follower of Petit's (but less talented), and so instead of a young man who hangs himself in an attic and is led over the rooftops of Paris by Death (libretto by Cocteau), we got a young girl dancer murdered by a demented ballet master (story based on Ionesco). This isn't modern dance—it's ballet; she's on point, and he throws in some traditional leaps and turns when he isn't choking her.
All four kings were supposed to dance The Teacher, but Stiefel, given his endangered knees, withdrew, leaving the first performance to Corella. It was a real revelation watching this hyper-talented, extra-lovable guy turn into a psychopathic killer: He gave a brilliantly nuanced and powerful performance, with no "Look, Ma, I'm killing" self-conscious conceit. I would like to have seen Kobborg in the role, but that would have meant seeing that documentary again. Sorry! (It would also have meant seeing The Lesson again.)
After the whimper, four bangs: a series of newly choreographed solos made to order for the royals and calculated to display their individual strengths.
Nils Christe's Wavemaker, derivative but certainly watchable, unleashed Stiefel's explosive energy; it just wasn't very interesting.
Afternoon of a Faun proved what didn't require proof—that Tim Rushton is not in the running with his famous predecessors, Nijinsky and Robbins. Nijinsky deployed a group of nymphs to excite him; Robbins gave us a boy and a girl. Kobborg was on his own; his faun crouched and sprang and rippled through the entire 10-plus minutes of the score. He's a beautiful dancer who made the most of his amazing suppleness, but not even he could maintain our interest for that long. His faun was clearly waiting for a group of nymphs to come along—or at least a girl. No such luck—there was only him and a beam of light.
The most startling of the solos was given by Nikolay Tsiskaridze, whom we enjoyed in Sylphide drag when the Bolshoi was in town last summer. A few years ago, I described him as "tall, boyish, with a big jump, a big grin and hair badly in need of suppressing," and nothing has changed except that he's now mannish rather than boyish. He's also girlish, which was part of the point of his Carmen, a compressed, parodic gloss by Roland Petit on his once-famous extended ballet of that name. Tsiskaridze gets to be Don José, Escamilio and the lady herself, flaunting her fan and eventually stabbing herself to death with it—a prolonged joke that works. He's both impressive and goofy, and because he's having such a good time, we do too.
In the final solo, Corella the psychotic was replaced by Corella the charmer, tossing off a Stanton Welch/Ellington-Strayhorn number called We Got It Good. It was all good-natured hoofing and grinning but, like all of Welch, hopelessly unoriginal: You couldn't help remembering Twyla Tharp's infinitely superior Sinatra Suite, made for Baryshnikov. Corella danced this as he dances everything, with consummate ease, and the audience eats him up. But Welch has merely exploited Corella's most obvious qualities.
So what did it all add up to? An over-hyped evening with occasional felicities. The plain truth is that Stiefel and Corella could just as well have rounded out their little band from their own home company, A.B.T., where all the guys are kings. But that would have been a less sexy gimmick.
IN THE FINAL DAYS OF CITY BALLET'S WINTER SEASON, I was able to catch Peter Martins' latest effort, Friandises (French for "morsels" or "bits"). There wasn't much to catch. This is one of Martins' dutiful company ballets, created to show off his young dancers—almost all the comers were onstage, rushing about to a disagreeable and ungrateful score by Christopher Rouse. The first section had echoes of Balanchine's Symphony in Three Movements; the second section looked back to Le Tombeau de Couperin, but drained of vitality. So things went on (and on), until everyone was leaping across the stage in a faux-energized finale. Martins had nothing to say to us except "Look at my kids." And they're nice to look at.
I also saw Balanchine's Brahms-Schoenberg Quartet. In the first movement, Kyra Nichols danced with less amplitude than formerly, but with her great musicality and assurance intact. In the second movement, Jenifer Ringer has perceptibly improved, but was still underwhelming. Yvonne Borree in the third movement has not perceptibly improved. Sara Mearns, who stood out in the corps of the Martins ballet, was given the final, "gypsy," movement. Mearns is a lovely dancer, but she's more lyrical than slam-bang. Her partner was the talented Amar Ramasar, but he too was miscast—he's not big enough, and the violet costume doesn't suit him. Glamour, sexual enticement and gleeful competitive drive are the keynotes here—the thrilling originals were Suzanne Farrell and Jacques d'Amboise. These are not roles for nice kids.
A bit of non-fatal miscasting: Jennie Somogyi in The Cage, that insectoid comment on Giselle. Even though The Cage palls over the years, it never fails—it's one of Jerome Robbins' canniest creations. But it was made on a great dramatic dancer, Nora Kaye, and Somogyi is incurably classical. She didn't harm it—she's much too adroit a performer to harm any ballet—but she didn't embody it. Whereas she was exactly right in Richard Tanner's Sonatas and Interludes, a modest yet complicated piece that learned the right things from Balanchine. The music, played on a prepared piano, is by John Cage—it's cool. And so is Somogyi: simple, musical, witty, quicksilver. What a relief to have her back after the brutal injury that kept her away for so long.
Back to Christopher Wheeldon. His After the Rain has a slightly altered cast but has lost none of its effect. In the first section, willowy Teresa Reichlen has replaced Maria Kowroski, and although her dancing is not fully defined as yet, she's unmistakably a star presence. The Arvo Pärt score suits Wheeldon perfectly, and he uses it to amplify his (and our) understanding of Wendy Whelan, giving her a romantic glow and glorying in her endless, sinewy legs.
Meanwhile, Wheeldon's early work for NYCB, Scènes de Ballet, reminds us that he's a true classicist. It's a company work—or rather, it's a School of American Ballet work, since it's entirely set on kids from the school. What impresses most, perhaps, is Wheeldon's natural (and rare) talent for deploying groups of dancers. Every decision he made was the right one, beginning with the decision to use a barre to split the stage on a diagonal, so that the mirroring effect that dominates the piece isn't straight on but canted. Scènes de Ballet is totally assured, the children perfectly coached (by Garielle Whittle), the whole thing an appealing reflection of the nature of ballet schooling and the importance of the academy. Like Friandises, it has a particular purpose to fulfill, but what a difference: One is an exercise, the other a ballet.