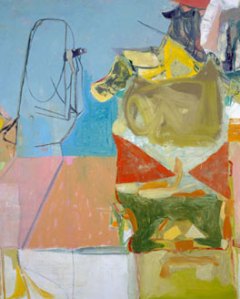 Who else but those crazy art bloggers would know best what to be excited about this art season? We asked a few of our faves from the digital hood to tell us what they're stoked about this spring in museums and galleries, and they provided a purty portrait of the season.
"Every Eva Hesse work I encounter reminds me of the Whitney's indefensible decision to cancel its presentation of SFMoMA's 2002 survey," Brian Sholis, a critic and the Artforum.com managing editor, wrote us (Mr. Sholis blogs at www.briansholis.com/insearch.). "Thankfully, the Drawing Center and the Jewish Museum are teaming up this spring to begin healing my open wound, presenting works on paper and sculptures." Eva Hesse is at the Jewish Museum from May 12 to Sept. 17 and the Drawing Center from May 6 to July 15.
Another zeitgeist favorite opens June 18. "It's Dada at MoMA, baby," wrote collector/filmmaker/journalist/whatever Greg Allen of Greg.org. "It's just the kind of schizzed-out, market-slapping show our war-torn times need, even if this incarnation is not as comprehensive as the Pompidou's." Mr. Sholis is also pumped, despite the show being slimmed down from 4,000 objects in the Paris venue: "Nonetheless it should still pack an anarchic punch, perhaps the first exhibit to do so since the museum reopened 18 months ago." It's "a nostalgic hooray for the avant-garde!" chimes in "Edna V. Harris," the anonymous blogger at anonymousfemaleartist.blogspot.com.
Elsewhere in museums, Ms. "Harris" also endorses Kara Walker's After the Deluge, at the Met from March 21 to July 30. "If Ms. Walker can successfully juxtapose works from the Met's collection with her own to comment on the historical impact of waterborne disasters on black Americans, this show could be one of the year's best," she wrote. "Hopefully it won't be a natural disaster."
It's a big season for Catherine Opie, noted Tyler Green. "The Aldrich Contemporary Art Museum in Ridgefield, Conn., features a survey show titled Catherine Opie: 1999 & In and Around Home (until May 14). Ms. Opie will show a series of photographs of Chicago at the Museum of Contemporary Art there, and the debut of one of her iconic self-portraits will be featured in this year's SITE Santa Fe Biennial."
"Inka Essenhigh's paintings about exaggerated everyday dramas took a turn toward political consciousness in the 2004 SITE Santa Fe Biennial. Will that continue? Find out when Ms. Essenhigh shows new work at 303 Gallery" in New York, wrote Mr. Green (March 4 to April 8).
Amy Sillman, at Sikkema Jenkins & Co., is on from April 7 to May 6. "Nobody pushes paint around like Ms. Sillman," wrote Ms. Harris. "Expect some real smushy zingers, and I predict a palette shift, too."
Also on Ms. Harris's list: Dennis Hollingsworth at Nicole Klagsbrun (May 12 to June 10). Then there's Nicole Eisenman (May 12 to June 17), "the perpetually progressive quasi-social realist," and Kelli Williams (June 23 to Aug. 5), "who teased us with one tiny gem of a painting in last summer's group show"—both at Leo Koenig. On May 11, "a double whammy" featuring Jennifer Coates and Susanne Simonson at Feigen Contemporary: "Ms. Coates, the talented painter of surreal biomorphic fantasy-scapes, will occupy the front room," and Ms. Simonson will take the main space.
There are emerging artists in group shows a-go-go, noted Paddy Johnson of Art Fag City (http://artfagcity.blogspot.com), including Turn the Beat Around from March 4 to April 1 at Sikkema Jenkins. "Worthy of particular attention," she e-mailed in, "is painter Marc Handelman, whose paintings explore themes of power, conquest and propaganda, through what could popularly be characterized as virtuoso Bob Ross paint-handling techniques."
We would be remiss, Ms. Johnson warned, "if we did not mention the Bronx Museum's annual Artist in the Market Place exhibition (March 22 to July 2) and the Whitney Biennial (March 2 to May 28). Among the 140 artists showing at the Bronx museum and the Whitney is Wayne Hodge, who will be presenting his piece Blonde Venus/Black Gorilla, a video which deftly explores the history of race and politics in film." (Mr. Sholis also noted a Biennial highlight: "Tony Conrad performs three times in the museum itself"—on March 26, April 29 and May 21—"but even better could be seeing the Melvins perform at Symphony Space" on May 17.)
Then there's the group show that might undo all group shows. "Uncertain States of America includes approximately 40 young American artists," wrote Mr. Sholis. "By cutting a narrow path through the American scene, the show has the potential to be as divisive as Bernard-Henri Lévy's American Vertigo." It's at the Bard Center for Curatorial Studies Museum (June 24 to Sept. 10).
Also on the bloggers' short lists: "Thomas Zipp," wrote Mr. Sholis, "is a young German artist who impressed me in December in Miami with a selection of small works on paper hung atop a reproduction of a Pollock canvas; installation views of his Story of the Eye–inspired exhibition, now at Guido W. Baudauch in Berlin, have further whetted my appetite for his first New York solo show in three years, opening May 12 at Harris Lieberman."
Meanwhile, Mr. Green noted Olafur Eliasson at Tanya Bonakdar Gallery's new ground-floor space on April 29. The surreal videos of Hiraki Sawa, whose work is currently featured in a mini-survey show at the Hirshhorn Museum, will be at James Cohan Gallery from April 22. Sally Mann will debut at Gagosian's Madison Avenue space on March 16. Don't miss a trip to the Met's roof between April 25 and Oct. 29! "Chinese artist Cai Guo-Qiang, who is known for his gunpowder projects, will exhibit Clear Sky Black Cloud, a recurring, timed-explosion piece," wrote Mr. Green. Bang!
Sure, it's a packed art season. But why not split town anyway? "Thanks to the hard work of the Utah Department of Natural Resources," wrote Mr. Allen, "the Great Salt Lake shoreline around Robert Smithson's Spiral Jetty has been cleaned up. Eighteen dumptruck-loads of 'eyesores' like the rusted-out pickup truck, the ancient amphibious tank, the burnt-out trailer, abandoned oil-drilling equipment are gone. (Never mind that the industrial detritus was one of the reasons the artist chose the remote Rozel Point for his entropic masterpiece in the first place.)
"With the recent resurgence in interest in Smithson's work (cf. Floating Island, the Whitney/MoCA retrospective), the trickle of art pilgrims making the off-road trip to the Jetty is becoming a flood—just follow the helpful arrows: 'Spiral Jetty This Way.' The state's prettification campaign is just a start; now I'm interested to see what the Dia—which owns the Jetty and administers it with Smithson's widow, the artist Nancy Holt—has planned. Will Dia's chairman and Barnes & Noble chairman and founder Leonard Riggio set up a bookmobile with a café on the site? Because even though I don't drink coffee—religious thing; you'll hear that a lot in Utah—nothing completes the Earth Art Experience quite like the Cheesecake Factory."