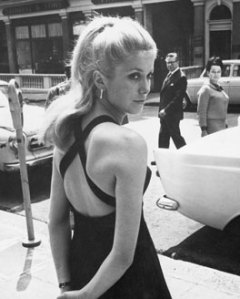 Luis Buñuel's Belle de Jour (1967), from a screenplay by Buñuel and Jean-Claude Carrière, based on the novel by Joseph Kessel (in French with English subtitles), is being shown at the Paris Theatre close to 40 years after it first played in New York. Kessel's novel shocked French critics and readers when it was published in 1929. As if anticipating the adverse reactions, the author wrote in his preface: "The subject of Belle de Jour is not Séverine's sexual aberration; it is her love for Pierre independent of that aberration, and it is the tragedy of that love." Kessel concludes his preface with a reprovingly rhetorical question for those critics who dismissed Belle de Jour as a piece of pathological observation: "Shall I be the only one to pity Séverine and to love her?"
The "sexual aberration" of which Kessel wrote undoubtedly seemed more shocking in 1929 than it is in this current period of erotic escalation on the screen, the stage, television, videos, DVD's and—most alarmingly of all to parents—the Internet. Indeed, Belle de Jour has reopened in New York at a time when movies are crossing new frontiers of male and female bodily exposure—gay sex, transsexualism, sadomasochism et al. And yet, of all the supposedly challenging attractions playing locally in our supposedly more enlightened era, the most compellingly erotic and entertaining spectacle is still provided by Belle de Jour—because of Buñuel's genius, and his self-involvement in the seeming sordidness of the subject.
The plot of both book and movie is straightforward enough: Séverine Serizy (Catherine Deneuve), happily married to a handsome young surgeon, goes to work in a house of ill repute—actually less a house than an intimate apartment. The money involved is less a motivation than a pretext for her actions: Pierre, her husband (Jean Sorel), provides for all of Séverine's material needs handsomely, but his respectfully temporizing caresses fail to satisfy her psychic need for brutal degradation—a need first awakened by a malodorous molester when she was a child of 8. To preserve a façade of marital respectability, Séverine works at her obsessive profession only in the afternoon, from 2 to 5 p.m., with the mystery of her matinee schedule causing her to be christened "Belle de Jour."
Buñuel fragments Ms. Deneuve's body into its erotic components: His shots of feet, hands, legs, stockings and undergarments are the shots not only of a fetishist like Stroheim, but of a cubist, a director concerned simultaneously with the parts and their effect on the whole. Buñuel's graceful camera movements convey Ms. Deneuve to her sensual destiny through her black patent-leather shoes, and to her final reverie through ringed fingers feeling their way along the furniture with the tactile tendency of a mystical sensuality—Séverine's, Deneuve's or Buñuel's, it makes little difference.
The beauty of the filmed version of Belle de Jour arises from its implication of Buñuel in its vision of the world. It is Buñuel who is the most devoted patron of Chez Madame Anais and the most discerning admirer of Ms. Deneuve's Séverine/Belle de Jour. Never before has Buñuel's view of the spectacle seemed so obliquely Ophülsian in its shy gaze from behind curtains, windows and even peepholes. Buñuel reminded us once again in Belle de Jour that he was one of the few men of the left not afflicted by Puritanism and bourgeois inhibitions about the sex lives of the "masses."
Anti-Erotic Pinup
Mary Harron's The Notorious Bettie Page, from a screenplay by Ms. Harron and Guinevere Turner, is based partly on research from The Real Bettie Page by Richard Foster, though the real Bettie Page declined to cooperate with the filmmakers. Hence, no afterword follows the final fade-out, as is customary with these quasi-biographical projects. The film itself—which, I feel, has been wildly overrated—strikes me as smugly anti-erotic in the extreme, in that Ms. Harron and Ms. Turner heap ridicule on Senator Estes Kefauver of Tennessee (David Strathairn) for his self-righteous crusade against S&M pinup Bettie Page. This was in 1955, mind you, and we all know how backward and bigoted people were in 1955—especially people from Tennessee, who had the churchgoing Senator Kefauver to represent their state's Bible Belt constituency. On bread-and-butter issues, however, Mr. Kefauver was a populist liberal. Who represents the state in 2006? Why, that great statesman and Senate Majority Leader Bill Frist, who so distinguished himself with his anti-plug-pulling antics in the Terri Schiavo case. Some progress in 50 years!
This is not to blame Ms. Page for turning out to be a dull character in such a luridly advertised come-on—nor the equally attractive Gretchen Mol, who plays the period pinup with appropriately naughty but nice complicity, down to her scanties and beyond. Still, even as a certified lifelong lecherous voyeur, I cannot report that Ms. Mol's fleshy incarnation of Ms. Page turned me on in the slightest. For one thing, though I was always susceptible to female nudity, I never had any contact that I can recall with the Bettie Page phenomenon, perhaps because I was never into bondage and sadomasochistic fantasies. She was apparently too nice a girl to be involved in hard-core pornography, like such legendary beauties as Candy Barr and Marilyn Chambers. She was never even a striptease artist like the personable Gypsy Rose Lee and Rose La Rose. All she did was pose and make faces at the camera as if it were all a big joke.
She was born in Tennessee in 1923 and was apparently a good enough student to prepare for a teaching career, but she soon turned to modeling once she left her hometown for New York City, posing first for camera clubs and later for professional photographers. Before she left Tennessee, there is the sketchy intimation that she was sexually abused by her father, and the film also shows her very naïvely allowing herself to be picked up by a stranger and lured into a gang rape that nonetheless seems to leave no lasting psychic scars. Indeed, throughout all her posing, Bettie never projects any sensuality, and her relationships with both men and women are never anything but professional. Finally, she rediscovers Jesus and returns to her revivalist roots.
The film more or less begins and ends with Bettie sitting outside a U.S. Senate hearing chamber for hours and hours while a procession of male witnesses testify about the harm that her bondage photos have done to their sons, at least one of whom accidentally strangled himself to death. Finally, Bettie is excused without being allowed to testify in her own defense. In between the beginning and the end of her ordeal, she is shown cheerfully posing for such real-life photographers as Paula Klaw (Lili Taylor), Irving Klaw (Chris Bauer), Bunny Yeager (Sarah Paulson) and the clownish John Willie (Jared Harris).
In a strange way, The Notorious Bettie Page functions as a chick-flick fantasy of a power-wielding female turning the male gaze with little effort into grotesque submission. Ms. Harron and Ms. Turner have previously collaborated on American Psycho (2000), from Bret Easton Ellis' sicko novel. They are working at a considerably lower voltage here, though their political attitudes are consistent in pushing the envelope far beyond conventional sexual attitudes. When one makes a joke about a young man strangling himself to death trying to imitate a bondage ritual, one runs the risk of calling into question all the striving for absolute sexual freedom and tolerance.
Altman in Queens
Robert Altman's creative and varied 29-film career is being honored by a retrospective of his work at the Museum of the Moving Image, 35th Avenue at 36th Street, in Astoria, Queens. It begins on April 29 at 2 p.m. with Kansas City (1996), starring Jennifer Jason Leigh, Miranda Richardson, Harry Belafonte, Michael Murphy, Dermot Mulroney and Steve Buscemi in a jazz-scored mix of crime, politics and melodrama redolent of Mr. Altman's hometown memories. The series ends with his latest effort, A Prairie Home Companion, on Thursday, June 8, at 6:30 p.m., at the D.G.A. Theater on 57th Street, starring Garrison Keillor, Woody Harrelson, Tommy Lee Jones, Meryl Streep, Lily Tomlin, Kevin Kline and Lindsay Lohan. Mr. Altman will be on hand at both the opening and closing events of the series for a Q&A with museum curator David Schwartz.
In between the director's two appearances are such acknowledged Altman classics as Nashville (1975), McCabe and Mrs. Miller (1971), Thieves Like Us (1974), Images (1972), Short Cuts (1993), Gosford Park (2001), Brewster McCloud (1970), M*A*S*H* (1970), The Long Goodbye (1973), California Split (1974), Three Women (1977), Vincent and Theo (1990) and The Player (1992), among others. Ms. Streep and Ms. Tomlin were clearly the comic highlight of this year's Oscar ceremony with their well-rehearsed riff on Mr. Altman's gift for improvisation, a prelude to the director's richly deserved Lifetime Achievement Award. Both actresses appear as if for an encore in A Prairie Home Companion, which, I hear, is destined to become another Robert Altman classic.