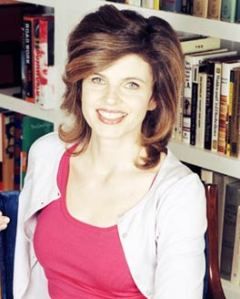 "That's Caitlin Flanagan," a female journalist hissed to me at a party in Los Angeles, indicating the famously self-proclaimed anti-feminist—then not yet a staff writer for The New Yorker—perched in the general vicinity of a glinting swimming pool. One got the feeling she wouldn't have minded flinging Ms. Flanagan into the deep end.
We weren't introduced—I only caught a sidelong glance—but judging from Ms. Flanagan's new book, a sleek little package of essays, it seems she leads a pretty sweet life. Gets up, changes out of a satin peignoir (she's big on keeping the sexual spark alive in a marriage). Waves hubby off to his lucrative job producing official Barbie doll films ("of all things!" as she might put it). Shepherds their young twin boys to school. Then comes home to a fat stack of library books and bangs out a few pensées on the domesticity beat. Not bad, eh?
Ms. Flanagan has incited plenty of ire among contemporary feminists for her titillating proclamations about men who work long hours at the office deserving hot meals, hot sex, etc., from their wives upon returning home. ("There's a certain point at which you have to suit up and do the job yourself," she writes, in a priceless comparison of servicing one's spouse to delousing one's children—the implication being that both tasks deserve the same brisk, red-knuckled efficiency.) Without detracting from the outrageousness of those remarks, I think that some of her critics might be jealous.
Befitting her Irish heritage, Ms. Flanagan (herself quite a sleek little package, if the author photo can be trusted) can be a lovely, lyrical writer—the kind whose phrases enter your head and linger there, like the aroma of—oh, why not?—baking cookies. "I was going to be like someone at a tennis match," she remembers thinking when pregnant with her twins, "gazing down into one little face and then snapping my head around to gaze at his double." When considering the dubious problem of overscheduled upper-middle-class kids, she comically conjures up "scores of tots furiously reporting the news and belting out 'Second Hand Rose'" while their neurotic parents try to unwind with yoga.
But just when you expect to find chocolate chips in her sweet little prose treats, there are little rat-poison pellets instead. In a discussion of the by now exhaustively over-discussed Martha Stewart ("My god, the woman's way with simple white daisies." trills Ms. Flanagan), the author declares point-blank: "Women have a deeply felt emotional connection to housekeeping." Oh, really? Not in this household, sister … unless rank indifference to hospital corners counts as a deeply felt emotional connection.
"He's been working here for two years," Ms. Flanagan remarks almost proudly of her crooked-toothed Central American gardener, "and I don't even know his last name." Well, at least she's honest …. "One does not want to compare oneself to a slaveholder," she goes on, of her relationship with a devoted Honduran former nanny named Paloma, yet she finds it hard to resist: "In our own way, we loved each other. Still, I was the boss." Sort of like Scarlett O'Hara and Mammy. Though Ms. Flanagan is strongly convinced that her household help should get Social Security benefits, she can't help revealing herself as an Old World elitist of the most lip-curling kind: "[T]his is not a book about equal rights or equal opportunities." God forbid we should think Caitlin Flanagan is, you know, agitating for social change or anything.
She's not just a conservative, she's a conservationist. Perhaps the most enjoyable part of this book—most of which has previously appeared in either The New Yorker or The Atlantic Monthly—is its resurrection of feminine narratives that otherwise might have been consigned to the dustbins of history: out-of-print (or at least out-of-fashion) gems by all those snappy, percussively named mid-century writers: Erma Bombeck (The Grass Is Always Greener Over the Septic Tank), Peg Bracken (I Hate to Housekeep), Jean Kerr (Please Don't Eat the Daisies) and the Kennedy children's nanny, Maud Shaw. Occasionally, Ms. Flanagan adopts their patois herself, sprinkling phrases like "whiz-bang," "madder than a wet hen" and "yesterday's Cobb salad," to somewhat twee effect.
The specter of a better-known and more substantial female writer, erstwhile fellow Californian Joan Didion, also looms over the text, and not just because of the title, a wishful wink to Goodbye to All That. Forty years ago, Ms. Didion reported on the Las Vegas wedding industry; now, her would-be successor takes on the crass registry practices of twenty- and thirtysomethings. "Putting on lipstick was an oppressive act," Ms. Flanagan writes, recollecting the radical mothers of childhood friends in Berkeley who—heaven forfend!—let the housekeeping go for awhile to pursue self-realization. "Cooking nourishing dinners was an oppressive act." It's a resonant echo of Ms. Didion's well-known line about needing someone "oppressed" to break eggs for an omelet.
But Ms. Flanagan, ma'am, you are no Joan Didion.
Nor is she Mary McCarthy, though her memories of a Catholic girlhood under the supervision of a capable and loving mother, interspersed throughout the spotty cultural analysis, are vivid and poignant indeed. Ms. Flanagan, whose father was a prominent intellectual in his day, is anxious that her mother's way with a lobster salad not be forgotten, that we not forget the innocent joys of stamp collecting and of kids playing T-ball. But not so anxious that she decided to toil at, say, Family Circle rather than The New Yorker. "Now I'm ironing the placket," little Caitlin's late mother would tell her, and little Caitlin "would stand beside her, thinking, Placket. Good word."
It's upsetting to note that Ms. Flanagan seems to think of her writing as something she does for kicks, like some lady romance novelist of the Victorian era; her real job is at-home mother, though her helplessness in the face of simple household chores borders on the pathological. And she's clearly in desperate need of professional interaction in public places. "What I liked was seeing people up and dressed and doing their jobs," she writes of her addiction to the Today show. And later: "How thrilling! How important I felt!" on the rare occasion when she had to travel for work.
That she's aware of her hypocrisy—"craven enough to change colors" at the playground to ingratiate herself with women on either side of the picket fence—makes it only marginally more tolerable.
In the last essay of the book, Ms. Flanagan reveals that she was treated successfully for breast cancer; sympathy for this ordeal does not obviate the feeling that she has been chloroformed to some extent by an excess of nostalgia, of conventionality, of narrow-mindedness about the flexible configurations that families might take, and the roles that women and men might play in them. Again, she's a lovely writer. But it would behoove her to get out of the house sometime.
Alexandra Jacobs is features editor of The Observer.