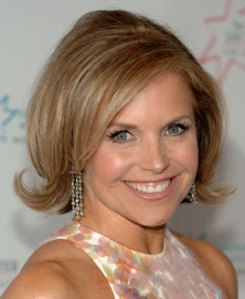 What is gravitas? And why does it kick in at nightfall?
Gravitas lurks at the heart of the concentric speculation about Katie Couric's television future: Should she leave Today for the CBS Evening News? Should the Evening News want her to?
It's one thing to be the most successful morning news anchor. Being an evening news anchor is something else—something more … grave? More Latinate?
Ms. Couric lacks it, by various accounts, because of her legs or her boyfriends or her perky giggle. An evening news anchor is a different kind of person than that.
"It is essentially a chauvinistic word," Connie Chung said.
Ms. Chung was on the wrong end of gravitas in 1993, when CBS dropped her in to co-anchor the Evening News with Dan Rather, then yanked her out again two years later.
Delicacy prevented Ms. Chung, reached by the phone while vacationing in Boca Raton, Fla., from putting her anatomical definition of "gravitas" on the record.
"It is a posture," she said instead. "They're posturing."
But it's a posture that has worked. Industry types are vague about what constitutes gravitas, but an informal poll suggests it involves some combination of gray hair and a baritone voice. And that timbre of authority would rule out half the population.
"I have to say that I thought—in fact, I was so sure of my cocky little self, going back 10 years—I thought that by now there would be a sole female anchor of one of the network evening news shows," said 60 Minutes correspondent Lesley Stahl. "Not a partner, but a sole female anchor. Because I had assumed that we had arrived."
In fact, for all the hubbub about Ms. Couric's plans, there is already a solo female anchor: ABC's Elizabeth Vargas, left alone on the World News Tonight desk after the wounding of her co-anchor, Bob Woodruff, in Iraq. But Ms. Vargas is another in the long line of perceived anchor lites—and one scheduled to go out on maternity leave to boot.
Last summer, before Ms. Vargas was named co-anchor, New York Times columnist Maureen Dowd asked a television executive if the candidate had what it took for the role. "I know this is going to sound really sexist," he told Ms. Dowd, who wrote about the conversation in December, "but if there were another 9/11, I'm not sure if she has the gravitas to hold that anchor chair."
"It's one of those pop terms that's thrown around, and nobody knows exactly what it means," said Judy Woodruff, the former broadcast correspondent and CNN anchor, who now works for PBS. "To me, it means: Who do you believe when they tell you what is going on in the world?"
"I suppose people mean weight, seriousness, sobriety, authority," said Geneva Overholser, a Washington-based newspaper columnist and an emerging member of the pro-Couric punditocracy. Ms Overholser did a short piece for NPR's All Things Considered on March 24, defending Ms. Couric's anchoring chops. When people use the word "gravitas," she said by phone on March 27, "I think what they're confusing it with is pomposity. This is the thing we make fun of in anchors."
Ms. Chung likewise had disdain for the popular image of the Serious Anchorman. "I used to find that the three guys—you know, Peter and Tom and Dan—I found them to be caricatures of themselves," she said. "The previous male anchors have been happy to live in straitjackets. They toe the network line. They will do only what is politically correct, what is politically appropriate, and I think women are more likely to span the horizon and look more openly at the vast array of stories out there. And I'm not, you know, chauvinistically female. I'm not a libber, a women's libber, to any great extent."
Although, come to think of it, Ms. Chung could do without the beloved baritone too: "Male voices are somewhat predictably boring," she said. "They have a drone to them that I find less distinctive than women. I don't know why. They just sound more like radiophones."
But the industry doesn't believe that other women share Ms. Chung's preferences. The news divisions no longer ignore female audiences as they once did—in fact, programmers are deliberately pitching to women. A network executive with access to internal demographic research information explained that women watch more television than men, consume more media in general, and increasingly control the family purse strings.
Sisterhood, however, is not the answer.
"Women like to get their news from other women in the morning," the executive said, "and from men—husband figures—at night."
Thus the hubbub over Ms. Couric moving to the Man's Hour—and the gnashing of teeth among industry women as they witness it.
Proving especially incendiary were the last lines of a recent column about Ms. Couric by David Carr in The Times: "[T]he fact that networks seem willing to concede that the best man for the job is clearly a woman means that it just isn't the same job anymore."
"That made me crazy," Ms. Chung said. And yet it held a kernel of truth: "The news business is changing, so the importance of the evening news is diminished, so therefore it's finally acceptable to people if it's a woman who anchors. It's really a shame, because I'd really love for it to be the same-thing level of prestige—but with a woman."
Meanwhile, as Ms. Couric mulls her options, CBS has found the ultimate old-school paterfamilias in Bob Schieffer, and has ridden his version of the third-place Evening News to the broadcast's highest ratings in months, and its closest competition with second-place World News Tonight in four years. For the week of March 20, CBS had 8.46 million viewers, ABC had 8.61 million, and NBC had 9.58 million.
Still, the women of the news industry held out hope that anchoring could transcend gender.
"Maybe the evening news is a separate little niche that I'm just not up on, but I don't feel that women aren't out there with gravitas," Ms. Stahl said.
"If we had another—God forbid—another 9/11," said Ms. Woodruff, "there are men that some people would not want to hear the news from. There are a number of women who are well qualified to report on the big most momentous news stories of our day, just as there are a number of men who are qualified.
"I think it's an old-fashioned idea to think that people are just not prepared to accept important news from a woman."