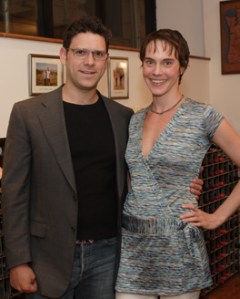 Jason Richelson and Amy Bennett
Met: December 2000
Engaged: July 2004
Projected Wedding Date: April 6, 2006
God, do we envy their lives! Amy Bennett and Jason Richelson own two wine stores called the Greene Grape: one near their brownstone in Fort Greene, the other in Tribeca. The petite, brunette Ms. Bennett, 36, picks the wines with her future sister-in-law, Sarah; Mr. Richelson, 31—a corporate hipster with steel-framed glasses and a small, gelled pompadour—handles the business transactions.
When they first met at a party at her home, Mr. Richelson was working as a trader on Wall Street and Ms. Bennett, a former lawyer, was a stay-at-home mother of one, married to another attorney. Since the attractive Mr. Richelson was off-limits, she would invite him to parties as prey for her single girlfriends. One day, he e-mailed her for some legal advice. "How are you?" the message began.
"I have a 10-month-old daughter and I'm splitting up with my husband," Ms. Bennett wrote back. "My life's in shambles."
Yikes!
Mr. Richelson promptly invited her to drinks at Campbell Apartment, which went swimmingly, although he had a girlfriend at the time, so she still didn't really consider him a romantic prospect. A few months later, she asked him for help setting up wireless Internet. "Then it was on!" he said.
No kidding: A month later, Mr. Richelson sold his Lower East Side studio and moved in with Ms. Bennett and her daughter, Alina. "Your fearlessness!" she marveled, then turned to the Love Beat and explained: "Kids are difficult—they're a strain on a relationship. And Jason charges in like it's not a big deal, like, 'I can handle this.' And that's how he is in business too."
Several months later, over drinks at Coffee Shop in Union Square, the couple decided to use the money from Mr. Richelson's real-estate transaction to start a business. "I always thought about opening a wine store but never had a reason to do it," Ms. Bennett said. In four more months, they'd not only founded the Greene Grape but conceived their first child. "Amy wanted another kid, so I gave her one," Mr. Richelson said flippantly.
When she was four months pregnant, the blended new family took a trip to Sardinia, where they rented a tiny cottage, researched new wines and lay luxuriantly on the beach. One evening, Mr. Richelson called Ms. Bennett outside. There stood her daughter—by now, she was 2—holding a Tiffany ring box containing a brilliant-cut, single-carat, platinum-set solitaire diamond. He said nothing.
"Oh, honey," said Ms. Bennett as Alina slipped the ring on her mother's finger.
The couple has opted for a small-scale City Hall wedding. Recently, though, they sailed around St. Martin, St. Bart's and Anguilla in a sort of grand pre-honeymoon—a trip they found a perfect metaphor for all aspects of their partnership. "You really have to work together on a boat," Ms. Bennett said. "When you drop anchor, one person drops it while the other has to hold the helm. If you're going to build a business, it's the same thing."
Cazzie Leschen and Aaron Marzwell
Met: January 2004
Engaged: Dec. 2, 2005
Projected Wedding Date: Sept. 16, 2006
When Cazzie Leschen first met Aaron Marzwell, a hunky medical consultant, through mutual friends at the Mad River Bar and Grille on the Upper East Side, she wasn't too impressed. But to be fair, the venue's sticky floors and fraternity-style décor were hardly conducive to amour. "I hate Mad River Bar and Grille," said Ms. Leschen, 28, a marketing manager at the Penguin Young Reader's Group who was looking to date casually after a series of long relationships. "I didn't want to be there."
Luckily, Mr. Marzwell was sufficiently impressed with her high cheekbones, blue eyes and cascading light brown locks to invite her to a housewarming in celebration of his new Hell's Kitchen two-bedroom-plus-den. After she arrived, some wag put 1980's glam pop on the stereo, and the host whisked Ms. Leschen onto the dance floor. "I'm taking you out," he whispered in her ear.
And so he did: to the Atlantic Grill, to the Mermaid Inn, to the Blue Water Grill. Did we mention that Ms. Leschen is a seafood enthusiast? She was less than enthusiastic, though, about Mr. Marzwell's apparent self-involvement. "I was like, 'Does he want to get to know me at all?'" she said.
"I didn't ask any questions," said Mr. Marzwell, also 28, trying to explain himself, "because I always thought, 'Oh, if I talk about myself then she'll talk about herself, and that's how we'll start a conversation.'" Men!
Nor was Ms. Leschen pleased that Mr. Marzwell's job required him to travel 20 days of each month. "I don't want a boyfriend I can only see one night a week!" she told him, quite reasonably, and they stopped dating.
Then one day, she saw his name on one of those dreaded Evites for a friend's birthday party. At the fête, Mr. Marzwell told Ms. Leschen that he had quit his job to enroll in the master's program for real-estate development at Columbia. "Call me if you want to do something now, because I have the time," he said. And so she did.
"Within a month, we both knew we were going to get married," said Ms. Leschen, who in short order packed up her Chelsea share to move in with him.
One evening, she stepped out of the shower to see the words "Can I ask you a question?"—one of Mr. Marzwell's catchphrases—scrawled on the mirror with lipstick. Spooky! Her heart pounding, Ms. Leschen opened the door to their bedroom. There stood her lover, leaning against the bed, holding a 1940's Art Deco–style white-gold ring containing a cushion-cut diamond flanked by two smaller princess-cut ones.
"Will you marry me?" he said. Ms. Leschen began to scream—and not from fear.
After she calmed down and got dressed, the pair headed to Daniel for dinner.
Their wedding is being planned by Elite Events, with a whopping 11 attendants for both bride and groom, at the Village Club in Great Neck, in order to easily accommodate family flying in to JFK.