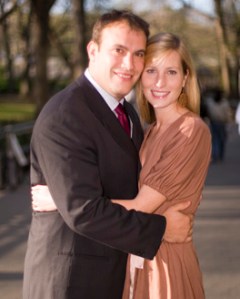 Kate Seal and Bill Stempel
Met: Feb. 15, 2004
Engaged: Sept. 1, 2005
Projected Wedding Date: May 6, 2006
Swig it, sister! Bill Stempel, 29, senior V.P. and general counsel at Swig Equities, a real-estate development firm, is going to marry Kate Seal, 30, advertising director for Health Central Networks, in an interfaith ceremony officiated by the Reverend Laurie Sue Brockway at Bridgewater's. He's got broad shoulders and brown hair, and she's a stunning blonde with enviably high cheekbones.
Mr. Stempel was having a drink at One Little West 12th Street, a meatpacking-district lounge three blocks from Ms. Seal's spacious one-bedroom loft, when she strolled in with a friend whom he recognized from his days at Columbia Law.
"I'm tired," Ms. Seal said, sitting at the bar. "I think I'm going to go home soon."
"Don't go anywhere," Mr. Stempel said, ordering her a vodka and soda. "Where you from?"
"Um, outside the city," Ms. Seal said. "Scarsdale," she admitted, after further probing.
"Never heard of it," Mr. Stempel said. Actually, not only is he from the same area, but the two both attended Scarsdale High School. "We had a connection," Ms. Seal said.
They went on a few dates, and then Mr. Stempel left for a previously planned vacation with some male buddies in Rio de Janeiro. "I was nervous," Ms. Seal said. "I was like, 'What are you and your friends going to do in Rio, hang out on the beach and play Scrabble?'" Not likely! Still, when Mr. Stempel was away, he e-mailed her daily, much to his friends' consternation.
"Stop talking about this girl," they admonished. "We're in Rio!"
Mr. Stempel left a day early. When he got to the airport, however, all but four flights were canceled, due to a strike by the armed forces. Somehow, he convinced an American Airlines employee of his trip's urgency, and she squeezed him onto an overbooked plane. "That stuff always happens to him," Ms. Seal said. "We'll go to the airport, and he'll be upgraded to first class. He says when we get married, I'll inherit the Stempel luck."
"Well, when I met you, I was lucky," Mr. Stempel said. Awww ….
After his plane landed, their relationship took off, with plenty of dining out at "hot" restaurants (this week: reservations at Sascha). After about a year of this, Mr. Stempel got tired of carting an overnight bag from his Union Square one-bedroom.
"You can move in," Ms. Seal said, "but you have to redo the closets. Closet space is a big commodity for women in New York." (Ain't it the truth, honey—ain't it the truth!) Mr. Stempel hightailed it to the Container Store.
Like George Stephanopoulos before him, Mr. Stempel proposed in Mykonos, Greece, plunging to one knee as Ms. Seal returned from the bathroom of a treehouse-like restaurant, to find two glasses of Champagne on the dinner table. She was so surprised by this turn of events that she didn't even notice the cushion-cut, platinum-and-pavé-set diamond from the Rockefeller Center store Piranesi he was brandishing, though it weighs in at an impressive four carats.
"You've got to be kidding me!" Ms. Seal hollered when she finally noticed the Brobdingnagian bauble.
She had suspected nothing, even though an airport security employee winked at her beloved after his bags went through the X-ray machine.
Marcus Aldredge and Betsy Mingo
Met: September 1997
Engaged: March 12, 2005
Projected Wedding Date: June 4, 2006
Paging Nora Ephron …. Marcus Aldredge and Betsy Mingo met at the Broadway branch of the independent bookstore Shakespeare and Company, where the red-bearded, Texas-born Mr. Aldredge was a manager and she stocked books. Theirs was a quick attraction. "Working at a bookstore lends itself to that," said Ms. Mingo, a slender and serious woman with cascading blond curls, "discussing books and music."
What started with the stock girl working a few late nights turned into a romantic ice-skating assignation at Wollman Rink in Central Park. Mr. Aldredge's Southern charm was in full effect. "I was really unused to people opening doors and saying 'please' and 'thank you,'" Ms. Mingo said. "I really liked it."
Returning to his studio on the Upper East Side on another evening, the pair encountered a homeless man in the building vestibule. Mr. Aldredge offered food and made a couple of phone calls to a nearby homeless shelter. "I really fell in love with him that night," Ms. Mingo said. "He showed such kindness in a cruel world."
Alas, Mr. Aldredge didn't seem long for the cruel world of New York City. "I was tired of a lot of the cultural aspects here," he told the Love Beat. "Paying twice as much to get half as much! And the callousness and narcissism that run rampant." He returned to the Lone Star State.
But "I just couldn't stop thinking about him," Ms. Mingo said. "I knew that he still had feelings for me. I felt at one point that I'd dated half of Manhattan, and nothing felt right," she said.
"I dated half of Texas," Mr. Aldredge said. "So we're even."
They broke up and reunited several times, doing the long-distance thang, till one day Ms. Mingo returned home to find a delivery of six red roses and a note that read: If you want the full dozen, meet me at Wollman Rink at 7. "I didn't even know he was in town," she said.
When she arrived at the appointed spot, Mr. Aldredge was holding the remaining posies and his guitar. After giving Ms. Mingo a delicate Art Deco ring from Stardust Antiques in Gramercy, with a European-cut diamond in a platinum-and-pavé band (total weight: 1.2 carats), he sang her an old country hillbilly song and asked her to marry him.
Two months later, she left her own Upper East Side studio and the couple moved into a two-bedroom in Astoria, from which they're planning a wedding in the Rose Garden at the Brooklyn Botanic Gardens. They've also switched careers: Mr. Aldredge, 35, is now a sociology professor at Iona College in New Rochelle; Ms. Mingo, 31, is the public-relations coordinator at the Museum of Jewish Heritage. "On paper, maybe some people would be better for me," she said. "On paper, it didn't make sense. But emotionally, it was the only thing that made sense."
Bingo, Ms. Mingo!