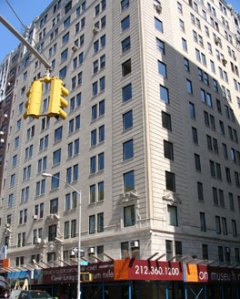 If few luxury buyers are willing to go much further north than 96th Street, one of their favorite building designers wasn't.
Emery Roth, who designed iconic buildings like the Beresford and the San Remo, also designed 1200 Fifth Avenue, which is presently being converted into condominiums.
From the 11th-floor sales office at 1200 Fifth, it is impossible to miss the brick and terra-cotta façades of the twin-towered San Remo, standing triumphantly across Central Park.
One of the Corcoran Group's top brokers is trying to change a common perception.
"Ninety-sixth Street now is really booming," said Carrie Chiang, a senior vice president. "Now, this area is starting to gentrify."
Long utilized as a rental building, 1200 Fifth is located in the comparatively less august surroundings near Mount Sinai Hospital, between 101st and 102nd streets. For three decades, Mount Sinai owned the building, before selling to a group of investors for $61 million in July 2004.
In marketing 1200 Fifth, the Corcoran Group has some major advantages. Located on Museum Mile, the condominium is close to several renowned cultural institutions as well as the Central Park Conservancy.
Ms. Chiang and Corcoran seem to be banking on a serious Upper East Side frame shift.
At 1200 Fifth, studios start at around $767,000, with two- and three-bedroom apartments costing between $1.4 million and $4.7 million. Five- and six-bedroom apartments range from about $5.5 million to $6.6 million.
But then there's the penthouse: a 10-room spread that is currently asking $14.5 million. That's almost $2,800 a square foot, and for some high-end brokers, that's a hefty price for living space above the East 90's.
For the sake of comparison, there is currently a 10-room penthouse available at 1165 Fifth Avenue, listed with Kathleen Sloane of Brown Harris Stevens. Although a co-op apartment, the prices are in the same ballpark. The asking price: $15.2 million.
"There's a big difference between 97th Street and 101st," said Laurance Kaiser IV, president of Key-Ventures Realty.
But according to Ms. Chiang, as many as 60 people have attended open houses on each of the last two weekends. To date, over a third of the 33 available units have already sold.
Certainly, there are some buyers that are expected to desire this location. Mount Sinai doctors in search of a pied-à-terre, for instance.
Also, neighbors slightly to the south may take the opportunity to relocate to a bigger space that's more affordable than, say, the East 70's or 80's.
"It's a very nice part of Central Park," said George van der Ploeg of Prudential Douglas Elliman, who thinks "there is a good market for small apartments up there."
In marketing the property, Ms. Chiang tries to make lemonade out of location. Fifth Avenue is the "easiest place to pick up a taxi in the morning" for anyone not willing to trek to 102nd and Lexington Avenue to catch the No. 6 train.
And what about safety concerns?
"As far as Mount Sinai, I have friends that have lived next-door," said Ms. Chiang. "It is the safest area, [with] 24-hour surveillance."
Over at the sales office, senior vice president Ralph Krueger provides tours to brokers and buyers of the model apartment—a "classic six" that is asking $3.7 million.
"Whenever possible, we've retained elements from the original construction," said Mr. Krueger, who is well versed in the prewar intricacies of an Emery Roth building.
Although they tried to keep the original layouts and features—including preserving the original floors and mantelpieces, in many instances—there were plenty of modern renovations needed. The sponsors have installed new windows, high-speed Internet capabilities and landscaping, and they've upgraded the heating and cooling services. (Even the rent-controlled tenants who remain from the days when Mount Sinai's owned the place have received the same improvements).
"We anticipate there will be only 10 or 11 [rent-controlled tenants] that stay," said Ms. Chiang, who mentioned that they have an option to purchase their apartments by June 30. (Occupancy for new tenants should begin by Thanksgiving.)
The building will also include a private fitness center, individual storage, a refurbished lobby, a 24-hour concierge, and appliances throughout by Wolf, Miele and Sub-Zero.
Of course there are superb park views, and the exposure facing the hospital's I.M. Pei–designed Guggenheim Pavilion receives plenty of light due to the building's triangular shape.
So will high-end buyers help change the one-time demarcations of wealth on Fifth Avenue?
"There are some lovely buildings up there," said Kirk Henckels, of Stribling and Associates. "It's just another sign of pushing geographic limits."
LA in Sag
Even though spring is just kicking in, summer can't get here fast enough for music mogul Antonio (LA) Reid.
Recently, Mr. Reid closed (very quietly) on a $10 million home in Sagaponack, according to public records.
For Mr. Reid, it was the end of a lengthy search—the music executive had checked out several luxurious residences throughout the Hamptons, according to one East End broker. Surprisingly, Mr. Reid eventually settled on a spacious house that was being discreetly offered only through broker Diane Saatchi of the Corcoran Group. (Ms. Saatchi declined to comment).
Instead of going through excessive promotion—which might have brought in a higher bid—the owner was content to sell after the music executive presented him with an enticing offer.
Now, Mr. Reid has a recently renovated, 7,000-square-foot home just north of Bridge Lane. The two-story home includes six bedrooms, five full baths, an attached garage and tennis courts. Extending to roughly 3.27 acres, the property has an ideal feature for lazy summer living: a sparkling pond.
And with several acres to call his own, Mr. Reid can play his music loudly, perhaps blaring some of those talented musicians that he helped make full-fledged stars, including Usher, Pink, Outkast and Avril Lavigne. Formerly the C.E.O. of Arista Records, Mr. Reid is currently the chairman of Island Def Jam Music Group, where he famously hired rap impresario Jay-Z to work as Def Jam president.
But Mr. Reid's wheeling and dealing hasn't been confined to the Billboard charts. A few years ago, he made real-estate news after buying a condo at tony 515 Park Avenue, where other notable tenants have included New Jersey Governor Jon Corzine, French billionaire François Pinault and ousted Vivendi Universal chairman Jean-Marie Messier.
Christine Saar, of Brown Harris Stevens, represented the buyer. Mr. Reid didn't return calls for comment.
London Terrace Calling
Even though gallery owner Paula Cooper and her husband, book publisher Jack Macrae, have recently sold their Chelsea home for $6.05 million, the couple has no plans to abandon the neighborhood.
For almost 19 years, the couple has owned a West 21st Street townhouse just a few blocks from Ms. Cooper's gallery, which is located further west on the same street. (Not to mention that Mr. Macrae owns 192 Books, a highbrow shop on 10th Avenue that's a typical stop for the Saturday-afternoon gallery crowd.)
But last summer, the couple decided to trade townhouse living for the storied co-op nearby. Reportedly, they dropped close to $5 million on two London Terrace penthouses that belonged to photographer Annie Leibovitz.
Around the same time, the couple put their West 21st Street townhouse on the market for $7.995 million, a co-exclusive between Corcoran Group brokers Sara Gelbard and Meredith Hatfield and Jan Hashey, of Prudential Douglas Elliman.
By November, they had cut the price to a more market-friendly $5.995 million. The $2 million haircut seems to have done the trick, and a contract was signed in January 2006. The deal closed two months later for slightly above the asking price, according to deed-transfer records.
The five-story, 25-foot-wide townhouse is currently configured as three residential units, including a large, duplex apartment that housed the art-loving couple.
Ms. Cooper didn't return calls for comment.
Carriage House Sweepstakes
In the West Village, one of the priciest townhouses ever has recently hit the luxury market: Stylish financier Enrico Marone-Cinzano is asking $19.5 million for his 24-foot-wide carriage house.
Of course, Mr. Marone-Cinzano is not only a patron of the arts, but also serves as financial backer for the clothing company Project Alabama—found on the racks of chic shops like Bergdorf Goodman's and Jeffrey New York. And the previous owner similarly shared an artistic temperament.
Built in 1833, the Beaux-Arts façade includes "carved medallions by the renowned American sculptor, Charles Keck," who spent almost six decades in the townhouse, which sits adjacent to several 19th-century mansions.
"It's like you're outside a little palazzo in Tuscany," said listing broker Paula Del Nunzio, of Brown Harris Stevens. Dubbed the "Bacchus House" after the Roman god of wine, the owner's tastes defined this unique residence, said Ms. Del Nunzio—which even includes bamboo trees growing inside.
But you get a lot more than bamboo in this 8,500-square-foot home, located on leafy West 10th Street. There are five to six bedrooms, five and a half bathrooms, a vast entertaining space, an eat-in chef's kitchen and a living room that can be transformed into a private theater. There are also several wood-burning fireplaces and even a 40-foot interior atrium with a glazed skylight.
"The person who likes it will notice the light immediately," said Ms. Del Nunzio. "It's just an amazing property."
A co-exclusive, the property was also listed with Michael Pellegrino of Sotheby's International Realty.