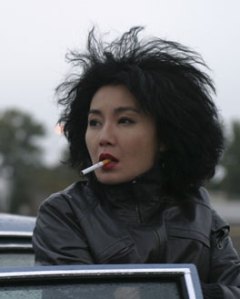 On the music scene, Hoagy Carmichael is wrong: Spring will not be a little late this year. To quote Lorenz Hart, spring is here. The proof in the pudding is currently being served by two of the cabaret scene's most cherished stars. Before they tear down the Bemelmans murals from the walls and move the piano to the basement, the Café Carlyle is offering one last chance to applaud the sophisticated patter and whipped-cream phrasing of Mary Cleere Haran. Like Barbara Cook's preceding farewell, this is a "best of" compilation, with emphasis on Cole Porter but a spicy broth of Berlin, Arlen and Mercer too. On the rare occasions when she isn't crooning into a hand-held mike in the glow of a center spot, Ms. Haran spends a lot of time watching the old movie musicals from which much of her incendiary musings and carefully chosen standards from the classic American Songbook are derived, the centerpieces of an act that is skillfully researched and joyfully polished. Her standards are high, so you always get the best.
From Rita Hayworth's show-stopping black-and-white Sexorama on "Put the Blame on Mame" (from Gilda) to Judy Garland's historic Technicolor rendition of the Oscar-winning "On the Atchison, Topeka and the Santa Fe" (from The Harvey Girls), Mary provides everything but the boom, dolly and camera angles. For a Catholic girl from California who married a boy from Manhattan with a show-business yarmulke ("He was born Jewish but raised Equity"), she has lived and loved and absorbed it all. So when she spurs old Trigger for some cowboy spoofing, don't expect "Tumblin' Tumbleweeds" ("Too creepy and mindless," she sniffs): Expect an exquisite rendition of the way Ella Fitzgerald sang Cole Porter's "Don't Fence Me In." Eclectic is her middle name, so the leap from Roy Rogers' boots and Stetson to Ethel Waters' Harlem is an easy transition. The audience isn't always as soignée as Mary is, but even if they've never heard of Lady Mendl or Bill (Bojangles) Robinson, the ringsiders at the Café Carlyle are having one elegant good time.
Meanwhile, the Algonquin's Oak Room is bathing the sultry Venus of a diva, Karen Akers, in a pink champagne spot through May 13. Songs by the sterling-silver team of John Kander and the late Fred Ebb are the focus, but don't hope for "New York, New York" or the overworked hits from Cabaret and Chicago. Ms. Akers has sought more unjustly neglected songs from lesser-known scores like The Act, The Happy Time and Steel Pier to illustrate the variety, optimism, wistfulness, dazzle and dreams of the composers—and the singer herself. Lanky, elegant, cool in appearance but warmer in heartfelt emotion than I've ever heard her, this graceful gazelle with Jane Wyman bangs has obviously been wrongfully mislabeled "the ice sculpture" by mumpy critics in previous appearances. I am happy to say she has turned radiant, not melancholy, and displays a contagious sense of humor, not a stoic mantle of marble. Her burnished baritone is ideally suited to undervalued gems like "Isn't This Better" (from Funny Lady) and "Sorry I Asked," a ruminant piece of special material written for Liza Minnelli and never performed by anyone else—until now. (Even John Kander had forgotten it.) With wonderful support by pianist Don Rebic and Brian Glassman on bass, Karen Akers can ditch those suicidal old songs by Jacques Brel and Piaf. Discovering Kander and Ebb, she's found a whole new audience and come home at last.
Oh, Maggie!
Maggie Cheung, the beguiling veteran actress who collected critical raves like daffodils in the films of such formidable directors as Wong Kar Wai, Wayne Wang and Zhang Yimou, won the Best Actress award at the Cannes Film Festival in 2004 for Clean. Now that it's finally opening commercially in the U.S., no need to ask why. Speaking French, Cantonese and fluent English, she catalogs every up and down on the carousel of a recovering drug addict with a mix of despair, pain, strength, realism and poignancy that is mesmerizing.
Ms. Cheung and Nick Nolte, challenged with demanding roles as mother and father-in-law, are both in good hands. French director Olivier Assayas, her ex-husband in real life, guides them through a psychedelic junkie fantasy world with cinematic brilliance. She is Emily, a once-promising singer whose career-demolished rock-star husband dies of a heroin overdose in a seedy Canadian motel room. After serving six months in prison for providing him with the drugs that killed him, Emily emerges a battered ruin on methadone. Moving to Paris to push some songs she wrote behind bars with a fellow inmate and lean on her old friends for support, Emily begins the long journey to clean health and redemption. Waiting on tables in an uncle's Chinese restaurant, answering phones in a fashion agency, struggling to stay off heroin and rebuild her life, Emily has one goal: to reunite with her son Jay, who lives in the nurturing sanctuary of his grandparents' rural home in Vancouver after the courts awarded them custody of the child.
The old man (a ravaged but effective Nick Nolte, with dyed orange hair, a white beard and a face that looks bulldozed) is sympathetic to Emily's desire to see Jay, but insists she leave behind her dead-end lifestyle before he will allow a reunion. But the child (luminously played by an extraordinarily gifted tyke named James Dennis) has passionate and resourceful ideas of his own about the mother he never knew, the mother that might have been, and the mother whose future depends on so much forgiveness from so many.
Ms. Cheung shows the loneliness and frustration of a woman whose life has been rewritten so many times it has disappeared from the printed page. Trying valiantly to get through one day at a time, she makes the climb personal and human. Mr. Nolte and the illustrious Canadian stage actress Martha Henry, as the grandparents embroiled in an emotional chess match for the heart and soul of the young boy who means so much to them, give a strong stamp of universality to the film's message of the power of love to triumph even in the most daunting of circumstances. Mr. Assayas wrote the elegant screenplay expressly for Ms. Cheung, and her transformation is riveting, her every move, statement and facial expression suffused with a fragile, complex grace. Her English is patrician and perfect, and she even performs her own musical numbers. Mr. Nolte is, in a word, endearing. Filmed in the scenic beauty of a Canadian fishing village as well as the bright lights of Paris, London and San Francisco, Clean is a stunning visual treat and a resounding testament to pragmatism and faith. Life-affirming without sentimentality, it's an admirable accomplishment.
Lolita's Revenge
Hard Candy is supposed to be another cautionary tale about the dangerous risks of online chat-room dating, but ends up being just another psychological horror flick about pedophilia in which Little Red Riding Hood turns the tables on the wolf. The title makes no sense, unless "hard candy" refers to the kind of lure dirty old predators dangle before the eyes of innocent victims. In today's sick society, hard candy has been replaced by vodka martinis.
There is nothing innocent about smart, charming, 14-year-old schoolgirl Hayley (played by thumb-sucking Ellen Page like a cross between Elsie Dinsmore and Theda Bara) or sexy, good-looking thirtysomething photographer Jeff (played by all-American nice guy Patrick Wilson in a far cry from his starring roles on Broadway in Barefoot in the Park and Oklahoma!). She's a precocious nymphet with a sense of adventure. He's a horny wannabe pervert with a lust for naked girls and X-rated videos.
After meeting cute on the Internet, they make a date at a local coffee shop, and the flirtation leads to his bachelor apartment, where she mixes drinks and strips for an impromptu camera session. Jeff, who can scarcely contain his excitement, sees this as one photo-op destined for the bedroom. He may have always entertained a fantasy of seducing an adolescent, but this time the wrong teen responds. She pretends she's out to punish a pedophile, but she's really more twisted than he is. Hayley is really a little girl with a puckered rosebud mouth who stalks older men in chat rooms and drags around her own arsenal of weapons in her backpack. After drugging Jeff, tying him up and stripping him naked, she brings out a razor and shaving cream to prep her struggling, sweating and utterly terrified "patient" for the ultimate humiliation: total castration! What happens next is for you to discover. Suffice it to say, Mr. Wilson brings new dimensions to the word "vulnerability."
Directed with white-knuckle tension by newcomer David Slade and written with elements of edgy, quirky surprise by Brian Nelson, Hard Candy is a neatly conceived detour on the familiar wacko-thriller road map. The actors are first-rate, the production values impressive. The problem for me is that the girl is so insane that I ended up sympathizing with the devious creep she sets out to destroy. There's something oddly unbalanced about the equation when you want to punch out Red Riding Hood and save the wolf.
Unlucky Us!
On the other side of the moon, take my sage advice and run as fast as you can from a dismal, pretentious and brain-damaged piece of New Age junk art called Lucky Number Slevin. This overwrought muddle, derived from the worst elements of Pulp Fiction and The Usual Suspects and incompetently directed by Paul McGuignan, is a model of sloppy frat-house humor and incompetence and smart-aleck film-school experimentation that tosses plot points and disjointed characters around like Tinker Toys the dog chewed on. Everything in it—every confusion, every line of unspeakable dialogue, every red herring, every camera setup—has been borrowed from some movie you've seen before.
Bruce Willis snaps the neck of a young man in an airline terminal, then ships him in a truck to New York. Cut to Josh Hartnett, a vagrant named Slevin staying in a friend's apartment. The girl next-door (Lucy Liu) is a coroner who lives on peanut butter. A mugger breaks Slevin's nose, and he gets dragged off in a towel to see "The Boss" (Morgan Freeman), who has one leg and keeps corpses in his walk-in freezer. The black-gangsta cliché says Slevin owes him $97,000, but he'll cancel the debt if Slevin will kill the gay son of his archrival, a gangster who is also a rabbi (Ben Kingsley). The Jewish-gangsta cliché says Slevin owes him another $33,000. Clearly a case of mistaken identity that drops dead while tickling the funny bones of a few gullible critics, nothing about this miserable gibberish makes one word of sense.
It's not supposed to. The actors are all laughing while they try to speak their lines. They are all abominable. Josh Hartnett can't even act clad only in a towel. No wonder. Here's a sample of the idiot dialogue by Jason Smilovic: "I've gotta see The Boss by tomorrow morning." "What are you going to tell him?" "I'm gonna tell him what any man with two penises tells his tailor when the tailor asks him, 'Do you dress to the right or the left?'" "What's that?" "Yes."