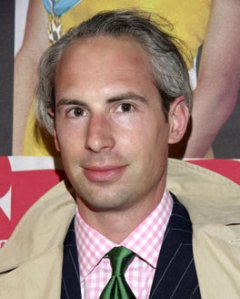 "When this thing dropped down on me," said Jared Paul Stern, "it made it sound like the cops were on the way to lock me up. That's scary! You know, so, that's why I wasn't saying anything at first. 'Cuz I didn't know what the fuck was going on."
It was cocktail hour inside Mr. Stern's home in the Catskills on Monday, April 10, a little after 5 p.m. His house—tall and pointy and white and green, like a comic-book schoolhouse—is tucked in a plateau on a steep hill. Over the weekend, the local police had removed photographers and reporters from the property.
There are no fewer than three bars on house's first floor; his Macallan is 12-year. Now it was gin and tonic for him, and a Bombay gin martini with "the bad olives" for his wife, Ruth Gutman, a farm girl from Maine who is known to the gossip community by her husband's pet name for her, Snoodles.
"But it's funny," Mr. Stern said. "You know, I am optimistic that by the time all this is done, really, I won't be damaged goods. I'll be better known—and, if anything, at least back where I started, if not better."
The phone—a black office-style model, with a hold button and a speaker—had been ringing and would keep on ringing through the evening with calls from dozens of reporters.
As Mr. Stern had absorbed the initial shock of being a front-page scandal, he had decided he was at war with Ron Burkle, the California billionaire who recorded conversations between the two and accused Mr. Stern of extorting cash for favorable coverage in the New York Post. On Saturday night, over the phone, Mr. Stern had said that soon "the story will have shifted off of me and on to more juicy targets."
And so on Monday he was advancing his version—"moving the story forward"—and also suggesting to reporters who called some things he thought they might be interested in printing.
"I know I'm not 100 percent out of the woods," he said between calls, "but it's headed that way. I got all these people calling, begging me to go on their TV shows. Katie Couric and Matt Lauer and stuff—who three days ago would not have returned my call if I was trying to check a story."
His house is best described as Huntsman Gothic. Mr. Stern was looking thin in khakis, a belt and striped shirt of his own design. His study is red; windows face south to the valley and west to the setting sun. A leather couch; a zebra-skin bench; a desk with an iMac, the screen open to AOL and Gawker.
He stirred his drink with a giant green plastic stick. "Maybe I should have gotten a publicist," he said. Actually, he did not need one.
He checked Google News again. Ms. Gutman brought in a bowl of Annie's cheddar bunnies. She was wearing jeans and one of the shirts from Mr. Stern's line of clothing. Later, she would pull on a fisherman's sweater.
Mr. Stern said that his real friends had stuck with him since the story broke last week. He said his friend, the director Whit Stillman, had told him, "This is going to be the best thing that ever happened; this is great for the clothing line. And I want the movie rights."
The cartoonist Tony Millionaire had been there for him too. "He's one of my favorite guys," Mr. Stern said. "And he was saying, 'I wanna do your portrait for the book.' Stuff like that got me through the dark parts, before I got a handle on things."
He hadn't heard from his co-workers at the Post. "I did finally hear yesterday from Gersh Kuntzman. And Gersh was, 'I just wanted you to know we're all rooting for you.' And I've heard there was nothing but support, but when you've got a huge conglomerate like News Corp., you've got to toe the line." By which he meant have no contact.
Well, that was one explanation for their silence.
Friends. Mr. Stern, in his account, only wanted to be Ron Burkle's New York friend. What is a friend? On April 7, the author Toby Young e-mailed Mr. Stern his own friendship: "Sorry to hear about your troubles," he wrote. "Don't believe a word of it. And I still want you to co-host my party, whatever the outcome."
(One day about two years ago, I was in the bathroom of my apartment, on the phone with Mr. Stern; we were talking about one of the half-dozen book reviews he assigned me at the Post. I mentioned that the gallery that I co-owned was being closed. "Is that an item?" he asked. "No, I don't think so," I said. Quotes from that conversation ended up in Page Six anyway. We were New York friends.)
Mr. Stern lit the gas fireplace with a remote. The phone rang. "Nothing against Bloomberg," he said to the Bloomberg News reporter on the other end, "but I'm sort of talked out on it. The focus now isn't so much what I did or didn't say, but how I was set up and smeared. Can you hold on?" Another line had rung. "Hello? Yeah. How are ya. That's O.K. Hold on one second. Let me get rid of this person." Back with the first: "I would think, for Bloomberg News, you'd want to look at Burkle's business stuff. There's a lot of business stuff, the Clinton connection: He's basically Bill Clinton's employer."
With that story moved forward, he went on to the second reporter. "I think what the story is now is the anatomy of the set-up," he said, "and what I did or didn't say, and how it was used, is almost irrelevant at this point. It was a total set-up, a total smear, a trap and a plot by this guy from last summer. I mean, he set up a meeting with me last summer to talk about investing in the clothing company. Media strategy?! I was kind of giving him advice and telling him how things work."
The reporter on the phone was from the Canadian National Post. "Did you know I went to school in Canada?" Mr. Stern asked. "Any Canadian prep school that could issue a green blazer, I was in it."
The smell of onions filled the air; Ms. Gutman was in the kitchen.
"I'm a bad judge of character, I guess," he told the National Post, then hung up. "Canada!" he said.
He paced the room. "It's funny, these reporters, in a way you can kind of tell them what they can go after. And I think that picking up the phone with these guys is helpful because from that point they're predisposed to, you know, listen to me.
"I'm trying to move the story forward," he said, "trying to move it off of me." He went to freshen his drink. "What's annoying me now is these people who're still picking on me. Have you seen this shit on Editor and Publisher? They had this fucking idiot woman who's like the head of the National Society of Columnists, some crap I've never heard of. The national society of bullshit! That just annoyed me.
"Hey," he said. "Someone took my stirrer." He extended the arm of a pair of sunglasses and stirred his gin and tonic with it.
Talk turned to what else might be on the tape recorded in Ron Burkle's kitchen. The rest of the tape would not be made public, Mr. Stern believed.
"Because," he said, "part of it is he's asking me, 'What do I pay for protection?' and me telling him, 'You can't pay for protection, you can't buy it, and I'm not selling it.' And him saying, 'I was just in Vegas, and I've got a lot of cash in the other room.' It's like a Saturday Night Live sketch at this point—and hey, maybe it will be."
Mr. Stern said that Mr. Burkle had told him that "'If this [meaning the negative coverage of Mr. Burkle on Page Six] doesn't stop, I have to fight back. I'm ready to sue the Post. I've got a lawsuit drawn up and ready to go.' He said, 'I've got a story on Richard Johnson and his whole family, I've got Chris Wilson …. I might even start a shareholder lawsuit against News Corp. and Murdoch.'"
Ms. Gutman came in. "I forgot about the co-op meeting," she said. They have a local farm they go to for produce.
Mr. Stern claimed that the tape contains Mr. Burkle "trying to get me to confirm that he was the subject of this blind item about high-flying hooks-ups with models. And he kept saying, 'I know it was me.' Rule No. 1: If there's a nasty blind item, you don't say, 'It's me!' You say, 'It's not me.'"
"So there's that," he said, "and there's just me telling him what he didn't want to hear. Because it was not going to make the cops jump out."
He glanced up at his computer and said, "Oh man, Gawker's just whaling on him now." He read the item aloud and then said, "If he'd listened to me, he'd have been a lot better off."
"Well, he was naïve about the media," Ms. Gutman said.
"And he insisted on staying that way," Mr. Stern said. "We'll have to see what happens to the Radar deal." It has been speculated in the press that Mr. Burkle may purchase, or has purchased, Radar magazine. "I know [Radar editor] Maer [Roshan] really wants this. The figure I heard was 19 million."
The phone rang. Caller ID: "Oh Christ, Reuters. I haven't heard from these assholes. Don't they run a little wire service?"
Ms. Gutman talked to Hanna the dog—an adoring, black-and-white member of the collie family. "She doesn't
like other dogs," said Ms. Gutman. "You're kind of a bitch, aren't you?
"We came up here to get away from it all," Ms. Gutman said while Mr. Stern was on the phone, "and we pretty much have."
MR. STERN AGAIN TOOK ANOTHER LINE during a call. "Blind items are great because you can pretty much write whatever you want!" he said to that reporter.
"And they don't even have to be true! Great!" Ms. Gutman said sarcastically.
"It's a way to get stuff in the paper that you maybe couldn't do with straight reporting," Mr. Stern told the reporter. "It's not—I dunno, there's no real agenda with it."
"The dog is very opposed to alcohol," Ms. Gutman said.
"I'm sure for a while everyone will watch their step," Mr. Stern told the reporter, "and then it'll be back to business as usual. If you're at The New York Times, you get the Times phone book full of ethics. And if you violate them, you get fired. But every company is different."
He paced. "A gossip column is a different animal. It shouldn't necessarily be held to the same standards as the war in Iraq—which Judy Miller showed has its own problems.
"Is that enough?" he asked the reporter on the phone. The sunlight was fading behind the hills; it was nearly 7 p.m. "It's starting to seem like years," Mr. Stern said, "but it's only been a few days since this whole thing."
He hung up. "If a reporter calls, I'm not going to tell them to fuck off. Because if it was me? It's these fucking TV people, though." Mr. Stern owns a TV, but it has no service—it's only for Netflix. "So I don't know the difference between MSNBC and ABC, Today Show, Good Morning America, this guy, that guy. But my lawyer does. He has to go on there all the time."
Mr. Stern said he picked his lawyer, Joseph Tacopina, because he was a bulldog. "It's funny to see, the more things are going your way, the more you get called. Today I got my first call from a publicist."
"You should be nice in this situation," Ms. Gutman said.
"He said that he went through this with Martha Stewart. And she came back. Eventually."
"Until she decided to do a TV show," Ms. Gutman said. "So don't go that route."
"So maybe I'll do a blog," Mr. Stern said. "All this shit I got at first was 'How am I holding up?' Like I was on suicide watch."
"Well, it was pretty bad that first day."
"Yeah, it was bad."
"That Burkle. He's a nemesis to me," Ms. Gutman said. "That's from a Johnny Mercer song that we love."
"There's people who'll call," he said. "There's people who'll e-mail. And there's people who'll text-message you. I haven't gotten any letters yet. Or telegrams."
"You haven't checked the mail yet today," she said, helpfully. "Maybe there's a bomb in there."
Mr. Stern believed that Mr. Burkle was out to destroy him. So what did Mr. Stern think Mr. Burkle's plan was?
"I think he thought he was going to A) destroy the column, and B) get the Post on a footing where it would be too afraid, or not take the risk of writing about him," said Mr. Stern. "And then I think at the same time, he probably did a deal with [Daily News owner] Mort Zuckerman where he said, 'Look, I'm going to hand you their head on a platter …. '"
"That Daily News guy says he got the story himself," Ms. Gutman said.
"I think that guy used to work at the Post," Mr. Stern said. "He did tell me that when he got this thing, he said to them, 'So help me God, if you're setting up the Daily News, there'll be trouble.'"
"And that's the thing," Ms. Gutman said. "If there was a Zuckerman deal, that poor reporter is screwed just like you were."
"I've always said we don't know enough rich people," Mr. Stern said.
"The thing that's strange," Ms. Gutman said, "is that Jared thought Burkle was a good guy. And liked our shirts."
"All those guys are slightly creepy," he said, "but he didn't seem evil. All right: He likes to fuck models."
"Who doesn't?" she said.
"Who doesn't," he said.
"Well, it just came out of absolutely nowhere," she said. "Out of the blue."
"Well, you know: Rich people can be good to know," he said.
He paused. "That was a rough few days."
"It was not your fault that Richard was getting married this weekend," she said.
"I should not have been talking about Richard to this psycho," he said. "So: 'What doesn't kill you makes you stronger' kind of thing. But I don't know what's going to happen. I have no income at the moment."
"Really," she said, "if I was going to choose what I was having for dinner, it'd be oysters and champagne. Not soup and grilled-cheese sandwiches."
The phone rang again.
Ms. Gutman talked about how last Thursday, the day the news broke, she'd had a vicious craving for sushi, so she went down to New York City, where Mr. Stern was working in the office that day.
"I called him a couple of times and he didn't get back to me," she said. "I just figured he got stuck at work or whatever." Finally he called. "Jared said, 'It seems that Burkle seems to think I've done something horrible, and I'm in [lawyer] Ed Hayes' office.'"
They had a pretty grim Thursday night in the city, she said. "And the next morning we picked up the ties from the tailor"—for their clothing company—"and came straight up here." She keeps ferrets, and she doesn't like to leave them alone for more than one night anyway.
After she heard the details of her husband's talk with Mr. Burkle, "I kind of wanted to tell him he was an idiot and strangle him," she said. "But I restrained myself. I know it's not his fault."
"He must have had a spare room to set up recording equipment," Mr. Stern said to the reporter on the phone.
"It's Jared," she said. "He's always been so prickly about publicists and people wanting favors! So many people over the years have disliked him because he's been unwilling to be amenable to favors and those sort of things."
"What I don't like is when I have to answer the phone," she said, "and people say, 'This is Ruth, isn't it?' And I say, 'Yes, this is, but I don't think we're on a first-name basis."
"Oh, he's only dated B-list models?" Mr. Stern asked the telephone. "That's his defense? 'I've never dated a supermodel'? We ran a photograph of him with Giselle Bundchen. But I don't think they were on a date. I don't think he'd have a chance with her."
NPR called. "I was wondering when they'd catch on," Ms. Gutman said. "There's nothing funny about this, but there will be later."
"Well, let's face it," she said of the gossip industry. "It's a dodgy business, and sometimes it veers into slimy. But you know? He's good at it, and he likes it, and I think he brings some panache to it."
Last week, she said, Hanna had a big fight with a squirrel. "I know, Hanna," she said to the dog. "Life will go back to normal someday."
Mr. Stern's voice had gotten deeper on the call; it was serious. A while later, a new A.P. story came out. He printed it, and drew the dark green curtains against the night. "This fucking Donna Dees"—the Daily News' spokeswoman—"is an idiot."
Was he winning his war against Ron Burkle?
"Yeah, at the moment," he said. "But check with me tomorrow. You've got to take it—Oh fuck, I never called Variety back. We've got to take it a day at a time still."
They looked a bit haggard. Time for dinner. "We have goat-cheese sandwiches," said Mr. Stern.
Facts! "No, we don't," said Ms. Gutman. "We have grilled cheese."