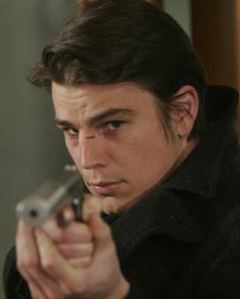 Paul McGuigan's Lucky Number Slevin, from a screenplay by Jason Smilovic, masterfully manages to materialize as a fast-talking play on words, plots and fatally mistaken identities, with acknowledged debts to Alfred Hitchcock's North by Northwest (1959) and the James Bond series, and an unacknowledged debt to the convulsively trick-and-corpse-laden cinema of Quentin Tarantino. The point is that you may feel disoriented or even cheated by all the twists and turns of the plot and all the false and misleading flashbacks, but you'll never be bored or repelled.
After all, from the opening credits onward, the mood is one of anything-goes frivolity in a succession of funhouse settings. The usual assorted clowns and pseudo-straight men are on hand with an array of deadly weapons, including their own hands and fists. And believe me, it turns out to be more fun than a barrel of monkeys, to coin a phrase. I am already aware that many of my readers will disagree with me, as have many of my esteemed colleagues. "Rip-off!" they cry. "Confusion compounded!" they argue. I disagree, if only because I had begun to despair over the low level of literacy in American movies. I say "American" instead of "Hollywood" because most of Lucky Number Slevin, for example, was reportedly shot in Toronto, and a racetrack in Montreal doubled for the venerable Aqueduct Race Track in Ozone Park, Queens, near where I grew up and went to high school at John Adams. However, that is the way with so-called "American" movies in these times of budget-driven outsourcing. But I digress—in the garrulous manner favored by the movie itself.
Indeed, what I liked most about Slevin is that all the characters talk a blue streak, often with wit and panache to spare. Everyone, it seems, has a story to tell and can't wait to tell it. After a while, the stories begin to collide with each other, until the biggest whopper of all redefines all the character alignments we have been persuaded to accept. The central poltergeist in the proceedings is a mysteriously omnipresent mob assassin played by Bruce Willis and impudently named Goodkat. But even before this assassin is given a name, he tells a nameless listener a long story about the "Kansas City Shuffle," referring to a race involving a doped horse and a poor wretch who bets heavily on the supposed "sure thing," only to have the horse drop dead in the home stretch just after the "sure thing" has surged into the lead. The unlucky gambler and his family are subsequently murdered by a vengeful mob boss, on whose account the similarly targeted bookie has laid off the wretch's bet.
After Goodkat has finished his story, he deftly cracks his listener's neck, and the stage is set for the introduction of the apparent protagonist, Lucky Number Slevin, played by the top-billed and topless Josh Hartnett (whose continuously bared chest deserves its own feature credit). Slevin, who has just been laid off from his job and has recently caught his girlfriend cheating on him, has come to New York at the behest of a friend named Nick. His run of bad luck extends to New York, where, after his arrival in Penn Station, he is mugged and has his wallet stolen and nose broken. Luckily, the door to Nick's apartment has been left open, and Slevin has just finished taking a shower when a pretty neighbor named Lindsey (Lucy Liu) knocks on his door to borrow a cup of sugar from Nick and discovers Slevin instead. She asks who he is and where Nick is, and hears the whole story of Slevin's misadventures and his complete ignorance of Nick's whereabouts.
I suddenly realize that I am going to have a great deal of trouble retracing the movie's story line so that it makes any sense at all. I haven't even told you yet that Lindsey works as a professional coroner, and in her spare time moonlights as an amateur sleuth and crime-scene photographer. And though Slevin has all the earmarks of a born loser, he never acts or talks like one, even when he is summoned before two different warring gangster chieftains and ordered to pay off Nick's two separate gambling debts or face death.
The two warring mobs are supposedly made up of an African-American contingent headed by Morgan Freeman's kingpin, known as "the Boss," and a rival Jewish faction headed by Sir Ben Kingsley's mob chieftain, "the Rabbi." The two feuding mobsters and their respective African-American and Jewish henchmen are ensconced in two bulletproof penthouses on facing skyscrapers in the center of the city. And if this doesn't give you the giggles, nothing will. Despite all the beatings and death threats leveled at him by the two mobs, Slevin never loses his cool and even makes jokes about everyone's ridiculous notion that he is actually Nick, though he can't prove his own real identity since his wallet was stolen. That should be our first clue that there is something fishy about Slevin.
As it turns out, the Boss just wants the man dragged out from Nick's apartment, whoever he is, to pay a gambling debt. The Boss, however, is willing to forgive Nick's debt if the man claiming not to be Nick does him the small favor of killing the Rabbi's gay son in retribution for the Rabbi's men having killed the Boss' own son. Meanwhile, Slevin and Lindsey fall in love and have sex, which raises complications as the full narrative unfolds in all its devious dimensions. It finally all makes sense after a fashion, and I think and hope that you will be entertained by all the narrative legerdemain.
They Have It All
Nicole Holofcener's Friends with Money, from her own screenplay, continues the director's fruitful collaboration with Catherine Keener (her muse, if you will) in such women-oriented breakthroughs as Walking and Talking (1996) and Lovely and Amazing (2001). Only now, 10 years have passed for both Ms. Holofcener and Ms. Keener, and in their latest film together, both are enmeshed in a curiously unpleasant series of midlife crises implicating four women friends, three of them married and rich and the fourth one definitely unmarried and non-rich. The three actresses playing the wives are in their middle to late 40's, while the actress playing their unmarried, non-rich friend is in her late 30's—yet one is never told how these women met in the first place or even how long they've been friends.
They certainly haven't met at work. Christine (Ms. Keener) is a successful screenwriter in collaboration with her husband David (Jason Isaacs); Jane (Frances McDormand) is a successful dress designer married to a preening metrosexual and possibly gay husband, Aaron (Simon McBurney); Franny (Joan Cusack) works only at spending part of her considerable fortune on gala charity events with her husband Matt (Greg Germann) sitting gallantly at her side. Meanwhile, Olivia (Jennifer Aniston) has given up a job teaching in a posh private school to make her living cleaning people's houses. I can't remember if the four women friends in the popular television series Sex and the City ever revealed how they first met and what (besides their troubles with men) they had in common. At least that series had a point-of-view writer-narrator based on the book's author, Candace Bushnell, and played by Sarah Jessica Parker. There is no really comparable point-of-view character in Friends with Money, since each of the women is too self-absorbed to be overly concerned with the trouble that any of the others is enduring.
Strangely, the least convincing of the "friends," married or unmarried, rich or poor, is the screenwriter played by Ms. Keener. Her profession would seem to have been intended by Ms. Holofcener to make Christine serve as her surrogate, but the utter lack of rapport and empathy between Christine and her husband David makes them the unlikeliest of successful screenwriting teams. Drowning in self-pity, Christine is always bumping into things and saying "Ow!" (presumably because her husband is too uncaring to ask her if she has hurt herself).
Still, Christine is the Bluebird of Happiness when compared to Ms. McDormand's Jane, who seems terminally inconsolable over the aging process, which, she says at one point, leaves her with nothing to look forward to despite all her success as a stylish dress designer. This leaves Ms. Cusack's Franny and her level-headed husband, Matt (Gregg Germann), as the only well-adjusted and cheerfully married couple in the circle—but Franny is presented almost as a bit of sappy comic relief and is never meant to be taken at all seriously.
And so we're given Ms. Aniston's Olivia as the only woman in the circle with the opportunity to change the direction of her life, despite her grotesque lack of self-esteem and her inability to recognize a male jerk even when he openly two-times her. Still, she stumbles into her unexpected and unearned salvation almost in spite of herself, which may serve as the key to the director's bitter parable of feminine futility. Happily, Ms. Aniston is the beneficiary of the best part she has had in ages, and the other cast members acquit themselves with distinction.
Still, this is one chick flick in which the male characters, whatever their foibles and absurdities, are infinitely better adjusted than the females. Perhaps Ms. Holofcener had neither the time nor the inclination to explore the men's soulful depths. Or perhaps the director is making a statement about life in contemporary Los Angeles. From the lines I saw on its opening day, I suspect that the movie may hit a nerve with grown-up audiences of both sexes. Friends with Money is not without humor and irony, and it's well worth seeing despite all of its gloom and doom (or perhaps because of it). This seems to be no time for happy movies, except for the littlest of children.