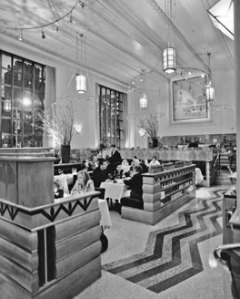 I've never really warmed to Eleven Madison Park. There's no doubt that this huge, elegant restaurant on the ground floor of the Met-Life Building is a jewel in owner Danny Meyer's crown (the others being Union Square Café, Gramercy Tavern, Tabla and the Modern). The formal room, with its soaring ceilings, marble floors and enormous windows overlooking Madison Square Park, is beautiful. The staff, dressed in brown shirts and black ties, is well trained and friendly. The wine list is impressive. The food is good. But I've always found the place lacking in personality: comfortable—perfect for your parents or a business lunch—but dull.
It's not dull any more. Eleven Madison Park has a new chef, Daniel Humm, and he's a star.
You know it from the start. The first thing he sends out from the kitchen when you sit down (after some splendid cheese goujons) is a small martini glass full of an orange froth, accompanied by a thin pastry cigar flecked with Meyer lemon peel. The glass contains a "cappuccino" made with sea urchins flambéed with cognac and whipped to a foam with lobster stock, lime juice and cream. It's laced with pieces of peekytoe crab, and there's a surprise at the bottom: a dollop of cauliflower mousse. One taste of this heavenly concoction and we all sat up.
Mr. Humm grew up in Switzerland, where he worked at the Michelin three-star restaurant Le Pont de Brent, then went on to Gasthaus zum Gupf in the Swiss Alps. In 2003, he became executive chef at Campton Place in San Francisco, where he received rave reviews for his innovative contemporary French cuisine. The 29-year-old chef arrived at Eleven Madison Park two months ago and has since raised the kitchen to new heights.
"He wants you to taste the thing that it is," said one of my friends somewhat cryptically. He dipped his spoon into a creamy velouté of white asparagus laced with crayfish and tiny crisp pieces of bacon, swirled with dark green spring-onion oil. I understood what he meant, though: There's a purity and directness to Mr. Humm's dishes (which are also visually stunning).
Another great soup I tasted could not have been simpler: sweet peas cooked to order with chicken stock, blended to a froth with mint and laced with morels. A ceviche of hand-diced Maine scallops was tossed in a straightforward grapefruit vinaigrette that brought out the taste of the seafood.
The menu changes weekly, directly reflecting the season. Now, everything is spring-like. Sturgeon from the Columbia River arrived two ways: The smoked cured belly was diced into a ragout of Israeli couscous with mint, carrots and buttery peas and served with a pan-seared filet. Thumb-sized dolomites of red, yellow and candy-striped beets were lined up on the plate like a miniature Stonehenge. Saffron-roasted apple pieces added crunch, and a vinaigrette lent a touch of spice. (Look for this dish in the summer made with tomatoes and watermelon.)
Mr. Humm likes to put together the same ingredient in different ways. His tuna "composition" offered six small bites—including one grilled, one in a confit and one wrapped around white asparagus—served with a centerpiece of tuna tartare made with avocado, smoked steelhead roe and osetra caviar. The sauce that brought the dish together was made with tuna confit blended with olive oil and stock.
The chef also likes to mix luxury ingredients with cheap ones. So Hawaiian prawns wrapped in strands of crisped potato came with tripe cooked in Riesling. They were served with a rich black truffle sauce and mashed potatoes to sop it up. He put black truffles under the skin of milk-fed chicken poached in broth with truffle jus, and served this miraculously tender bird with mashed parsnips.
How did he get the skin on his suckling pig so that it was like parchment—and greaseless? He cooks the whole baby pig in duck fat for 10 hours, bones it and weights it down. He bakes the skin again, cut in perfect squares on a sheet pan. The result is the best suckling pig I've ever tasted—you can cut the meat with a fork.
Farmed halibut often comes out like a limp rag. There's none of that here. The halibut is wild from the Atlantic, and it's a revelation. It's cooked in a slow oven to bring out its juices and flavor, and it was served with a buttery jaune sauce made with Arbois wine from the Jura. Daurade arrived on a purée of artichokes with the flavors of Provence distilled on the plate: dots of sauce made from cherry tomatoes, basil and olive tapenade. So simple and so good.
The meal winds up with Nicole Kaplan's marvelous, playful and complex desserts. They look like architects' models. First there's a "pre-dessert": a frozen chocolate pyramid with coconut, topped with gold and served in a big white bowl. The feathery chocolate mille-feuille came with passion fruit, Szechwan pepper sorbet and a coconut financier. A two-tone chocolate-banana soufflé was served in a narrow cylinder of glass, with bananas, a peanut-butter ganache and roasted banana ice cream. It was great. So was the striped chocolate-caramel tart; it was accompanied by a small box of chocolate pearls, among other things. I dug in my fork and discovered a chocolate pudding underneath.
Looking around the room, which was decorated with giant blossoms the size of whole trees, I thought how lovely it was. But at 10:30 on a Saturday, it was practically empty. The crowd that had filled the restaurant earlier had gone home. "Parents!" said my companion, adding that he felt the place needed a bit of Miles Davis.
But when word gets around about Daniel Humm, the only thing needed here is going to be hard to get: a reservation.