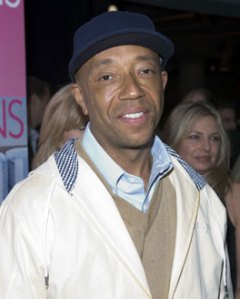 Gossip columnists have been dogging newly minted bachelor Russell Simmons ever since the hip-hop mogul's announcement last month that he was divorcing Kimora Lee.
But he's still trying to unload what seems like the ultimate bachelor pad: his duplex penthouse at 114 Liberty Street.
Thrice already he's cut the price on the 7,000-square-foot apartment, which first entered the market for $11 million in May 2005.
Now the discount's getting even deeper. The new sticker price: $5.995 million.
"Russell Simmons wants to move the property," said Lisa Maysonet, a senior vice president at Prudential Douglas Elliman, who is listing the apartment with her colleague, Gary Kabol. "He is willing to take a little less than its market value to sell it more quickly. Someone's going to get a really good deal."
Judging from a recent sale in the 11-story building, the reduced asking price appears more market-friendly.
Last month, Goldman Sachs executive Steven Kerr unloaded his 5,369-square-foot spread a couple floors down for $4.335 million.
With the reduction, Mr. Simmons' apartment would cost only slightly more than the $5 million that Sean (Diddy) Combs agreed to pay for it in 2001, around the time that it was featured on MTV Cribs. (However, the building sustained ample damage on Sept. 11, and Mr. Simmons graciously let Diddy out of the contract).
But if Diddy doesn't hurry back downtown to scoop it up, Mr. Simmons' broker just might.
"If I could buy it myself, I would," said Ms. Maysonet. "In fact, I am going to talk to my husband about it."
Damon Saves $400 K.
Where will Johnny Damon, the Yankees' $52 million man, hang his cap after night games up in the Bronx (and out on the town)?
After he was spotted in a number of Yankee-friendly luxury buildings, The Observer reported in February that Mr. Damon's offer was accepted on a $5.9 million condo at One Beacon Court.
Turns out he got a better deal than that—by almost $400,000. Mr. Damon has closed on the 39th-floor pad for $5.555 million, according to deed-transfer records.
Mr. Damon and his wife, Michelle Mangan, join Phillies right-fielder Bobby Abreu, singer Beyoncé Knowles, NBC Nightly News anchor Brian Williams, and former G.E. chief executive Jack Welch (among the countless heavyweights who reaped fortunes on Wall Street and in the entertainment industry).
The Damons' new living situation—a sleek, 2,410-square-foot condo—closely resembles the digs from their early days in Boston. Back then, the couple lived on the 34th floor at the Ritz-Carlton, an upscale building that was home to such players as Manny Ramirez, Edgar Renteria and David Ortiz.
After leaving the Ritz-Carlton, the couple seemed to have settled down into a comparatively tranquil suburban setting, purchasing a $4.75 million home in Brookline, near Fenway Park.
These days, Mr. Damon will probably hang around his old ballpark only when the Yankees are on the road. So what are his plans for the Boston home?
In mid-March, the 6,800-square-foot house went on the market for $5.85 million, according to a broker with knowledge of the listing.
Then, a few days after the season opener, Mr. Damon's house was taken off the market.
Broker Ellie Sonis—who had the listing, according to a source—declined to comment.
Asking Record $28.5 M. Downtown
Besides owning a vast media empire, News Corp. chief Rupert Murdoch has been a power player in Manhattan's high-end real estate world ever since buying the triplex penthouse at 834 Fifth for a record-breaking $44 million. Soon after, Mr. Murdoch put his Soho place on the market and set the record for the most expensive residence listing below 14th Street: $28 million.
Now, that lofty record has been trumped.
Minnesota businessman Edward Bazinet has recently placed his five-story Tribeca penthouse on the market for $28.5 million.
In 2001, Mr. Bazinet purchased the massive apartment at 60 Warren Street for $13.15 million. StarMedia ex-C.E.O. Fernando Espuelas, the seller at the time, had bought it for just $6.1 million in 2000.
The 9,300-square-foot modern structure was built on top of a 19th-century warehouse. Included with the spacious home are four terraces, a full-floor master suite, a stainless-steel-and-glass staircase, and a rooftop home gym.
In late 2005, fashion maven Elie Tahari reportedly paid $25 million for Mr. Murdoch's lavish Soho spread—which, coincidentally, was also listed at 9,300 square feet. Since that big deal was the highest downtown residential sale, it remains to be seen whether Mr. Bazinet can steal that record away too.
Stephen McRae, of Sotheby's International Realty, has the listing. He didn't return calls for comment. Mr. Bazinet could not be reached for comment.
$23 M. in Carnegie Hill
For over half a century, the Spence-Chapin Adoption Service has operated on East 94th Street, anchoring a picturesque block between Fifth and Madison avenues.
But with Manhattan's townhouse market still going strong, it seemed like the perfect time for the agency to cash out.
After first buying a five-story townhouse at No. 6-8 94th Street in 1955, the agency purchased the townhouse next-door at No. 4 and converted it into a seven-story office annex.
Now, the entire 60-foot building has hit the market for $23 million. Measuring over 24,000 square feet, it could become a palatial single-family home. However, a savvy developer could also seize the building and convert the annex—which requires total renovation—into luxury condos.
Either way, the extra-wide Neo-Classical townhouse offers plenty of provenance for the wealthy buyer. In 1936, architect George Prentiss Butler Jr. altered two townhouses at No. 6 and No. 8 for George W. Perkins, a powerful figure in Republican politics at the time.
Over the past few years, the Carnegie Hill block has been the site of several high-profile deals.
In 1999, investor Bruce Kovner dropped $17.5 million on the International Center of Photography building on the corner of Fifth Avenue and 94th Street. Real-estate developer Aby Rosen purchased a townhouse at No. 3 as an investment. Nicholas Rohatyn bought the 40-foot-wide mansion at No. 10-12 for $7.4 million. And dot-com millionaire Marc Ewing bought the townhouse at No. 13, selling it two years later for $10.8 million.
Most notably, banking magnate Jaqui Safra and his long-time girlfriend, producer Jean Doumanian, sold their mansion at No. 1 (the former home of legendary architect Cass Gilbert) for close to $9 million in 2000. Now, the couple are trying to get $55 million for their mansion at 4 East 75th Street, which will open its doors as the Kips Bay Designer Showhouse later this month.
The Spence-Chapin building is a co-exclusive between George van der Ploeg and Dean Heitler of Prudential Douglas Elliman, and Paul Massey Jr. and Cory Rosenthal of Massey Knakal Realty Services.
Mr. van der Ploeg declined to comment.