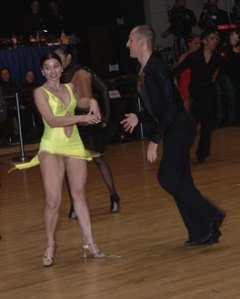 Last June, when the red paperback 357-page Harvard and Radcliffe Class of 2000 Fifth Anniversary Report landed in alumni mailboxes, it contained the usual student-penned bios, written in the arch, self-congratulatory yet self-mocking tone which has long been the acceptable pose of America's rising elites. Eugene Plotkin's entry, for example, chronicled his swift ascent through the ranks of amateur and professional ballroom dancing, his feature-length film (which was "awaiting decision from the Sundance Film Festival") and, naturally, a novel in the works. He added: "Somehow, in the midst of all this, I was able to finagle a promotion at my Wall Street firm, which saved me from the two-year networking session known as business school … Beyond that, I'm unabashedly enjoying the roller-coaster life of an N.Y.C. bachelor (a category all its own) and fighting an uphill battle against the triple threats of traffic, rent, and yuppyism."
Now, one year later, that hill just got a lot steeper. Around 9:20 a.m. on April 11, Mr. Plotkin was driving his leased black BMW south on the Palisades Parkway from his home in Rockland County to the downtown Manhattan offices of Goldman Sachs, the white-shoe investment bank where he worked as an associate in the fixed-income research department. Between exits 2 and 3 in New Jersey, a highway-patrol car flashed its lights and pulled him over to the side of the road. F.B.I. agents—who had just missed nabbing Mr. Plotkin at home—pulled up in their own car and arrested him on the spot.
He was charged with coordinating an international insider-trading scheme that allegedly netted $6.7 million for himself and others. According to prosecutors in the U.S. Attorney's Office for the Southern District of New York, Mr. Plotkin and a former Goldman Sachs employee named David Pajcin had paid a young Merrill Lynch banker to leak them word of pending deals so that they could bet on the companies ahead of time. They also allegedly hired moles to work in a Business Week magazine printing plant and steal copies of the market-moving "Inside Wall Street" column, so that Mr. Plotkin and Co. could buy shares in companies the column was about to hype.
Since his arrest, the 26-year-old Mr. Plotkin has been locked up in the Metropolitan Correctional Center near the Manhattan courthouses, unable to meet a $3 million bail. Mr. Pajcin, 29, is reportedly cooperating with authorities.
Reached at home in Palo Alto, Calif., Mr. Plotkin's father, Mikhail Plotkin, said, "You have standard sources that everybody else uses—why don't you go to 'various officials'? 'Various police officials'? Those who will tell you everything about my son, tell you how bad he is, who have thrown away the presumption of innocence before trial."
Then he hung up the phone. The elder Mr. Plotkin was perhaps speaking from more than just paternal pride: The Securities and Exchange Commission has filed a civil complaint charging him with illegal insider trading, as one of the more than half a dozen "tippees" who allegedly received recommendations from his son in exchange for sharing some of the profits.
Eugene Plotkin's lawyer, Martin Schmukler, refused to make his client available for an interview. "I really don't know what all the fuss is about, I tell you. I don't see billions here," he said.
Nearly a dozen of Mr. Plotkin's former friends and acquaintances interviewed by The Observer described a friendly young man who was, in the words of one, "one of the most driven people I have ever met—even by Harvard standards."
Eugene Plotkin—Gene to his family and friends—was born in Moscow. The family emigrated from Russia when he was in middle school. They spent some time in Suffern, N.Y., but eventually settled in Palo Alto, where his father works in computer programming, according to Mr. Schmukler.
When Gene applied to Harvard in his senior year of high school, the pain of the rejection letter was attenuated by a fat envelope from the eminent California Institute of Technology. He went to Cal Tech, but after a year he reapplied to Harvard and was accepted.
He majored in economics, wore a black leather jacket and played pool so regularly that he had his own cue. But it was when a friend introduced him to ballroom dancing that his life took a dizzying turn.
To a certain extent, it connected him with his roots: The amateur ballroom-dance world is dominated by Russian and Eastern-bloc émigrés, many of whom start training as early as age 5. That put Mr. Plotkin at a disadvantage he would quickly attempt to remedy.
"I've never seen anyone like him in the ballroom-dance world. I've never seen anyone progress as fast as he did," said Damian Moskovitz, a former teammate on the Harvard-Radcliffe Ballroom Dance Team.
Mr. Plotkin's specialty was Latin dance: the cha-cha, rumba, samba, pasa doble and jive. While not the most rhythmic dancer, he cut a dramatic figure with his tall, slender frame, slicked-back hair and striking facial expressions.
"Gene, Rita, me and my partner once performed at an arts festival at Harvard called Arts First," said Mr. Moskovitz. "Gene choreographed. We called the dance Double Bondage. It was a cha-cha/rumba medley with music from James Bond movies, including Goldfinger. Gene and I wore tuxedos; our partners had knives and pretended to try to stab us in the back when we weren't looking. He did an excellent job choreographing it and, of course, dancing."
According to some former team members, Mr. Plotkin regularly switched partners when he became convinced there was someone more talented to pair with. He rented videos of professional dancers and logged hours of practice time. In the summer between his sophomore and junior years, he lived in New York to take private lessons in the studio of Victor Kanevsky, a former Latin dance champion. By the time he graduated, he was the best male dancer on the team.
"He was very selfless with his time and very willing to help us, the younger members, with our technique," wrote former teammate Cesar Briceno in an e-mail. "He also volunteered a lot of his time to teach classes to raise money for the team, which everyone appreciated."
Another teammate wrote in an e-mail, "He has always been a very kind, dedicated, driven, smart and reliable person."
The competitive spark seems to have accompanied Mr. Plotkin everywhere. A former dance partner, who requested anonymity so she wouldn't appear spiteful, said that when she and Mr. Plotkin would go out to Boston nightclubs like the Roxy, he would invent a competition to see who could pick up someone first. If he picked up a woman before she could pick up a man, she would have to set him up with one of her girlfriends. "He would try to make me play these games with him," she said.
As graduation approached, start-up companies were tempting many Harvard seniors, but Mr. Plotkin opted for the security and prestige of Goldman Sachs. He started as an analyst in the fixed-income research department and was eventually promoted to associate, a job that would typically pay a base salary of at least $100,000 before a sizable bonus. (Goldman suspended Mr. Plotkin last week following his arrest.)
As a young, single New Yorker, he lived for a while in an immaculate small apartment near Brooklyn Heights. Weekends, he bounced between nightclubs in west midtown and ballroom-dance studios in Bensonhurst and Brighton Beach.
His look was "kind of the Jersey look," said an acquaintance. "It was neither preppy nor cool."
He also changed his name, at least onstage, to Gene Michael. As he wrote in his Harvard Class of 2000 report: "After graduation, I moved to N.Y.C., got the requisite studio, job on Wall Street, and gym membership. But then, somewhere, somehow, things took a turn for the atypical. Continuing with ballroom dancing (something I started at Harvard), I turned professional and became one of the top DanceSport competitors in the United States (a long-term dream), concurrently taking on the moniker Gene Michael."
In 2002, on the one-year anniversary of the Sept. 11 terrorist attacks, The Harvard Crimson included Mr. Plotkin in a round-up story featuring New York City–based alumni reflecting on the attacks.
"I think for most people nobody thinks about it anymore," he told The Crimson. "Obviously there will be many events to commemorate the attacks and to remember the sacrifices people made … but New Yorkers are known for being blasé, and maybe this is one case where it's served them well …. The only thing that's really missing, aside from the people who were lost and can never be replaced, are those monuments you used to see everyday."
As Gene Michael, Mr. Plotkin has competed furiously around the country, with at least four different partners. This January, he competed with Tamara Klimova at the Northeastern Open in Stamford, Conn. Of the eight couples competing, they finished last. The Web site DanceSportInfo.net ranks them as 49th in the country in the professional Latin category. Ms. Klimova didn't return phone messages left at her dance studio.
In 2004, Mr. Plotkin started teaching dance, giving lessons for the bargain-basement price of $5. A biographical note in an e-mail advertising his workshops claimed that he "has performed with and choreographed dance numbers for the American Repertory Theatre." Katalin Mitchell, the A.R.T.'s director of press and public relations, said: "We have no record of this guy ever being here."
In 2003—a year before they allegedly began their insider trading—Mr. Plotkin and Mr. Pajcin approached freelance photographer Marie-Charlotte Pezé to see if she was interested in shooting a low-budget movie, on video, based on a script they had written. The two men would play the lead roles. She agreed.
"They were very together. They seemed very clear and organized about what they wanted to do," Ms. Pezé said.
"He was a very nice guy," said the film's production manager, Brian Lamia, of Mr. Plotkin. "He always seemed to have something going on."
Ms. Pezé said that she is unsure what happened to the finished product. The movie mirrored—and foreshadowed—several details of Mr. Plotkin's life. The main character, whom he played, is a Harvard graduate named Dean with a job at "the most exclusive and reputable wealth management firm in the U.S." He is accused of stealing $30 million from a client. One scene involves F.B.I. agents charging into his apartment with their guns drawn. The movie ends with the revelation that Dean has been framed, but his name is never cleared.