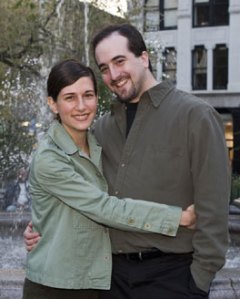 Steven Baker and Yingjia Puk
Met: March 2004
Engaged: May 28, 2005
Projected Wedding Date: Sept. 5, 2006
The slender, elegant, Singapore-born Yingjia Puk was standing at the bar of Hi Fi, an East Village bar, when she was approached by Steven Baker, a tall man from Brooklyn sporting a goatee, sideburns, a labret piercing (that's under the lip—ouch!) and a bunch of tattoos. She wouldn't find out till later that they were all Dorothy Parker quotes.
"Everyone's in back," he told her, referring to a group of mutual friends who'd summoned them to the bar. Ms. Puk gave him the dirtiest look she could muster and walked away. "I felt like I had a penis on my nose—like there was something really wrong with me," said Mr. Baker, a production director at Popular Mechanics with a penchant for poetry.
Later, the evening's hostess ran on over.
"Oh my God, you have to meet Steven," she told Ms. Puk, who blanched. "I was like, 'Oh my God, that's the guy I was rude to—I feel like a complete dipshit,'" she said.
Mr. Baker accepted her apology and invited her to a performance by his poetry collective, Brokeland (after Brooklyn; he was a student of the late Allen Ginsberg). "That's when I started getting really curious," said Ms. Puk, 26, an ad-sales assistant at USA Weekend—not to be confused with Us Weekly.
Soon afterward, they dined at the pan-Asian palace Typhoon, followed by sake at Decibel, after which she brazenly kissed him. "She made all the first moves, though I was the one who was more interested," Mr. Baker said.
"Oh, you were shy," Ms. Puk cooed.
A few months later, her lease ended and she moved from her East Village share to his Murray Hill studio—scarcely more spacious than her previous arrangement, but with a flat-screen TV.
Soon, little peevish Post-It notes began appearing everywhere, bearing messages like: "For fuck's sake, move your shoes."
"She'll put them up to let me know she's angry about something," said Mr. Baker, 30.
Regardless, they were soon planning a trip to Singapore so that he could meet her father. "I was terrified," he said.
"You were getting increasingly sweaty," Ms. Puk said.
"Singapore is hot," he retorted. "Really, really hot."
"My father's one tough nut to crack," Ms. Puk admitted. "He was looking for someone responsible, mature and intelligent. Luckily, Steven is all three."
At the end of the introductory chat, Mr. Baker asked for his girlfriend's hand.
"On your knee," Papa Puk told his future son-in-law sternly, grabbing a camera. Mr. Baker complied.
"Will you marry me?" he asked his sweetie, who said yes and then broke into a duet of sobs with her mother.
The family celebrated at a fancy local restaurant with cuisine unfamiliar to Mr. Baker. "I ate as much as I could," he said. "The whole duck foot." (Burp.)
The couple will wed in Santorini, Greece—an inconvenient midpoint between their two families. "There's nothing really usual about the two of us or how we met," Ms. Puk said. "Why make it easy for everyone else?"
Arlene Bakel and Louis Giagrande
Met: September 1996
Engaged: March 24, 2006
Projected Wedding Date: October 2006
Arlene Bakel and Louis Giagrande had been great friends since their days as undergrads at Fordham University, when they'd stroll the Botanical Gardens after class, arm in arm. A decade out of school, they now lived near each other in Williamsburg, but thanks to their demanding jobs—he's the online marketing manager of Samsung Electronics (beep, beep!); she's a social worker at P.S. 46 in Fort Greene—hadn't seen each other in months. Missing Ms. Bakel mightily one day, Mr. Giagrande picked up the phone.
"My Uncle Donnie's finishing up a tour," he told her (Donnie was driving the bus for the now-defunct Grateful Dead–esque hippie band Phish). "When he's done, we could all have dinner together."
After a massive Italian meal at Mr. Giagrande's folks' place in Mamaroneck, they went back to see the tour bus. "Why don't you come see my property in Kentucky?" Uncle Donnie asked enticingly. Oh, you crazy, spontaneous hippies!
That night, the three were careening down the interstate, Donnie at the wheel, the two college buddies sprawled on couches in the rear. "At one point, God was like, 'I'm not sure what else I have to do here, so I'm going to put you in a bus for four days. If you can't work it out, I'm going to kill you both,'" Mr. Giagrande joked.
God also threw in Uncle Donnie's place: a romantically misty, 60-acre spread populated by horses. Little wonder that when the couple returned to New York that Sunday, they were at long last an item.
"Anybody reading this will say, 'Huh? They weren't dating before?'" said Ms. Bakel, a bouncy, porcelain-skinned brunette with a winning smile.
Why had it taken so long?
"For me, it was probably that we kind of realized that it would be a full-time deal, so once you started, there'd be no reason to stop it," said Mr. Giagrande, who is broad-shouldered and brown-haired.
It may have taken 10 years for their romance to begin, but it took only 10 months for him to propose—back at their old stomping grounds, the Botanical Gardens, 10 days after her 33rd birthday and 10 days before his. He'd barely managed to get the words "Will you marry me?" out of his mouth before she shrieked an exultant "Yes!"
They celebrated at the Hudson Hotel, but will likely be married somewhere on Long Island, old-school style, by Ms. Bakel's cousin, a priest.