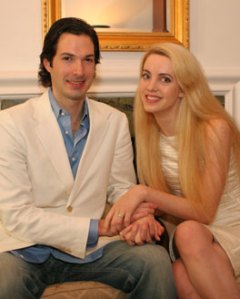 Doğan Perese and Sarah Mascareñas
Met: Sept. 6, 2005
Engaged: March 10, 2006
Projected Wedding Date: Oct. 22, 2006
When Sarah Mascareñas, a blond, blue-eyed bombshell Yalie (yes, they do exist), first walked into the law offices of Cravath, Swaine and Moore, where she was starting as an associate attorney, she was prepared for a hefty workload and a big paycheck. She wasn't prepared for Doğan Perese, also an associate and a dreamy, dark-haired Harvard grad (yes, those exist too!) who couldn't stop staring at her. "I thought maybe he liked me a little," Ms. Mascareñas said over drinks at the Peninsula, in an incongruous but melodious Valley Girl accent.
"I was captivated by her," Mr. Perese said.
They began furiously I.M.-ing.
"I met the most beautiful, nicest guy at work," Ms. Mascareñas told her best friend. "I just didn't want to sexually harass him."
After about a month of this, their Title VII–related fears dissipated and he asked her out to the Moscow Cat Theater. A devoted feline-ophile, Ms. Mascareñas eagerly accepted. Alas, the show was booked solid, so she BlackBerried him a dinner invitation.
"Dinner with you would be extra-fabulous," Mr. Perese punched back.
"That was more enthusiasm than I ever heard in my entire life," Ms. Mascareñas said.
The date was arranged for Gramercy Tavern at 8, but at midnight, the two lusty legals were just leaving the office. The kitchen was closed, but they managed to cadge some cheese and dessert. After they toddled out, Ms. Mascareñas invited Mr. Perese to her apartment in Union Square to watch her favorite movie, The Umbrellas of Cherbourg, on video.
"I have a friend staying with me," Mr. Perese said, disheartened. Then his eyes lit up. He hopped in a cab, let the visitor into his Upper East Side studio and then returned downtown.
"It's so rare that anyone goes crosstown," Ms. Mascareñas marveled to the Love Beat.
"For you …. I'll go across boroughs," Mr. Perese said. Awwww.
The following weekend, they decided to rent a car for a quick Hamptons getaway—only Mr. Perese, again, was working till midnight …. Yes, on a Saturday. After he'd finished, they hailed a passing pedicab and took it to Hertz, hitting the road at 2 a.m. in a bright yellow Chevy Cobalt. They arrived at their B&B at 4 a.m., Mr. Perese in his suit, Ms. Mascareñas in an evening dress. "Did you just come from the prom?" the bemused innkeeper asked.
Inseparability quickly followed, punctuated by monthly celebrations of their first date. On Month 6, Mr. Perese scored an early reservation at Per Se. Ms. Mascareñas, however, had—you guessed it—a fat pile of assignments. She drew a deep breath and told her superior she was bailing early. "I realize in retrospect that a lot of people probably wouldn't respect that," she said, "but it seemed very important to me, and it still does."
At the restaurant, Mr. Perese was brandishing a gift bag clearly containing a book. Ms. Mascareñas thought it was one about exotic chickens (don't ask) that she had admired.
In between courses six and seven, he handed her the tome: an Amanda Quick romance novel called With This Ring. Ms. Mascareñas, not a fan of the genre, looked perplexed. Meanwhile, the customarily levelheaded Mr. Perese was all of a sudden pulling a Woody Allen. "I was thinking maybe, you know, we could start thinking about maybe …. I wanted to get your opinions on all the different types of rings you would like," he stammered, fumbling with a small box under the table.
"Is this a proposal?" Ms. Mascareñas asked.
The answer was sparkling clear: a 2.5-carat, radiant-cut, platinum-set fancy yellow diamond from Fred Leighton.
A month later, while these two young fogies were enjoying a Cole Porter revue by ravishing cabaret singer Mary Cleere Haran at the Carlyle, she handed him a gold Cartier wedding band and proposed herself.
They're still working at Cravath, plan to live in his Upper East Side studio, and will be married on the Miro Lawn at the Bacara Resort in her native Santa Barbara.
Paul Keegan and Tatiana Logisheva
Met: Feb. 18, 2005
Engaged: Dec. 25, 2005
Projected Wedding Date: June 17, 2006
Tatiana Logisheva, 35, a world-champion ballroom dancer from Russia, and Paul Keegan, 48, a freelance writer based in New York who regularly contributes to Money and Business 2.0, are planning to marry at the Galini Seafood Restaurant in Astoria, blocks away from their two-bedroom apartment, in a ceremony officiated by Kim Kirkley, a certified celebrant. Ms. Logisheva's parents took a 19-hour bus ride to Moscow from Volgograd (formerly Stalingrad), hoping to secure a visa so that they could attend, but their application was denied. "We're trying to create a Russian-American family," Mr. Keegan said, his voice faltering, "and the government is stopping us from doing it—and we're just outraged."
The couple was set up by a mutual friend. The slender, high-cheekboned Ms. Logisheva had been in New York for 10 years. "At first, I don't understand American culture or American people," she said throatily. "In the beginning, it was very hard. I thought if I do get married, I would get married to Russian man." Then she met the athletically built, redheaded Mr. Keegan at Gabriel's in Columbus Circle, near where she was teaching at DanceSport. Drinks turned into dinner, which turned into more drinks: a steamy taxi ride to Pravda in Nolita.
"I swear that she kissed me in the cab," Mr. Keegan said.
"No, I think he kissed me first."
After five months of dating, Mr. Keegan spent two sweltering summer weeks with Ms. Logisheva and her parents in their dacha. "They were so welcoming, so laid-back and so loving," he said. One night, everyone was sitting around in lounge clothes. "Tatiana was so beautiful in this flower slip-on," Mr. Keegan said. "Her mom had made this incredible feast, her dad's pouring me shots of vodka, and I thought, I think I'm in a movie or something. I thought, I want to marry this woman. If I only had a ring …. "
The following Christmas, alone together at his brother's house in Sonoma County, Mr. Keegan gave his devoshka an enormous hand-painted matryoshka doll, each wooden layer featuring a scene from Pushkin's Tale of the Fisherman and the Fish.
"I love it!" Ms. Logisheva squealed. When she popped open the 11th and innermost doll, she found three brilliant-cut diamonds set in a "bridge" style along a white-gold ring, from H.J. Namdar on 47th Street. Mr. Keegan pulled out a bouquet of red roses from behind the couch and uttered a phrase he'd been practicing for almost a month:
"Predlagaya tebya moyu rooku e sertza." (Translation: "Please take my hand and my heart.")
"Yes," she whispered.