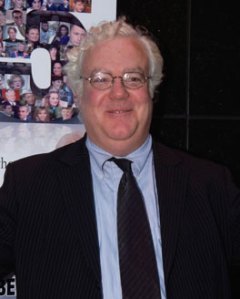 Who won't be the next managing editor of Time magazine? Michael Kinsley, for starters.
Last month, Time Inc. editor in chief John Huey met with Mr. Kinsley for two hours at a Washington, D.C., hotel and asked if he would be interested in taking over Time's managing editorship.
Mr. Kinsley—the peripatetic ex-chief of The New Republic, Slate, the Los Angeles Times op-ed page et al.—declined the overture.
"He didn't burst into tears when I said I couldn't do it," Mr. Kinsley said by phone May 1.
Instead, in that conversation and subsequent e-mails, the pair discussed other potential candidates—and the function of a newsweekly in today's media. "I certainly think the news magazines have to change," Mr. Kinsley said. "But I think their main function is still useful."
Officially, Time has yet to confirm that it's even seeking to change managing editors.
"We don't have anything else to say," Time Inc. spokeswoman Dawn Bridges said. "Jim Kelly is the managing editor of Time. We've had the fattest issue of Time since 1999. The Time 100 is next Monday. Then we have the National Magazine Awards on Tuesday. Anything else is personnel speculation."
That would extend Mr. Kelly's horizons all the way to May 7.
"I'm a little flummoxed," Mr. Kelly said by phone on May 1 when asked about talk of his succession. "But I suppose this kind of speculation is inevitable after you pass the five-year mark."
Two sources with knowledge of Mr. Huey's search said that he has discussed the managing-editor job with Mr. Kinsley's successor at Slate, Jacob Weisberg. Mr. Weisberg told The Observer on May 1 that he wouldn't comment.
Other possible names for Mr. Huey's short list have been floating since the Daily News' Lloyd Grove first raised the prospect of a change at Time on April 28. Mr. Grove named a slate of five internal Time Inc. candidates and—"admittedly a very long shot"—New York Post media writer Keith Kelly.
The Post's Mr. Kelly—who co-hosts an annual St. Patrick's Day party with Jim Kelly, among others—said he hadn't been contacted by Time Inc. "It's nice to be well thought of," he said. "It would be something new and different for Time to get someone with absolutely no editing experience in any area whatsoever."
Who else? In the ranks of more seasoned editors, other rumor-mill candidates have included omni-editors Tina Brown and Kurt Andersen and Newsweek International editor Fareed Zakaria—and deposed New York Times executive editor Howell Raines, whose new memoir is being celebrated by Mr. Huey at a book party May 3.
Ms. Brown's husband, Sir Harry Evans, said that she was working on her book and unavailable to comment directly.
"I talked to Tina last night," Mr. Evans said. "She said, 'I know nothing about it.' She's not been asked about it."
Next!
"They haven't contacted me," Mr. Andersen said.
Mr. Zakaria? "This is Dr. Zakaria's reply: no comment," his assistant said in a voice-mail message.
Mr. Raines did not return an e-mail seeking comment.
And what about Mr. Kelly? At a morning meeting on April 28, Time senior editor Belinda Luscombe asked the incumbent managing editor about Mr. Grove's column, according to Time sources. "I'm not going anywhere," Mr. Kelly said, according to a Time source.
The subject came up again in a May 1 conference call with staffers.
"He brought it up, which was really amazing," one person who participated in the call said. "He wanted to elaborate on his Friday comments. He said Lloyd Grove had left out half of his comments in his answer to a question on whether he'd miss his job at Time," the source said. "Jim said, 'I won't miss it because I still have a job.'"
—Gabriel Sherman
The new-look Wall Street Journal is working on a new look: The Journal is considering putting an advertisement on its front page next year.
"I won't deny it," said Journal vice president for news operations Jim Pensiero. "We've mocked them up. It's not a given we put them into production."
Mr. Pensiero is overseeing a 30-member design committee assigned to what The Journal calls "Project Renaissance." After going from 1942 to 2002 without a significant design change, The Journal is now working on what would be its second overhaul in five years.
Designer Mario Garcia, who oversaw the paper's 2002 redesign, has been hired to oversee the project, which is scheduled for a January 2007 debut.
This revamp calls for reducing the number of page jumps and shrinking the trim size, giving The Journal roughly the same proportions as The Washington Post and the Los Angeles Times.
In the 2002 overhaul, the paper spent a reported $225 million to switch to color presses at its 17 print sites around the country. The new size will require retrofitting those plants at a cost of roughly $37 million, Mr. Pensiero said.
Dow Jones has said in reports that the trim-size reduction will save the paper $18 million per year.
According to Mr. Pensiero, The Journal has already produced a complete prototype using slimmer trim size at a Dow Jones printing plant in Massachusetts. Mr. Pensiero said The Journal plans to produce two more prototypes before selecting a final design.
The page-one ad would replace one of the features added in Mr. Garcia's 2002 redesign—the "Extra" slot, where the paper currently runs breaking news. The "Extra" position has been popular with staffers, because it enables stories to win their way onto the front-page without going through The Journal's grueling top-down assignment-and-approval process for page one.
The prospect of a front-page ad has rankled some Journal staffers.
"We understand this is a for-profit business," one newsroom staffer said. "But an ad on the front page? That would really piss people off."
—G.S.
In the May 2 New York Times, a page-two correction noted that an April 25 article about the future of economy-class air travel had "referred incorrectly to the concept of carrying passengers standing up with harnesses holding them in position."
And how. The original piece had claimed, on page one, that Airbus was living up to its name by touting the option of standing-room air travel—allowing airlines to cram up to 853 passengers on its A380 jet. That reporting, the correction said, was "imprecise": Airbus says it has abandoned the concept, and the A380 can hold 853 people in ordinary seats.
"We made a mistake, period," Times business editor Larry Ingrassia said. "We corrected it. The mistake was about when this idea was mooted, and it was mooted in the past."
Translation: The piece said standing-room flight was coming, but Airbus says it's not.
"The denial takes away the main point of the top of the story," Times assistant managing editor Craig Whitney, said.
Mr. Whitney said that he and assistant managing editor Allan Siegal, the paper's standards czar, felt that the story ought to have warranted a full-blown editors' note.
"An editors' note would make it clear we were contrite," Mr. Whitney said.
So how did the story happen? It was written by Christopher Elliott, a 36-year-old Florida-based freelancer who had written business-travel stories for The Times. Mr. Elliott said he'd submitted his first draft on April 18, accompanied by an image that a source had given him showing a vertical-seat prototype, allegedly meant for Airbus' Asian airline customers.
The story that ran described a range of seat-shrinking options, but it was that image that made the piece into page-one material. "The story was a runaway train the moment I sent the graphic to the paper," Mr. Elliott said.
Mr. Elliott sent e-mail to Airbus, telling the company he had seen a mockup of an A380 economy class in which "passengers appear to be leaning into the seats."
Airbus replied with an e-mail saying seating matters were "questions for the airlines, not the airframe manufacturer. [W]e don't make seats."
A spokesperson for Airbus said that the company had studied the standing-room option internally in 2003, but had never presented it to any customers.
"We have not pitched it to anyone," Airbus spokeswoman Mary Anne Greczyn said. Ms. Greczyn said that Mr. Elliott never asked whether the airline had made such a pitch.
Meanwhile, the revised story, with its Airbus-standing-room emphasis, was heading for page one. "I didn't know what to do," Mr. Elliott said. "There's nothing to prepare you for what happens."
He added that The Times had been supportive during a week in which Airbus publicly called the piece "crap."
"Even though I'm an outsider, they've treated me like one of their own," Mr. Elliott said. "I feel like I've let them down. I'm devastated. I'm afraid. I'm mad at myself."
The Times editors' enthusiasm for the story concept was contagious.
In the week between the original story and the correction, the standing-room claim took on a life of its own. The May 8 New Yorker, appearing May 1, featured a cover painting by Bruce McCall of an airliner with standing-room seats in an intermediate class—between cramped seats and a rear section of iron maidens, for outright torture.
New Yorker editor David Remnick said he made the cover assignment as soon as he saw the Times story—"under the principle of reality being so strange you can't make it up."
"The concept seemed like it had been written as a parody by Bruce McCall in the first place," Mr. Remnick said.
A day later, Mr. McCall got a call from The Times' Op-Ed page, asking if he would do a standing-room illustration for them. He declined because he was on deadline for The New Yorker.
On May 1, The Times ran an Op-Ed illustration by the Open design studio spoofing the standing-room concept. "It was reported recently that Airbus was considering standing-room-only 'seats' for its planes," the introduction explained, without citing the source.
Mr. McCall said the correction doesn't change his feeling on the illustration. "It's hilarious," Mr. McCall said. "Oddly enough, it doesn't affect it at all. There's no bottom to what you expect of airlines today."
—G.S.