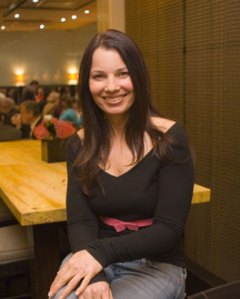 Sitting in a corner banquette at DB Bistro Moderne the other day, the actress Fran Drescher quite understandably eschewed the signature foie-gras-stuffed burger in favor of mixed greens and a small plate of pasta. Beginning May 17 at the Lucille Lortel Theater, she'll undergo what has become a rite of passage for today's Hollywood leading women: stripping down to a bra and underwear in a play, Some Girl(s), by Neil LaBute. "People will be looking at me with a discerning eye," said Ms. Drescher, 48, in her inimitable Flushing honk. "Some of them, I'm sure, will be quite unforgiving." She was wearing Seven jeans and a clingy, long-sleeved black top, showing off a figure that a woman of any age would envy, a figure that makes truck drivers on the street stop and do the classic cartoon jaw-drop.
After making her film debut in 1977's Saturday Night Fever, Ms. Drescher married her high-school sweetheart and moved to Los Angeles; had a memorable bit part in This Is Spinal Tap; and created—along with her husband, Peter Jacobson—the monster television hit, The Nanny, which she starred in, executive-produced, co-wrote and sometimes directed, and which now is in syndication. There has also been another, less successful sitcom, Living with Fran, on the WB. Ms. Drescher and Mr. Jacobson divorced in 1999; she went on to write two New York Times best-sellers, Enter Whining and Cancer Schmancer, which frankly discussed being raped at gunpoint in her home, the painful split from her husband, her love affair with a man 16 years her junior, and her two-year, 11-doctor battle with uterine cancer, which culminated in a radical hysterectomy. How scary could a Neil LaBute play be after all that?
Still—"I'm nervous," the actress said. "There's no safety net when you walk out there." Surely the scathing critical reception that greeted Julia Roberts' performance in Three Days of Rain was on her mind? Ms. Drescher said she hadn't read the reviews, but had seen the play and thought it "very good."
"I think she was great," she amended. "I mean, it's great that she's doing it. It's great for Broadway. It brings in audiences, it brings in revenue, you know."
She had decided not to bring her beloved chocolate Pomeranian, Esther, to meet The Observer, as she was concerned about giving the wrong impression. "I decided maybe I won't come across as a 'serious New York theater person,'" said Ms. Drescher, who is staying in an apartment she owns on the Upper West Side. "I don't want people to think that I'm not serious or committed and very grateful and honored to be doing this, to be a part of this community. I think this is the perfect thing for me to be doing in every way. It's Off Broadway. It's a public theater and much closer to who I really am."
Much closer, that is, than the middlebrow sitcom that made her a star?
"You know, The Nanny can do no wrong," Ms. Drescher said with a smile. "It's my baby. For me, it's all directly from the success of that show."
Drescher as Doolittle
The affable actress certainly does not seem the likeliest fit for a work by Mr. LaBute, the playwright-filmmaker (known in some quarters as "the Mormon misogynist") who previously brought us the dark and controversial works In the Company of Men, Your Friends and Neighbors, The Shape of Things, The Mercy Seat and Fat Pig—all of which explore the ugly side of relationships between men and women.
Some Girl(s) is about a guy named Guy (played by Will and Grace's Eric McCormack, another tourist-friendly casting), an about-to-be-married serial monogamist—"that's relatively close to serial killer," chuckled Mr. LaBute in a phone interview—who decides to meet up with four of the ex-girlfriends he's wronged, à la Nick Hornby's High Fidelity or Jim Jarmusch's Broken Flowers. Ms. Drescher portrays Lindsay, a married Boston gender-studies professor whose affair with Guy (surprise, surprise) ended badly. "I just love that term—'gender studies'," Mr. LaBute said mischievously. "It's hard to believe that women's studies ever gave in and made it 'gender' studies."
After Guy states his wish to make amends, Lindsay informs him that she and her cuckolded husband have jointly decided the only way for her to reclaim her dignity would be to have Guy sleep with her again, thus forcing him to cheat on a fiancé to whom he wants to be faithful. Ms. Drescher will command Mr. McCormack to take off his clothes and then disrobe herself (which, this being Neil LaBute, is followed by another dark twist). Not exactly the kind of material that brings the loveable Nanny Fine to mind, is it?
"On paper, it's as bizarre as it can get," Mr. McCormack conceded.
Mr. LaBute, a self-professed TV junkie who speaks with a surprisingly gentle voice, said he was familiar with The Nanny before Fran Drescher's name was broached by an artistic director of the production company mounting Some Girl(s), who'd worked as her casting director on a Fran-helmed MTV pilot seven years ago that didn't pan out.
"I love things that aren't obvious," Mr. LaBute said. "So when I heard the idea, I thought it was a really clever one. It plays against what I knew of her—this warm and generous character." He noted that Lindsay, a character with an agenda who acts with precision and is clearly in control, would not be a stretch for Ms. Drescher. "Knowing that she's a producer and a writer, I know she has that in her," he said. "She's pretty startling when you get to know her, the kind of things she's been involved in."
Ever since Ms. Drescher was attacked, she's had trouble watching any scenes of violence. She now carries pepper spray at all times. "I keep my hand on it so that if I'm walking somewhere, I can turn around and be like baaam!" she said. "I have my finger on the button."
But she was able to see past the anti-woman charges that often plague Mr. LaBute.
"A few years ago, I would have said he was like the Francis Bacon of cinema … so twisted and so disturbed," Ms. Drescher said. "But with this, I think he's really tapped into the female characters. I think he allows them to emote their feelings about the relationship and the man. I was really impressed. I said to him, 'It shows you are evolving as a man—good for you.' And he's really a nice man! … It's funny, but as I've gotten to know him, I realize that he had an estranged relationship with his father. I don't know the details, and the man has recently passed away, which complicates things. I think therein is where the root of it all is for him …. After reading this play, I think he is the woman in his scripts."
The actress added she liked that her character is "a word person, a professor. She's an intelligent character." Which brings up another inevitable question: How will Fran Drescher, known for a voice that defined the outta-borough Jewish-American Princess for an entire generation of Middle America, pull off the patois of a tweedy intellectual?
"What does a professor sound like?" Mr. LaBute asked rhetorically. "I went to N.Y.U., and I had plenty of teachers who had very East Coast regional dialects who were smart as whips. It doesn't belie any sort of intelligence, it just sort of says where they're from. For me, it's nice to see someone who you recognize so easily, like Fran or Eric, to see them disappear into a character. But we've tapped her to be in the show because of who she is, not to hide who she is."
That said, Ms. Drescher is at work with a dialect coach to make her sound "like Sigourney Weaver," she said, lowering her tone, enunciating her words carefully and sounding—while still a bit like Fran Drescher—certainly not as easily identifiable. "They want me to … bring the word more towards the front of my mouth, and speak with more muscular tones," she said with a laugh.
This kind of Eliza Doolittle stuff is keeping her too busy for a romantic relationship.
"I put a lot of energy out there a few months ago, went out on a lot of dates and tried to stay open," Ms. Drescher said. "But nothing panned out, and it's like … for right now, I'm done. I'm not into it; I'm not interested. I want to keep a low profile. I'm not going out, I'm not drinking. That collective doesn't really add up to much of a social life. I have to stay focused on the play and my health … and my weight."
That younger ex-boyfriend, a former associate producer on The Nanny named John who nursed her through her bout with cancer, is obviously a subject that still causes some grief. "In the third book, I'll talk about how that relationship ultimately fell apart," Ms. Drescher said. "But I think some people come into your life for a reason, and there was definitely a reason. I think it's hard to be a successful and driven women in a relationship unless the man is very, very comfortable with who he is. I think he felt he couldn't find who he was in that relationship, because he became absorbed into my world and he just felt gobbled up, I guess—even though I didn't feel that way. I felt that in every way he was my equal, but what goes on inside a man's head …. " She trailed off.
The actress credits Esther, the successor to her dear, departed previous Pomeranian, Chester, for her optimism. "When your heart is broken by a man, you think that you'll never meet someone else," Ms. Drescher said. "And she taught me that if I can love her—a completely different creature, but amazing and wonderful after him—I'll eventually meet another man and fall in love too."
As for Living With Fran, its fate is hanging in the balance till May 18, when the network will announce its final lineups. Ms. Drescher pooh-poohed its chances. "We haven't gotten the official word, but for all intents and purposes that show is dead in the water," she said. "And I'm relieved! Because I've found that I was standing still—and there were things that I wanted to do but I couldn't, because I had to give so much of my attention to the show …. You know, you gotta put yourself out there and be fearless—that's how you find the greatest life-fulfilling experiences. I could stay in L.A. and do sitcoms till the end of time, but I don't want to."