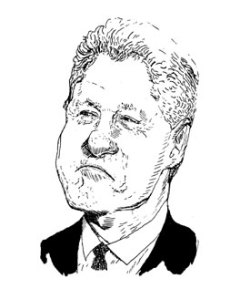 New York Post columnist Steve Dunleavy stood at the perimeter of the commotion and smiled. Unclear is whether his pleasure came from the spectacle before him or the comment of the well-dressed man behind. "That's how these small-town debutantes dress," said the man to his date. "And Clinton likes it. He likes it."
On the outdoor patio of the Washington Hilton stood Presidential accuser Paula Jones, wearing a sparkly black prom dress, working off her nerves with a wad of green gum. Flanking Ms. Jones were the big hair of her adviser, Susan Carpenter-McMillan, her Billy Ray Cyrus–esque husband Steve Jones and some additional security muscle. On one side of the patio, an army of paparazzi stood on the ledge of a three-foot-high stone wall, jostling for a shot of Ms. Jones and her entourage.
As she posed and greeted, she caught sight of Mr. Dunleavy. With his gray S.O.S. pad of hair and leathery mug, the Postman has achieved that look of grizzled agelessness that nature gives to hard-living men who have managed to cheat the odds. Dressed in a vintage tuxedo with a magnificently thin shawl collar, Mr. Dunleavy looked like he would be right at home playing saxophone next to Keith Richards or Charlie Watts.
"You look familiar," Ms. Jones said flirtatiously to Mr. Dunleavy. But when he introduced himself, Ms. Jones' eyes registered uncertainty, even fear, and she did not pause to chat. As a crowd surged around her again, the smile returned to Mr. Dunleavy's face.
"It's just gorgeous," he said, his Australian accent lengthening the syllables of the last word. "All these bloody Washington socialites falling all over like it was some Hollywood party."
For the last several years, the annual dinner of the White House Correspondents' Association has become an increasingly frenzied affair as celebrities of the moment–last year it was Ellen DeGeneres and Anne Heche, George Clooney and Fred Goldman–are invited by the glossier magazines in attendance to sex up this annual sweaty-palmed gathering of journalists and policy wonks. For the most part, these celebrities are adornments, irrelevant to, as Bill Clinton noted in his speech that night, "this kabuki dance between the White House and the press." Ms. Jones has been integral to that dance, however, and her presence at the White House Correspondents' dinner pushed the event into the overheated realm of the Golden Globes.
There at the Washington Hilton on April 25, the woman Ms. Carpenter-McMillan describes as just a little girl from Arkansas was playing Pia Zadora. To be sure, Ms. Jones is the concoction of a conservative sugar daddy and the press, and she left the distinct impression that she is simply the latest game piece in the cynical chess match between the White House and the media. But everyone in the audience seemed too jazzed with the surreality of this media moment to ponder the fact that they'd created this pawn.
As she worked her way through the crowds, her fame seemed to temporarily confuse the other attendees' common sense. So when Ms. Jones and her entourage descended upon Sonny Bono's widow, Mary Bono, Ms. Bono posed cheerily for pictures with her and Ms. Carpenter-McMillan, then got defensive about it later. Ms. Bono carefully explained that Ms. Jones was simply "expressing condolences" regarding the skiing death of Mr. Bono.
"Everybody loved Sonny," Ms. Bono said. "Even Paula Jones loved Sonny." And ABC's Prime Time Live co-anchor Sam Donaldson seemed positively blasé about Ms. Jones' presence in the room. "If I don't [get to see her], I'm sure it will be my loss, but I'll bear up," said Mr. Donaldson, who nevertheless managed to sniff out Ms. Jones' table and pose for a picture with her. (Note to Mr. Donaldson: Ms. Jones wants a copy of the photo.)
Ms. Jones also seemed eager to determine if her moment in history was being written down. A source said that as scribe Dominick Dunne, who penned a novel about the O.J. Simpson trial, Another City, Not My Own, was tooling through the area where Ms. Jones' table was located, he heard someone calling "Domineek Dunne! Domineek Dunne!" Apparently, it was Ms. Jones mispronouncing his name. When Mr. Dunne properly introduced himself, Ms. Jones asked him if it was true, as she had heard, that he was writing a book about her situation. The source said that Ms. Jones seemed taken aback when Mr. Dunne assured her that he was not.
Some of President Clinton's own operatives were trying to work their voodoo in the crowd as well. Former White House special counsel and current spinmeister Lanny Davis was a guest at a Vanity Fair table that also included tough-guy journalist Robert Sam Anson, the Post's Page Six editor, Richard Johnson, and The Transom. Mr. Davis dispelled any notion that morale might be down among the Clinton troops, given the White House's annus horribilis. Mr. Davis, an annoying one-man whoopie machine, cheered and whistled (at a volume that landed him on the C-Span feed) during Mr. Clinton's speech. Mr. Davis cheered and whistled any time White House press secretary Mike McCurry's name was mentioned. The Transom even overheard Mr. Davis telling one of his tablemates that he'd never known two people more in love than Mr. and Mrs. Clinton.
Mr. Davis' dizzying spin cycles made The Transom long for a place at the Vanity Fair table that featured the brilliant seating arrangement of pundit John McLaughlin, flanked by Democratic fund-raiser Patricia Duff (formerly Mrs. Ron Perelman) and ex-model Catherine de Castelbajac (best known for her lawsuit against her former paramour, the financier William Koch, which unearthed a cache of Penthouse Forum–like letters written by "your X-rated Protestant," as she billed herself, to Mr. Koch, whom she tagged "Big Beautiful Billy").
Mr. McLaughlin seemed to devote most of his attention to Ms. de Castelbajac, although he had some competition in Henry Kissinger, who sat on her other side. (Thank God something interested Mr. Kissinger. He seemed to be fighting off sleep during Mr. Clinton's speech.) Actor Ron Silver, who had come with Ms. de Castelbajac, was also at the table.
Up on the dais, Mrs. Clinton was looking a little dazed, perhaps from those five hours of questioning by Kenneth Starr earlier that day. And the backdrop of red curtains made Mr. Clinton's face look unnaturally flushed, as if he were trying to contain some staggering anger. But as he delivered his prepared remarks, Mr. Clinton showed that, even with Ms. Jones in the room, he was a master of this media game. "Yes, this Washington is a special place, and Hillary and I will never forget our visit here," Mr. Clinton said, as a punch line to his jokes about the Clintons' numerous trips abroad during their scandal-plagued year. But in this humor there was truth, truth that the Clintons, even after having been re-elected, are still treated very much like outsiders.
Though Mr. Clinton joked that he had not read or watched the news since "the Pope went to Cuba," he came loaded with plenty of barbs about the media, which, he noted, was "confident in its judgment and bold in its predictions." At one point, Mr. Clinton held up what he said was an advance copy of Steve Brill's new magazine, Content (which, he said, contained an article titled "Buddy Got What He Deserved" by New York Times editorial page columnist Maureen Dowd). First, he pronounced the word "content," with emphasis on the second syllable of the word, and said, "Why would anyone want to call a magazine about the news media that?" Then, "corrected" by Mr. McCurry, Mr. Clinton pronounced the title as it was meant to be and repeated his question.
Mr. Clinton concluded by telling Helen Thomas, the dowager of White House correspondents who had been honored earlier in the evening, that she could ask him "anything." (Her seniority, by the rules of the Washington press corps, allows her to throw out the first question at press conferences.) But, added Mr. Clinton, "in an even older tradition, I don't have to answer." With that, Mr. Davis and much of the crowd gave the President a standing ovation.
Mr. Clinton's final words seemed to have become the mantra of the celebrity contingent that attended Vanity Fair's post-dinner party at the Russian Federation building. A tense moment ensued shortly after Warren Beatty and his wife, Annette Bening, arrived at the party and immediately headed upstairs to the bathrooms. As the minutes ticked by and the couple did not descend the staircase, some began to speculate: Could Warren and Annette have somehow escaped via the second floor? (This would have been the second time that Mr. Beatty had gone AWOL with Vanity Fair, having blown off the magazine's Oscar party.) Disaster was averted, however, when the couple eventually re-emerged and stayed until after 2 a.m., charming the pants off nearly everyone in the room.
The Transom's face time with Mr. Beatty was minimal; too bad we can't say the same for our encounter with the Earl Spencer. As we tried to ask Princess Diana's brother if he'd thought the press had changed much since the damning speech he'd made at her funeral, he grabbed the hand in which we held our notebook and said something about being able to "smell" one (a notebook, not a journalist) a mile away. When we explained that we were not trying to hide the tablet from him, Mr. Spencer, who had come to the party with 20/20 co-anchor Barbara Walters (and had sat at the ABC News table), politely answered our question with the Clintonesque line: "I haven't read the papers since my sister died." He must have been watching TV.
G. Gordon Liddy was in a more talkative mood. Mr. Liddy, who once offered to take a bullet if it would save the honor of the Nixon administration, defended the appearance of Ms. Jones (who had sat next to him at the Washington Times' Insight table). Mr. Liddy called her "vivacious," and said that Ms. Jones had told him that she had wished she was seated closer to Mr. Clinton on the dais "so that she could stare him down the way that she did as she sat across the table from him at [Mr. Clinton's] deposition." Mr. Liddy said that Ms. Jones' appearance was "not a political thing" but rather, as he said her husband had told him, a matter of "her reputation."
Ms. Jones seemed to be forgotten, though, as Saturday turned into Sunday and the crowd loosened up. A few couples were dancing, and Lucianne Goldberg was shuttling drinks and a tray of hors d'oeuvres to friends who had not been allowed past the gate. Matt Drudge was inside. And down on the lawn, Ms. Dowd sat with a group that included Mike Ovitz's former spokeswoman Anna Perez (now a Harvard fellow), Washington Post columnist Lally Weymouth, actor Michael Douglas and Vanity Fair contributor Maureen Orth.
Also hanging around was comedian Ray Romano, who had entertained the crowd following Mr. Clinton's speech. Mr. Romano's act is largely about his children, and before he went on, there was much talk that he had been picked because of his nonpolitical humor. Mr. Romano still killed, but one of the best moments of his routine was not a particularly funny one. Mr. Romano talked about how he had once caught his 5-year-old daughter daydreaming with a smile on her face and asked what she had been thinking about. "Candy," came her reply. "When was the last time you daydreamed about candy?" Mr. Romano asked the audience.
Mr. Clinton didn't crack a smile. For him and a lot of people in that room, it had been a long time.