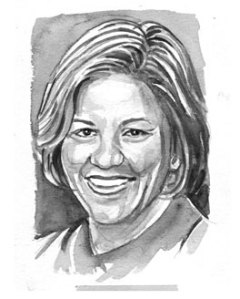 New York's politicians view Wal-Mart the way vets view a rabid dog.
Local pols fall over each other to assert that they will keep us free from the contagion of Sam Walton's chain.
It emerged in February that Senator Hillary Rodham Clinton had returned a $5,000 donation from the nation's biggest retailer—despite the fact that she had served on the company's board from 1986 to 1992.
Earlier this month, Councilman John Liu responded to news that the corporation had considered opening a store in his Queens district with the stark assertion that "Wal-Mart is not welcome in Flushing."
Council Speaker Christine Quinn won a round of applause at a business breakfast last week by announcing, "I don't want Wal-Mart in the City of New York unless they change their corporate behavior."
Sympathy for Wal-Mart doesn't come easy. The company makes about $20,000 every minute. Total compensation for the company's C.E.O. was more than $17 million last year.
But those numbers are testament to nothing more sinister than the chain's size and success. Look beyond them and it becomes obvious that the exclusion of the company from the five boroughs hurts New Yorkers.
Some liberal voices are finally being raised on Wal-Mart's behalf. None is more persuasive than that of Jason Furman. Mr. Furman was the director of economic policy on Senator John Kerry's Presidential campaign.
Now a visiting scholar at New York University, his recent paper, "Wal-Mart: A Progressive Success Story," is essential reading.
Mr. Furman—who has never received a cent from Wal-Mart—systematically dismantles the most common accusations leveled against the company.
He demonstrates that the gains from Wal-Mart's low prices far outweigh any damage caused by downward pressure on retail-sector wages. (Mr. Furman also notes that evidence of the latter phenomenon is "far from clear.")
He cites an independent study led by an M.I.T. economist that found big-box stores like Wal-Mart make consumers better off "by the equivalent of 25 percent of annual food spending."
Moreover, because low-income Americans spend proportionally more of their money on food, they benefit most of all.
"Lower prices are the equivalent of higher wages," Mr. Furman told The Observer. "So, for the 150 million Americans who shop at Wal-Mart, Wal-Mart's being there is the equivalent of giving them a pay raise."
Mr. Furman's paper also notes that 48 percent of Wal-Mart's workers have health insurance, compared with only 46 percent in the retail industry as a whole. And it suggests that Wal-Mart's wages are virtually indistinguishable from sector norms.
It isn't necessary to pick through arcane economic data to see that the case against Wal-Mart may be exaggerated. If the company really is the scourge of workers, it seems germane to ask why its job openings are routinely oversubscribed. In January, an astonishing 25,000 people applied for 325 jobs at a new store in the Chicago suburbs.
In New York, politicians seem to turn a blind eye to the public will. Queens Councilwoman Melinda Katz last summer lectured Wal-Mart that it needed to amend its behavior. "Then," she said, "you would be surprised about how welcoming a community can be." But Ms. Katz's constituents already do "welcome" Wal-Mart—by leaving her borough to spend their dollars at the chain's nearest store in Valley Stream, Nassau County. According to a survey commissioned by the company, almost 70 percent of shoppers at the outlet are Queens residents.
Some voices in the anti-Wal-Mart chorus fret about the homogenization of New York as nationwide chains move in. The critics seem to believe that New York is so special that its people have no use for a Wal-Mart, but also so frail that its distinctiveness would be vaporized the moment the company's logo hove into view.
But the city already is home to several big-box brands, including Target, Costco and Kohl's. There is even a Kmart within spitting distance of the heart of the East Village. The sky has not yet fallen.
In truth, the anti-Wal-Mart campaign is primarily funded by labor unions that are fearful of losing influence. The unions make a disingenuous case, presenting a struggle to protect a relatively small number of workers as a noble battle for the common good.
The campaign to keep Wal-Mart out is antithetical to the common good. Many more New Yorkers would gain from Wal-Mart's presence than would be hurt by it. None would benefit more than those residents of modest means who struggle to raise a family in one of the most expensive cities on earth.
Maybe the New York politicians who take pride in their implacable opposition to Wal-Mart are unaware of that reality. Or maybe they recognize it, but are too in thrall to the unions to act on it.
Shame on them either way.