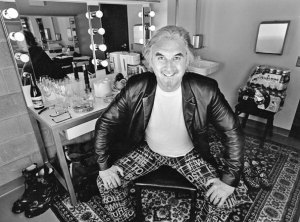 It was not your typical V.F.W. reunion. First off, most of the war vets were Communists, either current or former, possibly Anarchists. (At least one could quote Bakunin.) Also, most of them had been spied on at some point by the F.B.I. Welcome to the 70th anniversary of the Veterans of the Abraham Lincoln Brigade, composed of Americans who volunteered for the anti-fascist forces in the Spanish Civil War and were immortalized in Hemingway's For Whom the Bell Tolls.
"There's a valley in Spain called Jarama," the six-piece band (half Blue Note session types, half A Mighty Wind) sang for the nearly full house in the Great Hall at Cooper Union on Sunday, April 30. Estelle Wellman was humming along quietly. "I've been coming here for a long time," she said. "When it was at the Sheraton and they served full meals." Estelle's brother, Jerry Weinberg, had volunteered in Spain, only to be killed in World War II.
Peter Carroll, who teaches history at Stanford University and is chair of the board of governors at the Abraham Lincoln Brigade Archives, walked up to the lectern. "This podium that I'm holding was actually used by Abraham Lincoln," he told the crowd. "It's really an amazing thing. And to be speaking to the very same audience that he spoke to."
Mr. Carroll wore thick glasses and was dressed in a leather jacket. He displayed slides of a beautiful new onyx monument to the brigade, to be built in downtown San Francisco. The only existing American memorials to the brigade are in Seattle and Madison, Wis. "We haven't been able to get it through these conservative regimes back east," Mr. Carroll said, despite the fact that several hundred of the volunteers were from New York City.
"Moe! Moe!" The crowd rose to its feet as Moe Fishman, the elegant 90-year-old secretary of the group, whose leg was shattered in the Battle of Brunete, walked across the dais. "I'd like my comrades to come forward," he said. Seven elderly brigadistas—some bent, some not so bent—lined up beneath the podium in front of the stage. They passed a microphone around.
"My name's Smorodin, and I'm a troublemaker. I would like to know why we're down here and not up there."
"Louder! Hold the mike up to your face!"
"Lincoln scribbled the Gettysburg Address on the back of an envelope, and I scribbled a couple of things, probably not as eloquently as he did," said Mr. Smorodin. "But I want to memorialize a number of vets by name. Jack Freeman—died on a sunny day in Spain, a quiet day. A piece of shrapnel from an artillery piece entered his brain and he died immediately. Joe Gordon made two tours of Spain and lived long enough to join the Merchant Marine in WWII. On that Murmansk run to help our Soviet ally and his ship was sunk—all hands gone. Leo Gordon—ambushed by fascists. He was killed. Sam Stone, Joe Stone and Hy Stone—three brothers, all fought at Brunete. Two of them killed within hours of each other. Hy, who lived, was in such anguish that he had to be restrained by Steve Nelson, our political commissar, who held him back and forced him to return to his home here. What we know is about 2,750 Americans went to Spain, approximately 800 died, and virtually all had a wound—some minor, some more serious. That's my message."
George Sossenko was the last to speak. Dressed in a black beret and wearing a thin white moustache, he gave a rousing speech in an accent that sounded part French, part Spanish and part Hungarian. "The world cannot keep on going like that, with some making million dollars and others starving on the street," he said. "I'm so tired of people, when they see homeless person on the street, saying he's lazy—and meanwhile making million dollars per year, and we're against that. I'm 87 years old. I never stopped fighting. I fought in the Spanish Civil War. I fought in the World War II. I will keep fighting until the end. Until the victory!" He gave a clenched-fist salute, and the crowd exploded and rose to its feet.
After the vets sat down, Cindy Sheehan, the grieving war mom who camped outside George W. Bush's Crawford ranch last summer, spoke to the crowd. She combined a California style ("That was fabulous. I saw almost all of you out there yesterday, that was just like the most exciting thing"), a perplexing message ("War can always be avoided, most of the time") and a bit of name-dropping ("I'm not ashamed to call Hugo Chávez my friend, and I'm not ashamed to call Jane Fonda my friend either"). The audience applauded politely.
After the musical revue, Mr. Sossenko juggled a plate of rugelach and a coffee with his wife, Bernice, at his side in the lobby. "He's from France, from Paris," Bernice said. "He was very active from the age of about 13 years old, anti-fascist, and he decided he was going to go to Spain when he saw what happened. He was 16 years old. Now George, he didn't know how to go over there when he was 16, so he first went to the Communist Party in Paris and they said, 'How old are you?' They said, 'We don't take babies.'"
"I went to the Socialists—same story," her husband said. "They said, 'Why don't you see the anarchists? They're desperate.' I go to the anarchists, on the second floor of a shabby building. There's a fat guy with a red nose. He said, 'What do you want, comrade?' I said, 'I want to go to fight to Spain.' He said, 'Come next week, we're sending a caravan of volunteers.'"
"So he left a note for his parents—they didn't know he was going," Bernice said.
"We crossed the border. I went to Barcelona," he said. "I sent to the front, one week training, five bullets. I didn't stay in Spain all the three years. It was so stupid, because I ran away from home and I changed my name, but then I sent a letter to my father with my new name, and then he knew where I was."
Later in life, he said, "I was a mechanical engineer for Michelin Tire. First they sent me to Texas, then, 30 years ago, they sent me to Atlanta."
"We have a wonderful young group of anarchists in Atlanta," Bernice said.
—Dan Kaufman