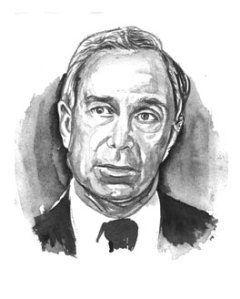 What is New York's Mayor up to?
The question bubbles to the surface of almost every conversation about city politics these days.
Michael R. Bloomberg, who spent most of his first term tending to local issues, has injected himself into major nationwide debates in recent weeks. The Mayor's emergence onto the national stage has fed rumors that he is contemplating a run for higher office, despite his protestations to the contrary. The stories have been given further sustenance by some of Mr. Bloomberg's key aides, most notably Kevin Sheekey, the erstwhile campaign manager who is now a deputy mayor.
Mr. Bloomberg began taking on a more expansive role in March, when he lambasted a gun-related bill before the House of Representatives as "a godawful piece of legislation."
Since then, he has elbowed his way into the immigration debate via a series of high-profile media appearances. Last week, he moved on to the teaching, use and abuse of science.
"Was there anything more inappropriate than watching political science try to override medical science in the Terri Schiavo case?" he asked the graduating class at the Johns Hopkins University Medical School.
If there were any lingering doubts that Mr. Bloomberg is a RINO—a Republican in Name Only—his latest pronouncements have erased them. "I think it's clear he's not running in the Republican [Presidential] primaries in '08," Doug Muzzio, a political-science professor at Baruch College, says with a laugh.
Speculation has taken hold that the Mayor might consider wagering around $500 million of his multibillion-dollar fortune on an independent run for the White House.
Such a move may sound quixotic, but—or so the Bloomberg boosters argue—it would seem immeasurably less so if the Republican and Democratic parties each nominated a Presidential candidate from their ideologically entrenched flanks.
The Mayor's recent remarks seek to cast him as a "common-sense" candidate—someone concerned not to "let ideology get in the way of truth," as he put it at Johns Hopkins.
Discussing immigration with Fox News' Neil Cavuto last week, he asserted: "I'm a mayor. I have to deal with the real world."
That remark was especially revealing. Some of Mr. Bloomberg's aides believe his position as Mayor would lend him the luster that benefits politicians who have governed (as opposed to merely legislated) in national races. Mr. Bloomberg, they suggest, could convincingly claim to be a doer rather than a talker.
Stu Loeser, Mr. Bloomberg's press secretary, sought to damp down all rumors of a Presidential quest, insisting that "the Mayor has been very clear he's not running for office." But Mr. Loeser acknowledged that "mayors are where the rubber hits the road on an issue like immigration."
He added: "Undeniably, he has been speaking more about national issues, because we have taken a city moving in the wrong direction and moved it in the right direction.
"He now has the time to focus on other issues, but that is not necessarily focused on a Presidential race."
How much weight should be given to the general thrust of Mr. Loeser's comments (and how much to the inclusion of the word "necessarily") is, like so much else, open to debate.
Mr. Bloomberg's admirers further afield assert that they do not expect him to run. Yet they are also reluctant to close off the possibility entirely. "If Mike Bloomberg was running for President, he would tell you. He is as straight as an arrow," says former Mayor Ed Koch. "But if he were to run for President, I think a lot of people would be ecstatic."
There are plenty of reasons why Mr. Bloomberg and his aides might fuel talk of a Presidential bid, even if they have no real intention of launching one. The mere discussion of the possibility burnishes their standing. It provides some protection from the Mayor becoming a lame duck. And it may also help give Mr. Bloomberg longevity as a political figure, rather than a purely philanthropic one, after his term of office ends.
Given the common tendency to ascribe Machiavellian motives to politicians, it is also worth noting that Mr. Bloomberg may be seeking to affect national debates because he genuinely cares about the issues involved.
The fact remains, however, that people close to Mr. Bloomberg are playing a coquettish game, asserting in public that he is not running for the White House while flagging behind the scenes that he might.
"There is a substantial amount of talk coming from his people about running," says one veteran observer of city politics. "They wouldn't be saying that without the acquiescence of the Mayor."
In Hillary Clinton, Rudolph Giuliani and George Pataki, New York has three politicians who are widely thought to be mulling White House bids.
It may be time to add a fourth name, backed by several billion dollars, to the list.