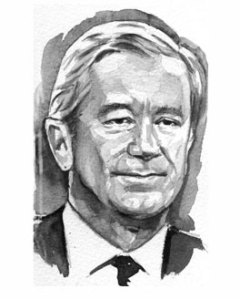 The Republican Party's bluebloods have had a bad month.
William Weld ended his New York gubernatorial bid eight days ago, unable to recover from the smarting defeat he suffered at the hands of John Faso at the G.O.P.'s state convention. Mr. Faso claimed 61 percent of the convention votes against 39 for Mr. Weld.
K.T. McFarland is pressing on with her attempt to win the party's nomination for Senate, despite injunctions from state chairman Stephen Minarik, among others, to leave the race.
The explanations for why Mr. Weld's candidacy failed and Ms. McFarland's is languishing have been many and varied. They've included references to Mr. Weld's involvement with a Kentucky college that is now at the heart of a fraud investigation and Ms. McFarland's late entry into the race.
Another popular interpretation holds that both candidates were the victims of dissatisfaction with the Republican leadership in the state.
All of these factors played a part. But a more visceral phenomenon has been largely ignored.
Call it the Revenge of the Blue Collars.
The Republican Party in New York State is not composed of millionaires and moguls. Most of its activists are middle managers, the owners of small businesses and other stalwarts of the suburban middle class.
These are the people whose support was first harnessed to great effect by Alfonse D'Amato when he beat incumbent Senator Jacob Javits in a Republican primary more than a quarter-century ago.
The awkward truth is that the people who propelled Mr. D'Amato to victory do not much care for the likes of Mr. Weld and Ms. McFarland. Their enmity isn't founded primarily on envy of those candidates' bank balances, but on an instinctive feeling that such candidates, replete with their patrician airs, disdain people from more modest backgrounds.
The New York Post reported back in March that Mr. D'Amato was telling friends that the backers of Mr. Weld "are people who hate us. They look down on the middle class, they laugh at us, they hate us."
Mr. Weld and Ms. McFarland would no doubt deny any accusation of snobbishness. But who can blame the G.O.P. grassroots for coming to a different conclusion? Both candidacies—but especially that of Mr. Weld—seemed to proceed on a working assumption that the party's nomination was an entitlement rather than something that had to be fought for. In last week's Observer, Jason Horowitz and Nicole Brydson wrote that Mr. Weld's approach "at times leant him the air of an adventure-seeking hobbyist."
It was an apposite description of a candidacy characterized by meandering speeches, a lofty reluctance to lobby for support and an overarching casualness.
"Bill Weld wasn't exactly running up and down the state of New York making himself known to all the leaders of the Republican Party," Conservative Party chairman Mike Long said dryly.
Mr. Faso seemed to savor the local party functions and the one-to-one politicking that Mr. Weld abjured. Mr. Faso gave party activists respect. They repaid him handsomely. Now, Ms. McFarland may be learning some lessons from the failure of the man with whom she has so much in common. She told the Journal News last week: "I'm looking for votes wherever I can find them."
But there's another related and underreported element behind the failure of Mr. Weld and, thus far, of Ms. McFarland. It is the general move towards populism in the conservative movement.
Listen to talk radio, to the spokespeople of the religious right or to many G.O.P. activists, and it becomes obvious that dislike and distrust of elites has become virtually an article of faith.
There are contradictions within this right-wing populism, of course, but it is nonetheless powerful enough to damage the likes of Ms. McFarland—a Park Avenue resident and onetime member of the Council on Foreign Relations—and Mr. Weld, whose discussion during a recent television interview of why he identified with Achilles reportedly provoked gales of mirth from Mr. Faso, who was watching.
The final element in the perfect storm that laid waste to Mr. Weld and has damaged Ms. McFarland is very simple: Many Republicans have given up hope of winning either the Senate or the Governor's race this year.
If there is little chance of victory, so the argument goes, what's to be lost by Republicans choosing candidates who appeal to them on a gut level and disregarding issues of electability?
The candidacies of Mr. Weld and Ms. McFarland both set sail upon a sea of media attention. Much of the coverage focused on their riches, their supposed electability and their socially moderate views.
This year, with nothing left to lose, the Republican rank and file bit back at the aristocrats.