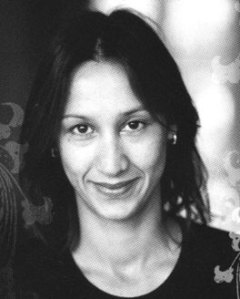 Monica Ali is not a subscriber to the guest-worker school of fiction, the vaguely held assumption that what was born abroad should stick with and to its own kind. Like the rest of Europe, the pale Britannia Ms. Ali moved to as a child from Bangladesh has come relatively late to the need to even think about immigrants or citizens of less-than-familiar hues taking a place at literature's high table. V.S. Naipaul took his seat early on—and with mixed feelings—followed by Zadie Smith, Kazuo Ishiguro, Caryl Philips and Andrea Levy, among others. Ms. Ali came along several years ago and, with her remarkable novel Brick Lane, turned England inside out by adopting the perspective of a Bangladeshi woman hemmed in by an arranged marriage and a dreary London housing estate. A significant new postcolonial writer had pulled up a chair.
But with her second novel, Ms. Ali—like Mr. Ishiguro—is going all refusenik on the idea that writers of a certain background should take their origins as their exclusive subject matter. Instead, she's chosen a very old-school form of British storytelling—the expat novel—with not a sari in sight. Noticeably on parade in the rural Portugal where she sets Alentejo Blue are the shades of Somerset Maugham, Graham Greene, Paul Scott and Muriel Spark, all of whom plopped down their characters in exotic climes, which merely highlighted how very English they—and their habits, prejudices and foibles—were.
Contemporary English affluence has a very particular relationship with Portugal. From its declining villages, dying farms and unraveling towns—sadly beautiful all, in Ms. Ali's telling—come many of the richer country's domestic cleaners and baby-sitters, housekeepers and nannies, restaurant workers and day laborers. Ratty old England, as Ms. Ali knows to intimate, is their promised land. So just as the novel's various tourists and exiles, petty criminals and blocked writers, engaged and disengaging couples migrate to the Alentejo ("The poorest region in the poorest country in the European Union," as one of Ms. Ali's jaded expatriates puts it), there are locals who dream of escape, crossing rocky paths with the visitors in an exchange of hopes and disillusion.
Pretty, ambitious Teresa is one with a flight plan, worriedly hiding the airmail letter offering her a job as a London nanny in the pocket of the sexy outfit she wears to dazzle the boyfriend she's going to leave behind. He won't be able to take it well: They're surrounded as it is by women who have donned "widow's black" because their husbands went abroad.
But Teresa is already halfway gone—functioning at a remove, she considers her "powers of observation … somehow keener than those of other people."
She's astute—understanding, for instance, that Senhor Vasco the restaurant owner, who once had his own adventure in America, is "building a wall of fat to conceal his deep, deep sadness," or that her elegant mother will always favor her feckless brother over her. Yet many things also escape her, including the true complexion of the half-century-old friendship between two battered codgers.
That friendship draws to a brutal, despairing close with the episode that opens the book. It's told in faux-Hemingway prose that Ms. Ali luckily soon jettisons, along with this Portuguese Brokeback Mountain scenario, which seems only to serve the purpose of slipping in the country's history of fascism, dictatorship, failed collectivization and continuing domination by an invisible, omnipotent upper class. Another overly predictable detail is a native-son-made-good whose eagerly awaited return as economic savior makes not a wit of difference, except to get people thinking about the resort-hotel monstrosities for which they'd be more than willing to barter their ancestral lands.
The good earth is going bad. The old-timers in the cork-producing region are appalled by the advent of plastic stoppers, and gruesome incidents threaten the farm animals. The sense that some evil force has been tampering with nature seems unavoidable in a place where "most of the peach trees … were sick," their fruit rotten at the core. The weather, for that matter, goes from blistering, cruel heat wave to dark, depressing, torrential downpours with barely a respite. (Not every prospect is grim: "ocher fields rose and fell gently as a lullaby," and "the hills … seal away the world"—but the pretty pictures are rare and getting rarer.)
The most famous tourist site in the area is a medieval chapel built from the skulls of monks. At least one romance threatens to crash and burn there when a vacationing English banker and his bride-to-be confront their spiritual demons and each other in the middle of the spooky bones. Ms. Ali isn't allowing anyone a vacation paradise. For several characters, this is more like the end of the road.
Attempting to weather the Alentejo's extremes of mood and environment, the tawdry Potts family has stuck it out the longest of the foreigners. Squatters in a huddle of derelict caravans, the alcoholic father and self-destructive mother launch their deaf teenage daughter and lonely wisp of son on misadventures that can only end badly. Several of these involve—and sordidly implicate—a writer named Stanton, who's holed up in this glamour-forsaken backwater so he can finish a novel about William Blake. But he's easily distracted, unfortunately for the compatriots he encounters at his ringside seat in the local café. Stanton doesn't know whether to be more scornful of types like the proper middle-aged couple negotiating their attitudes toward their gay son or of his own mounting failures as a writer, mentor and human being.
In his novel, Stanton is struggling to capture a Blake who's not just an industrial-age visionary but also a passionate artist embarked on what Stanton calls "the country interlude." Monica Ali has set herself a similar task by airlifting her gifts as a writer to a wildly distinctive and remote countryside. Her descriptive grasp of the landscape and the lives it breeds, as well as her feel for the village-square mentality in towns on the brink of change, take nothing for granted. Not so her deracinated Brits, who drive from place to place at too many kilometers per hour: They speed past her as she quick-sketches them, and they don't entirely take shape. It's not a question of subject matter; it's a question of pace. Let's hope Ms. Ali will slow down on the road ahead.
Celia McGee is a book critic and arts writer in New York.