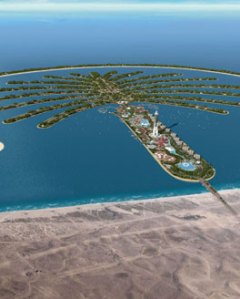 The Palm Jumeirah, an artificial cluster of islands shaped like a date palm tree off the coast of Dubai, is not a usual career stop on the way to statewide office in New York.
And Dubai's Crown Prince, Sheikh Mohammed bin Rashid al-Maktoum, is featured prominently on the client lists of few, if any, populist, socially liberal Democrats.
Yet this desert state is one of the settings in which Andrew Cuomo has made a quiet living after his failed run for Governor four years ago.
As an executive with a real-estate firm that advises some of the most prominent developers in one of the wealthiest of the United Arab Emirates, Mr. Cuomo—who has focused attention in his political life on alleviating poverty in America—traveled to Dubai on more than one occasion to provide counsel on a housing-finance system.
Though his work on real estate in Dubai has made up a relatively small portion of his various political and purely private activities over the last four years—aides said the former federal Housing Secretary also found time to volunteer hundreds of hours at a housing not-for-profit he founded—it has accounted for the bulk of his income.
According to the tax returns he released earlier this week, Mr. Cuomo earned $660,238 from Island Capital Group, a real-estate investment firm, in his first full year of consulting for them on the Palm project and on the development of a waterfront community in the U.S. Virgin Islands.
So, in light of Mr. Cuomo's recent political triumph at the New York State Democratic Party convention, just how does his work on high-end real-estate enterprises in Dubai and the Virgin Islands fit in with the narrative of the remarkable comeback story from a disastrous debut campaign in 2002?
Mr. Cuomo says that it was simply his best option at the time.
"I didn't want to do any lobbying," he said in a phone interview from his campaign headquarters. "I didn't want to work with the federal government. I didn't want to do work that would bring me into the H.U.D. world, so to speak."
There were, by contrast, plenty of reasons to take the job at Island Capital.
First and most simply, it was about the revenue. Mr. Cuomo's job served the time-honored off-year political tradition of subsidizing the profitless grunt work raising political contributions, attending party functions and lobbying insiders for support. His personal income, according to tax returns he released last week, jumped from $288,983 in 2003 to $819,473 in 2004, his first full year at Island.
But Mr. Cuomo's work for Island served another purpose: It gave him a much-needed respite from the public eye. After a stint as former President Bill Clinton's Secretary of Housing and Urban Development, and following years of carefully orchestrated publicity, Mr. Cuomo's career took a catastrophic turn.
An insurgent bid for Governor crashed and burned in 2002. And that career setback was followed by a personal one, when his celebrated, 13-year marriage to Kerry Kennedy fell apart in a highly public way in the summer of 2003.
His plans were in tatters. Mr. Cuomo, more than anything, needed to disappear for a while.
"Part of the idea, at least initially, was to lay low," observed Norman Adler, a political consultant who worked with Mr. Cuomo on his father Mario Cuomo's gubernatorial campaign. "He needed to go to recovery room, and where he went was kind of a recovery room. In prizefighting, after they knock you down and you stand up, you go to a neutral corner."
It seems to have worked. The past four years have been a win-win for Mr. Cuomo: He has mended relations with Democratic Party elders, or at least neutralized their hostility to the point of enabling last week's victory at the state convention, where he was chosen overwhelmingly to be his party's designee for State Attorney General.
And the scaled-back public portion of Mr. Cuomo's itinerary since the fall of 2002 has been enough to allow him to maintain a public presence without irritating party insiders. Instead of advertising himself on Page Six, Mr. Cuomo buckled down to edit a collection of essays written by Democrats and Republicans called Crossroads: The Future of American Politics.
He also earned some modest attention pushing campaigns against the death penalty and the Rockefeller drug laws in New York State. He rallied against cuts to his former agency, the Department of Housing and Urban Development, which he headed under Mr. Clinton. And he maintained a steady schedule of lecturing, earning $90,000 in 2003 and $84,800 in 2004.
At the same time, Mr. Cuomo threw himself into his work for Island Capital, which was founded in 2003 by real-estate mogul Andrew Farkas, who had been one of Mr. Cuomo's major fundraisers in his gubernatorial bid.
One of the company's first projects was to acquire, develop and operate a waterfront and marina complex that would host condos and a hotel in St. Thomas, in the U.S. Virgin Islands.
Early on, community groups were opposed to the project, citing access to the shoreline and the height of the buildings, but the fight was eventually resolved. A lawyer for one of the groups, Judith Bourne, recalled Mr. Cuomo as being "quite useful" in resolving the issues.
Island's successful role in the St. Thomas project drew the attention of Nakheel and Istithmar—then real-estate and general-investment arms of Dubai's royal family, respectively—which are considered the two most active developers in small but growing Dubai. They are almost completely owned by the ruler of Dubai, Sheikh Mohammed, according to Youssef Ibrahim, managing director of the Dubai-based risk consultancy, Strategic Energy Investment Group.
"Think of Sheikh Mohammed as a holding company," Mr. Ibrahim said.
It was in Dubai, to hear Mr. Cuomo tell it, that he also found a way to do well while doing good in a place considered to be a relative beacon of liberality in one of the world's most illiberal regions.
"Dubai at that time was a very exciting place," Mr. Cuomo said during the interview, which was carefully monitored by his press secretary, Wendy Katz.
Mr. Cuomo advised Nakheel on how to set up primary and secondary mortgage systems for homes on Palm Jumeirah, Dubai's secondary mortgage market.
Since Mr. Cuomo started advising the entrepreneurs of Dubai, the politics of this explosive economic expansion have shifted. The awarding of a federal contract to a Dubai-owned ports-management operation earlier this year sparked a politically driven backlash. It had nothing to do with Mr. Cuomo, but his work for the sheikh's company came under criticism from an opportunistic Republican candidate for State Attorney General, Jeanine Pirro.
And though there has been no similar criticism to Dubai's aggressive real-estate strategy at home and abroad, a particularly paranoid political strategist might be able to imagine opposition-research grist here as well, as Island helped the Dubai companies acquire two highly visible Manhattan buildings: 450 Lexington Avenue and 230 Park Avenue. (Independently, Istithmar just acquired the famous building that once housed the Knickerbocker Hotel in Times Square.)
Closer to home, Mr. Cuomo also worked on a third project for Island Capital: a conversion of a West Village building owned by Island whose Mitchell-Lama status was expiring.
Mr. Cuomo, who resigned from Island on May 31 to campaign full-time, emphasized that few Americans were criticizing Dubai when he became engaged there. "Dubai was the progressive society in the Middle East," he said, recalling the press coverage at the time. "Dubai was the most American-friendly, most business-friendly, most important strategic ally, most exciting developing place."
But that, enthusiasm seems to be tempered, somehow, with an unmistakable defensiveness about what his role was. During the interview, Mr. Cuomo shied away from giving even superficial details about his trips to Dubai.
Asked how many trips he had taken there, Mr. Cuomo replied, "Only a couple."
Responding to a question about which of Dubai's super-luxury hotels he stayed in during his visits, Mr. Cuomo said he didn't remember, but that "it didn't strike me as being especially fantastic."
Mr. Farkas, in a later interview, said that he and Mr. Cuomo had stayed during two visits at the five-star Jumeirah Emirates Towers.
Mr. Cuomo, and Mr. Farkas, also went to great lengths to debunk a past statement from a spokesman for Island Capital that Mr. Cuomo had been brought in as a "partner focusing on international real estate, among other things."
Said Mr. Cuomo in the interview: "Well, you know, as a partner you can use various titles. The real question is: Are you an equity participant or are you an employee, a salaried employee? I was not an equity owner in the firm."
And in a lawyerly follow-up e-mail that was copied to the editor and publisher of The Observer, Ms. Katz re-emphasized the fact that her boss had been a mere employee of Island. Also, just in case that was still problematic, she added this: "Recall please that Andrew's work in Dubai occurred prior to the recent port issue."
"I am protective of the situations that I put myself in, because I have been in the public eye for a looong time—longer than I would care to admit," Mr. Cuomo finally said, by way of explaining why he hadn't revealed more details of his work for Island. "So I am protective about the situations I put myself in."