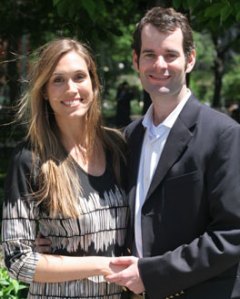 Beth Dickey and Luke Gebhard
Met: February 2005
Engaged: Jan. 6, 2006
Projected Wedding Date: Dec. 9, 2006
Beth Dickey, 29, a sweet, honey-haired publicist for Hyperion Books, plans to marry Luke Gebhard, 31, a handsome, sideburned assistant director for the City Parks Department, at the First Presbyterian Church in the City of New York, with a reception to follow at the Upper Crust at 91 Horatio Street, an event space in the West Village.
They were introduced by a mutual friend at a birthday party near the Manhattan Bridge. Mr. Gebhard, who spent six years getting a master's degree in Latin American studies from Vanderbilt University in Nashville, was immediately drawn to Ms. Dickey's Georgian drawl. "She was very cute and had this Southern-accent charm thing going," he said. They began a conversation about crazy exes. Ms. Dickey described one boyfriend she'd had with a penchant for purses; one he'd made himself had the words "fuck you" embroidered in the lining. "Lord knows I'm half-sailor," she said. "But … he was nuts."
After a few glasses of wine, Mr. Gebhard leaned in. "Did anyone ever tell you that you look like someone?" he asked.
"No, who?" said Ms. Dickey excitedly.
Mr. Gebhard named a film star known more for her acting ability than her beauty.
"Really?" Ms. Dickey said. "Because I think she's heinous!" And promptly fled the bar.
Two months later, their mutual friend forwarded Ms. Dickey a mass e-mail sent by Mr. Gebhard, who was running a race benefiting a hunger charity in Central Park and trying to raise funds. "I think what you're doing is awesome," Ms. Dickey wrote to him. "It was great to meet you the other night, and I'll send a check in the mail."
The check never materialized, but the two agreed to meet at Sushi Samba downtown for drinks and dinner. "It was such an awesome date," Ms. Dickey said. "It was clear pretty quickly that the chemistry was good." After the place closed, they went to Garage for more libations. Ms. Dickey couldn't find her credit card and began to panic. Mr. Gebhard white-knighted back to the restaurant to try and find it. When he returned empty-handed (the Garage bartender had the plastic all the while), Ms. Dickey covered him in grateful kisses.
They were soon inseparable, though Ms. Dickey refused to cohabit until she knew a proposal was imminent. "My family is so Southern," she said. But last year, Mr. Gebhard moved from his studio on the Upper East Side into hers on the Upper West, where he's taught her to be more diligent about recycling, and she's imparted the value of home décor. "He was the typical bachelor," Ms. Dickey said. "He had nothing in his old apartment, just this IKEA bed."
One night, they picked up a couple of platters from Burritoville and settled in for an evening of cozy domestic contentment. Ms. Dickey changed into her pajamas and washed her face. From the bathroom, she heard the strumming sound of Mr. Gebhard's guitar. She emerged to hear him playing and singing:
I never thought true love would happen to me,
Then I met this girl named Beth on Houston Street,
Since then my life has felt much more complete,
Now I hope that the girl will marry me ….
As Ms. Dickey began crying hysterically, the burritos sitting forgotten, Mr. Gebhard slid to one knee and presented her with a 1.5-carat miner's-cut, platinum-set diamond, flanked by two trapezoidal baguettes, which had belonged to his paternal great-grandmother.
Now that's recycling!
Erin Clarke and Tim Mohr
Met: Summer 1998
Engaged: Oct. 1, 2005
Projected Wedding Date: Oct. 28, 2006
Erin Clarke and Tim Mohr met at the Radcliffe Publishing Course, that legendary post-baccalaureate summer program, a.k.a. upper-class job-placement service, that has since uprooted to Columbia. Ms. Clarke, a native of Boston with friends in the area, was fresh from the College of William and Mary and had a reputation for shyness. Mr. Mohr had just completed a six-year stint as a club D.J. in Berlin ("Now is the time on 'Sprockets' when we dance!"), so naturally he was considered the cool older man in a group that is generally quite man-deprived.
When the course was finished, everybody trooped to the Quad courtyard to celebrate. Bolstered by "liquid courage," Ms. Clarke approached Mr. Mohr. "I hear you're the guy that everyone needs to know," she said, slurring her words a bit. He smiled modestly.
The following year, having landed a job in publicity at Random House and a share in Williamsburg, Ms. Clarke decided to throw a party for her old 'Cliffie crowd, styling her dirty-blond hair in an attractive 60's-style flip. Mr. Mohr, who had begun working at Playboy, was suitably impressed. Two days later, they met for lunch at Broadway Diner in midtown (he donned a sports jacket for the occasion, to the amusement of colleagues).
The following night found the new couple greedily necking at Max Fish. "She practically jumped me," said the dark-haired Mr. Mohr, 36, whose scruffy baby cheeks give him the air of a hung-over Cupid.
"I don't recall that," scoffed the slender Ms. Clarke, 30.
For the next two years, they had a tumultuous on-and-off-again affair. "There was not a warm embrace from her family in the beginning," Mr. Mohr explained, "because she was a Boston Paddy and I was a Protestant pornographer."
"My dad had no problem with it," said Ms. Clarke, who became an editor at Knopf's children's division in 1999. "It was mostly my Catholic mother who was a little put off." She found another share, this one on the Upper East Side. "Tim and I are kind of dating," she told her roommate, "but don't worry, you'll never see him." Ha ha ha ha ha.
For the next four years, Mr. Mohr basically lived at her apartment, using his own place in Greenpoint as a storage space for his belongings. "It got to the point that Greenpoint was absolutely unbearable," he said. "When I went out to a bar, everyone had an asymmetrical haircut and I was 10 years older. I found it too oppressively hip."
At his insistence, they moved together to a one-bedroom rental in Brooklyn Heights, and then, fully acclimated to cozy Couplesville, bought a two-bedroom in the Slope. Occasionally, they'd get a 2 a.m. call from Hunter S. Thompson. Mr. Mohr was helping Thompson with a book project before the gonzo journalist committed suicide.
The couple was at the top of the Rock of Gibraltar during a weeklong jaunt around Spain, watching the sunset and recovering from the drive there (during which screeching monkeys had bombarded their car à la The Wizard of Oz), when Mr. Mohr nonchalantly turned to Ms. Clarke. "You want to get married?" he asked.
"I thought he was asking in the abstract," she said.
It wasn't until Mr. Mohr pulled out a different kind of rock—a platinum-set, brilliant-cut diamond flanked by two clusters of pavé stones that had belonged to his paternal great-grandmother around the turn of the century—that reality sank in. "It was so beautiful," Ms. Clarke sighed. "There was no one there except us … and the monkeys."
They will marry at the Pochron Studios, an airy loft space in Dumbo.