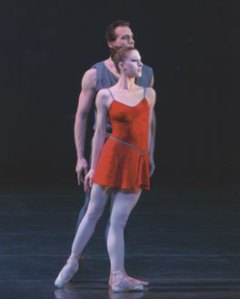 We are progressing step by inexorable step through City Ballet's current Diamond Project season—seven new ballets by seven choreographers. The first step, an Eliot Feld evening featuring a particularly feeble new solo, was a low point from which things had to improve, and they did. Next up was In Vento by Mauro Bigonzetti, whose work was last seen here when his own company, at B.A.M., gave us an all-Stravinsky evening: Les Noces and Petrouchka. Les Noces featured a big table, and the Petrouchka ducked in and out of racks of dresses—not a promising harbinger; nor do I have fond memories of his pretentious Vespro from a previous Diamond Project. But In Vento (commissioned score by Bruno Moretti, costumes by Bigonzetti himself) proved to be an acceptable piece of expressionist dance—its vocabulary reminiscent of The Cage—and a big audience hit.
It takes place mostly in the dark (that's how you know it's Meaningful). There's a tormented guy bare to the waist (I saw Edwaard Liang), who has a long, spasming solo mostly about his highly sculptural musculature. It's not that he uses his torso to make an exhibition of himself, it's that his torso is made an exhibition of. This extended passage holds your attention for about half its length.
The heart of the ballet is an extended duet between Jason Fowler and Maria Kowroski, that talented beauty whose career has puzzled so many of us (why hasn't she grown?). Bigonzetti has brought her out and given us a new dancer: sexy, passionate, energized. The duet itself is carefully constructed, maintains its mood, isn't too fussy or arty, and contains a number of inventive moments that stick in the mind—in other words, it's a modern miracle. Eventually, all the dancers (the three principals and the eight in the corps) cross the stage in a twitching frieze (it's still dark), then come forward, hands portentously outstretched to the audience—you get the picture. In Vento, says the program, "is humbly and passionately dedicated to Mr. Balanchine, my master and master of all my masters." It's a lovely if bewildering gesture.
Gala Night served up new ballets by the company's chief choreographers, Peter Martins and Christopher Wheeldon—and what odd ballets to offer the off-the-shoulder crowd! Martins' The Red Violin uses John Corigliano's somewhat over-lush, broodingly romantic violin concerto to feature two couples and four demi-soloists in an extended lesson in coupling and partnering. He's given us other partnering demonstrations before (no wonder—he himself was one of the world's great partners), and the subject clearly fascinates him. This stuff wasn't easy and seemed to slightly strain the red violin herself, Jennie Somogyi, recently back from a serious injury. It's always wonderful to see her, dancing full out and expressively, but one couldn't help worrying as she staunchly dealt with the intricacies and traps of the frequently one-handed partnering of Sébastien Marcovici. Martins' new candidate for stardom, Sara Mearns (in blue), was the other ballerina, up to the task if somewhat cold and deliberate, and lacking Somogyi's exceptional polish. Intelligently put together and at times evocative, this is one of Martins' better recent ballets. Sometimes his dances look like pro forma exercises; in this one, he seemed personally invested.
Wheeldon did himself no favor in choosing Bartók's third piano concerto as the music for his Evenfall. Balanchine disliked Bartók's music, at least for ballet, and as usual he was right: This score is not exactly an invitation to the dance. And it's particularly odd for a piece that presents itself (the girls in tutus) as classical. I suspect that what attracted Wheeldon was the mysterious quality of the second movement, which he uses to lovely effect, especially when the girls bend over, their wide tutus rising up behind them in silhouette against a romantic sky. There are beautiful passages throughout this movement. But what follows is a highly conventional and not very convincing finale that felt to me as if Wheeldon had lost interest (or run out of time) after that central section.
As a kind of palette-cleanser for the gala audience in between these two heavy offerings, the company came up with the pas de deux from William Forsythe's Herman Schmerman, which is every bit as cute as its title. (Think stocky Albert Evans in a tiny yellow skirt.)
The fifth Diamond was a perplexing piece by former City Ballet principal dancer Jean-Pierre Bonnefoux. The music was by the company's first composer in residence, Bright Sheng. There were his "Two Poems from the Sung Dynasty," ardently and exhaustingly sung by Lauren Flanigan, plus sections from "Flute Moon"—and, indeed, the song of the flute was heard in the land, as well as a great deal of percussion. The title of this ballet—Two Birds with the Wings of One—doesn't much help the viewer understand what's happening. Suffice it to say that Sofiane Sylve, in basic red with (at different moments) black and white jackets, can't seem to get together with Andrew Veyette. The music insists that something major is going on, but the choreography doesn't let us know what it is. Sylve, as strong as ever, clearly has no idea what she's supposed to be telling us, and sensibly echoes her performance in Firebird.
You can't say that the Diamond Project has been a disappointment, since it would have been naïve to have had serious expectations for it. Besides, there are still two premieres to come. What's heartening is that several important ballets that have been hung out to dry in recent seasons are looking better, either because of fresh casting or attention being paid. The relief of seeing Kowroski so elegant in Concerto Barocco after the recent Yvonne Borree travesties! Teresa Reichlen in Monumentum Pro Gesualdo—she's both light and strong, and so musical—and Rebecca Krohn in Movements for Piano and Orchestra, with her crisp and witty attack (is she on her way to "Rubies"?) brought this Stravinsky double bill back to life. Joaquin De Luz was not only up to the technical challenges of Divertimento from "Le Baiser de la Fée" but gave it strong emotional life. Jenifer Ringer, so inadequate in Balanchine roles like Symphony in C's first movement, was ravishing—and right—as the second girl in Fancy Free. Yes, Brahms-Schoenberg Quartet was no less feeble than it was last season (though Ringer was marginally stronger), and Donizetti Variations looked closer to extinction than ever before—but all was redeemed by Liebeslieder Walzer.
This glorious work, which tells us everything about the waltz, about partnering, about Brahms, about love, about life, also gives the City Ballet's senior ballerinas, Kyra Nichols and Darci Kistler, the chance to reveal their large talents without exposing their receding (or receded) technical prowess. Here, their maturity is not only appropriate but desirable. The extraordinary Wendy Whelan matches them for dramatic intensity, and although Miranda Weese doesn't dance with comparable expansiveness, she's assured enough to carry her role. Balanchine's amazing powers of invention and profound human sympathies are never more evident than in this transcendent masterpiece. It's an entire Diamond Project in itself.