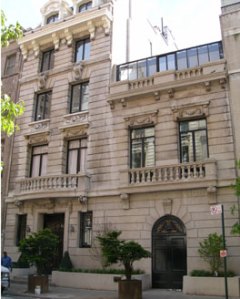 For Manhattan's luxury townhouse watchers, a deal bigger than $45 million is big news, trumping the record-breaking $40 million sale of the Duke Semans mansion.
So it's no surprise that on May 24, Upper East Side brokers were scratching their heads when city records indicated that the Guccione Mansion had just been sold for a whopping $45.49 million. It was especially strange since they all knew the mansion's listing brokers are only just starting to give tours of the house.
The new owners are actually the old owners—the investment firm Laurus Funds—who have now transferred ownership to a different corporate name.
This transaction—which occurred in lieu of foreclosure—is the latest episode in the long-running saga that has played out after Penthouse founder Bob Guccione declared bankruptcy in 2003. Since then, his six-story limestone mansion, located at 14-16 East 67th Street, has been the pawn in a high-profile legal battle.
Last February, Mr. Guccione's former digs entered the market with brokers Leighton Candler and Lisa Simonsen of the Corcoran Group. At the time, the price tag was a headline-grabbing $99.99 million, before dropping three months later to (coincidentally?) $45 million.
However, a wealthy house-hunter couldn't buy the Beaux-Arts townhouse—which is being handled through a closed bidding process—until the foreclosure issues involving the legendary pornography mogul were sorted out.
Back in February 2004, a moving van was parked on the tony block between Fifth and Madison avenues—home to neighbors like Seagram's scion Matthew Bronfman. Back then, Mr. Guccione was facing eviction after defaulting on a $24 million loan against the house. That's when Laurus stepped in.
"At the time Laurus loaned the money to [Mr. Guccione], they took the deed in lieu of foreclosure," said attorney Scott Tross, whose firm, Herrick, Feinstein, represents the investment firm. "They were holding it in escrow. After he defaulted on the loan, they could transfer the title of the property into their own names."
Apparently, Mr. Guccione was still intent on keeping the luxurious property, even if it meant accepting Laurus' strict terms.
"Originally the loan was roughly $24 million," said Mr. Tross. "He borrowed at a stiff interest rate. That's how $24 million became $45 million. The terms are very stringent."
Over the past five years, Laurus has risen quickly to become one of the nation's major funds—often by providing quick cash to bail out financially distressed companies and prominent individuals. As the TheStreet.com wrote: "[I]f a company defaults on a Laurus deal, there's a good chance Laurus will own the company. Clients appear willing to take the risk, mainly because they have nowhere else to turn for financing."
Now, three months after Mr. Guccione lost his court case with Laurus, the transfer of ownership has occurred at the hefty sale price of $45.49 million. That's quite a high amount to move a property around, especially considering that real-estate transfer taxes amount to almost $650,000!
"It's not a third-party sale," said Mr. Tross. "[Laurus is] taking complete control of the property so they can resell."
Although bankrupt, Mr. Guccione had struck a deal to live in the townhouse rent-free until this past February, but has since vacated—allowing the Corcoran brokers to spruce the place up.
Of course, any future owners will most likely do their own remodeling too—unless they share Mr. Guccione's aesthetic leanings (think late-70's gaudy grandeur). Inside the mansion is a 40-foot Roman-style pool that could have served as a set for the controversial Gore Vidal–penned film Caligula (which was produced by Mr. Guccione).
Either way, there's plenty of room to work with in this colossal home. In 1920, banker Jeremiah Milbank combined two townhouses to form the 48-foot-wide residence. One of Manhattan's largest private homes, the storied mansion measures roughly 17,000 square feet.
Record Mogul Asks $31.25 M. In One Beacon Court Flip

Only a week after a gaggle of celebrities and socialites flocked to the opening party for Le Cirque, luxury broker Roger Erickson held a party of his own—in the sprawling 50th-floor penthouse at One Beacon Court.

High above the affluent restaurant-goers, Mr. Erickson, of Sotheby's International Realty, brought together about 35 of the city's top residential brokers for a cocktail party to show off his newest listing: the $31.25 million penthouse owned by record executive Alan Meltzer.

"It's the only full-floor apartment in the building," said Mr. Erickson of the 8,700-square-foot space. "It's the only apartment that has two spectacular terraces—which are 1,100 square feet each."

(Incidentally, Mr. Meltzer's apartment is the largest at One Beacon Court, which also provides shelter to boldface names like NBC anchor Brian Williams, R&B singer Beyoncé Knowles and Yankees centerfielder Johnny Damon).

Mr. Meltzer's sprawling 12-room apartment includes five bedrooms and five and a half baths. In addition to ample living space, the apartment's most notable feature is certainly the extraordinary views to be had through the floor-to-ceiling windows. (The ceilings are 14 feet high.)

Also, the sleek, Jacques Grange–designed space is being delivered just as it had been under the sponsor: Mr. Meltzer never moved in.

But that's not too surprising, considering that the record executive—who made a fortune after signing the multi-platinum-selling band Creed in 1996—has a tendency to buy and (quickly) sell high-end apartments.

In August 2001, Mr. Meltzer dropped $18.8 million on New Jersey Governor Jon Corzine's duplex penthouse at 515 Park Avenue. Four months later, he sold it for a half-million dollars less.

In early 2005, Mr. Meltzer—who currently resides at 944 Park Avenue—purchased the Beacon Court penthouse for $27 million. Hopefully, he'll have better luck flipping this one than the duplex at 515 Park.

Regardless, Mr. Meltzer is considering moving out of Manhattan altogether, according to his broker, so he obviously doesn't need an 8,700-square-foot pad when visiting the city.

"To have such a large pied-à-terre doesn't make sense," said Mr. Erickson.

Annenberg Estate Cuts Price By $3.75 M. at 640 Park

Over at 640 Park Avenue, one of the city's most exclusive co-ops, there's been a sizeable price cut on a high-floor apartment. The apartment, previously owned by the late Evelyn Annenberg Jaffe Hall, came on the market in mid-March and has just been reduced by $3.75 million. The new asking price: $23.75 million.

Taking up the entire 11th floor, the opulent residence measures over 6,200 square feet. Currently, the 16-room spread is configured with four bedrooms.

The apartment also features a library, formal dining room, windowed kitchen, family room and 40-foot living room. Other notable details include classical moldings, coffered ceiling, parquet de Versailles floors, five fireplaces and a gallery with marble floors.

The daughter of publishing magnate Moses Annenberg, Hall was a philanthropist and devoted patron of the arts. She died in April 2005, at the age of 93.

Built in 1914, the J.E.R. Carpenter–designed building is located near several top Park Avenue co-ops, such as 660, 720, 730 and 740. Over the years, it has attracted similarly prominent buyers.

The most recent sale at 640 Park occurred a little over a year ago: J. Crew chief executive Millard (Mickey) Drexler spent close to $20 million on a sixth-floor apartment, as we reported in these pages. Mr. Drexler has since passed the highly selective co-op board and is now settled into the 18-room spread.

The apartment is listed with Kirk Henckels and Jessica Brookbanks of Stribling and Associates.

O'Reilly Accuser Annexes Next-Door Digs for $431K

In October 2004, producer Andrea Mackris settled her $60 million sexual-harassment lawsuit against Fox News Channel's Bill O'Reilly, although the terms were never disclosed.

Just three weeks after dropping the charges, Ms. Mackris signed a contract on a 750-square-foot West End Avenue studio for $809,500. Now she's spent another $430,950 on an adjacent unit in the building, according to deed-transfer records.

Before leaving Fox, Ms. Mackris was reportedly making $93,000 a year, so it can be assumed that the settlement provided a nice windfall for buying Upper West Side real estate.

At the time, estimates ranged that Ms. Mackris was paid somewhere in the $2 million to $10 million range, in order to silence explicit charges that gave new (and unfortunate) meanings to words like "loofah" and "falafel."

Also residing in the prewar building is someone accustomed to poking fun at media figures: Saturday Night Live's Tina Fey. Ms. Fey and her husband, Jeff Richmond, spent $1.9 million on their 1,873-square-foot spread, just a few floors down from Ms. Mackris.