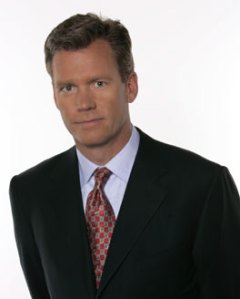 NBC News correspondent Chris Hansen stood in the dining room of a Fort Myers home and addressed his interview subject, a volunteer with a church youth group.
"You're naked," he said clinically, looking disappointed in the man and a little bored. "There's a 14-year-old girl. You're chasing a cat around. You've got Cool Whip."
The 10.3 million viewers who tuned in for Mr. Hansen's May 10 Dateline special, the sixth in a series called "To Catch a Predator," knew exactly what would happen next. After being confronted by Mr. Hansen and shamed on national television, our would-be statutory and animal-rapist, clad only in an NBC-provided towel, was permitted to dress and leave. The cameras followed as five uniformed police officers cut him off in the driveway and a sixth, camouflaged with brush, burst from the shrubbery and tackled him to the ground.
It is a moment Mr. Hansen recalled with pride one recent afternoon, over Perrier with lime, in Rockefeller Center. An accomplished journalist, sometimes-anchor of the Nightly News and winner of four Emmys, three Clarion awards and four Edward R. Murrows, Mr. Hansen wears humbly his latest distinction: TV's perv-hunter.
"We prefer to call them 'potential predators,'" he said.
Each sting is identical and perfect. Perp arrives—lured by the online-chat promise of underage sex—condoms in pocket, usually carrying some kind of fast food. A young decoy shouts from the kitchen that he or she baked cookies and is changing shirts. Perp makes himself comfortable and, instead of the expected teen, Mr. Hansen emerges. "Do you want to explain yourself?" he asks, before a voiceover reads snippets from perp's messaging sessions. "We can't reveal most of what's in that transcript because it's too vile for television," said Dateline executive producer David Corvo.
"It's fascinating and sad," said Mr. Hansen. But mostly, "it's captivating."
Senate Majority Leader Bill Frist has credited Dateline with bringing online child predators to his attention. Attorney General Alberto Gonzales cited one of Mr. Hansen's reports in an April 20 address, telling employees of the National Center for Missing and Exploited Children that at any given moment, there are 50,000 sexual predators trolling the Web.
That figure was later called into question by the F.B.I. NBC defended the report, attributing the number to an expert. And besides, that wasn't the number that counted. Nearly 11 million watched the report Mr. Gonzales mentioned. The latest installment in Mr. Hansen's series was so popular, NBC is re-airing it in prime time on June 7.
This is a big deal for a television newsmagazine that has seen its budget slashed and its weekly airtime reduced to one hour, on Saturday night, next fall. Across all three broadcast networks, with the exception of CBS's granddaddy 60 Minutes, long-form television journalism is in decline. Money is tight; ratings are down. As of next fall, ABC's Primetime, once a strong Sunday-night broadcast, will have no regular spot on the network's schedule.
That makes "To Catch a Predator" a precious success. Sure, it may be showy at times. It may be a tad exploitative—"And we'll tell you what he planned to do with that teenager, when Dateline returns"—and it may verge on the absurdly theatrical, as when, at the climactic moment of every "sting," two NBC technicians rush out from the shadows, one carrying a handheld camera, the other a boom mike, even though the room is already outfitted with 13 hidden cameras (including one "coconut cam" in a palm tree outside) and countless microphones. It may even be indistinguishable from reality television. "But there is a solid journalistic element to each one of these things," said Mr. Hansen.
"These discussions go on within NBC News," he said. "You have to be careful not to go overboard. How do you balance what is clearly great television with good journalism?"
"Logistically, these segments are a nightmare," said Mr. Corvo. Each sting operation, conducted in concert with the online watchdog group Perverted-Justice, costs tens of thousands of dollars to arrange. For the Fort Myers operation, 30 editorial and technical staffers manned a control room on the second floor. Mr. Hansen has nearly been attacked on several occasions, including once by a rabbi ("He lunged," Mr. Hansen said; "I don't know if I'd call it a full attack"); he travels with a security detail, the size and composition of which he declined to discuss ("The first rule about security is that you never talk about security," he said). Among other precautions, Mr. Hansen said, they search the kitchen of every sting house for knives.
There have been close calls. One man, after meeting Mr. Hansen instead of the 14-year-old he expected, announced he was a paranoid schizophrenic and refused to leave. Others run out; some break down. The meetings are arranged by members of Perverted-Justice, who pose as impressionable youngsters online.
NBC schedules them one after another over the course of two days, at one-hour intervals. "Somebody's always late. Somebody's always early," Mr. Hansen said. "We've had guys bumping into each other in the driveway."
It requires quick thinking and steel nerves, both of which Mr. Hansen possesses in abundance—that, and a fine collection of black turtlenecks and a smooth baritone that rivals that of Stone Phillips. Do the men ever have voice-offs? "No. But Harry Connick Jr."—a friend and neighbor—"does a mean impression."
He said his previous assignments, including reporting on Al Qaeda and a story about Cambodian child sex slaves, prepared him for this latest project. "I've done a lot of investigative reporting, and I've confronted a lot of people over the years, sometimes in dark, foreign places," Mr. Hansen said. "But to do it over and over again in such a short period of time, it's emotionally and physically draining."
Nearly an NBC lifer, Mr. Hansen grew up in what he described as a "Huntley-Brinkley family" in suburban Michigan, two miles from where Jimmy Hoffa was kidnapped in 1975. He got into campus radio at Michigan State and took a job after school at WJIM, a television-radio station in Lansing, where he motored around town in a borrowed red Chevette. That led to jobs at television affiliates in Tampa and Detroit, where he broke a story about the Chambers Gang drug empire, and, in 1993, to a job as a correspondent for Now with Tom Brokaw and Katie Couric.
The first "To Catch a Predator" special was filmed on Long Island and aired in September 2004. A single episode in February of this year drew 15,000 e-mails and 3.5 million visitors to the Dateline Web site, according to a network spokesman.
"To me, this goes all the way back to 30 years ago, when Mike Wallace was confronting people on the sidewalk when they wouldn't give him an interview," said Mr. Corvo. "The camera was in a place where it wasn't supposed to be, where people weren't expecting to see it."
A small industry has grown around Mr. Hansen's crusading. A doctor in California has treated several of the men caught by Dateline. The Manhattan-based Chase Law Group has turned Mr. Hansen's work into a booming practice. "Have you been caught in one of these 'stings'?" the firm asks on its Web site. "Just because NBC's Dateline did their own investigation does not mean that you will be found guilty! We can help."
It is now to the point where potential predators recognize Mr. Hansen the moment he emerges from the kitchen for a sting. Sometimes, they even express gratitude. Said one, Donald Morrison (screen name donni1957_male), in the most recent report: "Thank you for bringing, you know, kicking me in the pants and setting me straight, Chris."
Another, 27-year-old Eric Thornton (screen name balin79), arrived with Absolut Citron, Busch, a single shot of Jaegermeister and a large package of condoms. After meeting Mr. Hansen, he immediately turned contrite, confessing to 15 previous dalliances with underage girls.
"Well, what did you think should happen to you, Eric?" Mr. Hansen asked at the end.
"Just go home and learn from this," Mr. Thornton said.
PBS interviewer Charlie Rose is scheduled to return to his black backdrop on June 12, two months after having emergency heart surgery in Paris.
"It's a hell of a story of what I went through," said Mr. Rose on the phone from his East Side home, where he has been recovering. "Coming through a catastrophic illness is a journey that has an enormous impact on a), the person, me, and b), my friends."
Mr. Rose was en route to Damascus in May to interview President Bashar al-Assad when he first noticed a tightness in his chest. He called his cardiologist in New York, who recommended seeing a cardiologist in Syria, who recommended seeing another doctor—and quick. Mr. Rose was holding a ticket on Air France to Paris, where he was scheduled to interview wine expert Robert Parker. So he put himself in the hands of Alain Carpentier (deemed by onetime expat Adam Gopnik the most famous surgeon in France), who replaced a prolapsed mitral valve. One upcoming episode of the Charlie Rose show, perhaps the one where he returns—he hasn't decided yet—will focus on his surgery and subsequent recovery period, Mr. Rose said.
He spent most of the time since then on a physical rehabilitation program, seeing friends and watching basketball. ("I come from North Carolina," he explained. "Basketball and barbecue are in your blood, along with storytelling.") He walks at least three miles in the park every day. He has not been back to the office, he said.
Mr. Rose, whose seat has been filled in his absence by Ken Auletta, Salman Rushdie and others, is returning now on his doctors' advice—not because of professional restlessness. "I always knew my health would tell me when I was ready," he said. "I wouldn't rush it."