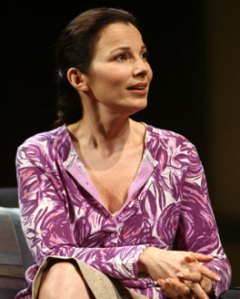 I very rarely hear from anyone I write about, though Neil LaBute is an exception. He drops me an e-mail whenever I review a new play of his, saying, in effect, "I'm sorry you didn't like my play and fuck you."
Well, fair enough. No artist in the history of the world has ever enjoyed negative reviews, and it so happens I don't enjoy writing them. I would much sooner celebrate theater than criticize it. My relationship with Mr. LaBute, however, has gotten worse and worse in strict proportion to the number of plays he's written.
He writes a lot of plays, and I'm afraid that his awkwardly titled Some Girl(s) with Fran Drescher is far from his best. Nor is the MCC Theatre production at the Lucille Lortel well cast, though the easy, popular appeal of its stars is obvious. Apart from the strangely subdued, if game, Ms. Drescher of The Nanny, there's Judy Reyes of Scrubs, Maura Tierney of ER and Eric McCormack of Will & Grace. David Schwimmer of Friends played Mr. McCormack's role in London last year, and I imagine he was more than enough to bring in the punters, too.
But Mr. LaBute has written a formulaic play in which each scene plays uncomfortably like a sitcom with Serious Undertones and limited TV acting. True, Mr. McCormack has spent five seasons with Canada's Stratford Shakespearean Festival, but eight seasons playing the adorable gay pet in Will & Grace have led to a certain predictability onstage. As Mr. LaBute's heterosexual hero, known as "Guy"—a symbolic name for a symbolic sort of guy—Mr. McCormack acts too much and too little. He's obviously selfish and he's obviously resigned.
But then, as the only male in Some Girl(s), Mr. McCormack is playing another of Mr. LaBute's predictably chauvinistic men. For myself, to say that all men are jerks is like saying that all women are frivolous. Either way, the playwright has by now said all he has to say about the cruelty of Man to Woman—or of Guy to Girl(s). He said it with more dramatic muscle and danger in those testy psychodramas that unnerved and shocked us years ago, like The Company of Men. But compared to the vileness of the male species that Mr. LaBute has held up for our clinical examination and contempt in the past, Some Girl(s) is a distant echo of the real thing and the hero is merely an obnoxious idiot.
Thirtysomething Guy is a magazine writer (The New Yorker, Vanity Fair, whatever) who writes fiction that rips off the lives of everyone he knows. It's the American way, he explains. About to get married, he visits four ex-girlfriends to make amends in some vague way for mistreating them in his callous youth. Each scene takes place in a different city in a near-identical hotel room—an anonymous Marriott that in itself dulls the senses. But why the four—now mature—women would trouble to meet him again in a hotel bedroom all these years later is one of the problems with the play.
Take the first scene in Seattle between Guy and Sam (Brooke Smith), who's a happily married woman with two children. We learn they went out together in school, and he stood her up for someone else on prom night. Prom night! And 20 years later, she really, really resents it. I expect it was the frock she bought specially for the big day. But this relived teen spat is no different from the repetitive essence of every scene that follows.
Each of the ex-girlfriends doesn't seem to know what guilty Guy wants, and each one reveals that she's still suffering improbably from the hurt he caused. Tyler (Judy Reyes) the single, sexually free tease from Chicago, arrives to get laid, apparently. Guy is tempted but primly resists. The director, Jo Bonney, can't conjure up any sexual tension between them anyway. But it slowly emerges that Guy had the hots for another girl during his fling with Tyler (who really, really resents it).
"Gave myself to you physically," explains the Guy lamely. "But all the time I was really feeling … I don't know. Something. Bad, I guess. About her …. Wow. I suck."
Wow, yes. He does suck. But what's a woman to do when she falls for a dope? (Men, eh? Can't live with 'em, can't live without 'em). But if I didn't want to linger in Guy's whining company, why on earth would Fran Drescher's Older Woman? Ms. Drescher plays Lindsay, a cool Boston college professor out for unlikely revenge because when Guy cuckolded her husband, who's now the dean, he left town after the affair was discovered. Read no further if you don't want me to spoil it for you.
With the compliance of her husband, the still-resentful Lindsay proposes to screw Guy one more time to take revenge on his future bride. Guy admits she'd hate it. "See, that's what my husband thinks, too," says Lindsay. "He said that very thing. That the worst thing wouldn't be what we could do to you … but to her."
The dean's a dope too. Well, he's a man. Mr. LaBute has given up on writing subtext, and Ms. Drescher, alas, plays a college professor as if cautiously restrained on her own tight leash. There's no sexual chemistry in her scene with Mr. McCormack, who's left looking rueful and perplexed, as if fading to a commercial.
The final scene is with Bobbi from Los Angeles—the one Guy really, really loved. Unless he really, really loved her twin sister (who might have died of cancer, or might not). Played by the outstanding Maura Tierney, Bobbi is more of the same resentful girl(s). But as with all soaps, there's a last-minute revelation.
Warning! Read no further again to avoid further dire disappointment. It turns out that Guy has been taping all the meetings with a recorder hidden behind his hotel bed. The microphone wire is taped to the back of the lampshade on the bedside table, and when Bobbi accidentally discovers it, she's understandably … well, she's outraged.
I have one word for Mr. LaBute: bodymike.
Be that as it may, it was no consolation to learn that Guy was recording all his ex-girlfriends for a Vanity Fair article. In the unlikely event that it would have been commissioned, a 10-minute read about his life and loves is one thing. An hour and a half onstage?
Memo to Mr. LaBute: Don't!