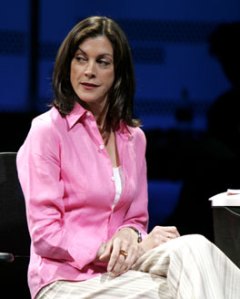 God preserve us from the British upper classes! They are the reason I left England. I decided that I couldn't listen to their whining sense of entitlement for one second longer, and thus fled to New York, where I promptly discovered that everyone worships the British upper classes.
It's all frightfully unfortunate, actually. When God created the middle class, He had only the British in mind. New York theatergoers' Anglophilia is an incurable case of reverse snobbery, however, and the ghost of Noël Coward, for one, wishes to say from his chaise lounge in the sky, "Ta ever so."
Which brings me to Andrea Hart's fine adaptation of Henry Green's 1950 comedy of manners, Nothing. It's no one's fault—least of all this admirable British ensemble led by Sophie Ward and Simon Dutton—that I've rarely had such a good time at the theater without enjoying myself. You see, I was home again, which is not where I wish to be.
Nothing, originally directed by the late Robert David MacDonald for the Glasgow Citizens Theatre in 2003 and expertly restaged by Philip Prowse, is part of the annual Brits Off Broadway season at 59E59 Theatres. Last year, I very much admired the return to form there of Alan Ayckbourn, the poet laureate of the disillusioned Brits doting on damp defeat. But we must set our boundaries, for the refinements of the class system are absolutely crucial.
To New Yorkers, all Brits tend to sound the same. But Mr. Ayckbourn's wan characters in Private Fears in Public Places are lower middle class. Alan Bennett's schoolboys in The History Boys, on the other hand, are plain and downtrodden lower class, or lower-lower middle class. And the self-absorbed people with the peculiar plummy accents in Henry Green's Evelyn Waugh–ish Nothing are lower upper class—or, depending on your lofty point of view, upper-upper middle class. Mr. Green's toffs are, in short, related to the solid middle class of the Comstock landless gentry in George Orwell's Keep the Aspidistra Flying. They keep up appearances like exotic plastic fruits in a silver bowl and live a comfortable life in which nothing seems to happen.
A lot does happen in Nothing, of course, though "Nothing can come of nothing … Nothing ever will," as the famous line, ingeniously adapted from King Lear, goes in The Sound of Music. Emotional reticence is the national trait of the English, and the shrill surface of Nothing is by now familiar—too much so for me. The mild social satire is a reminder of the haute bourgeoisie drawing-room dramas of postwar England, which took the temperature of the country and found it politely wanting.
What England needed most then—and got from a younger generation of writers—was a kick in the pants and a strong, rude dose of the impolite. But not here—not among Henry Green's overprivileged survivors clinging to the wreckage with their piercing voices and little betrayals.
Jane Wetherby (played with lethal poise by Sophie Ward) and suave, self-indulged John Pomfret (Simon Dutton) are former lovers whose children from different marriages, Mary and Philip, are about to marry. But Jane doesn't care much for Mary—"very sweet, I know, but a simpleton without a penny and not even pretty." In her refined, blithe spirit, Jane simply isn't naice. "I don't have a problem with her, only that she's a horrid beast and doesn't deserve to live."
A horrid beast? Quite. Furthermore, it turns out that poor Mary might be the droopy daughter of John and Jane, which means that—gosh!—Philip and Mary are, well, brother and sister! There's also John's lover, the lush Liz (well played by Andrea Hart, the adaptor), and the dimwit gentleman for all purposes, Richard Abbot (the amusing, perfect Derwent Watson). But what to make of these silly sausages and their crass lives?
Do not be overinfluenced by my mild bias against the vile upper classes of England. Be influenced just a little. Nothing successfully captures the frayed quality of the postwar London generation (though Waugh did it better in English country houses). It has amusing things to tell us about the legacy of uncaring, frivolous parents who rear dull, conformist children. But Henry Green's metaphor of England in decline—a running joke about a poor chap with gangrene in his foot—lacks his customary lightness of touch. The piece is too slight, anyway, its archness and "wit" a mere social style, its characters too pleased with themselves and with their narrow, empty minds.
Wall Street Blues
I almost never leave a play at the half, but in the case of Burleigh Grime$, I made an exception. Roger Kirby is a new playwright, and I regret to say that his satire of corruption on Wall Street, with extremely incidental music by David Yazbek of Dirty Rotten Scoundrels, badly misfires.
We would have to go back to Caryl Churchill's 1987 Wall Street satire, Serious Money, for the real thing.
While I would usually embrace a new show that was honestly insane, there were unbelievable stretches during the first act of Burleigh Grime$ when no one onstage seemed to know what they were doing. They were sort of jigging about in loud ties and suspenders to drums.
It's the sort of thing, perhaps, that must have seemed like irresistible fun during rehearsals. The hard-working Mark Moses of Desperate Housewives plays Burleigh Grimes—a horrid beast—as an unsurprising Gordon Gekko–like investment banker. Wendie Malick of Just Shoot Me is Elizabeth Bigley, a knowing stock-market reporter for a financial news network. God love us all. James Cramer, host of CNBC's Mad Money, plays himself, and an actress named Nancy Anderson deserves much, much better. We all do. Burleigh Grime$ was directed, sort of, by David Warren.