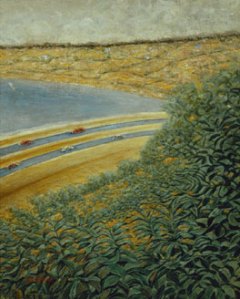 The American painter Arnold Friedman (1874-1946) once groused about the "cadging—pettifogging [and] lickspittling" typical of the art scene of his day. Some verities are eternal.
Friedman liked to vent his spleen by writing on the backs of his canvases. One note reads: "Modern aestheticism with its obscurantism and obfuscation bears the same relation to the theology which haggled hotly over the number of angels that could dance on the point of a needle and has about the same influence on art as it did on true faith." The artist had little patience for orthodoxy, fashion or "the American collector (and dealer)," though he was magnanimous enough to note that a "few exceptions … are cheerfully granted."
The prospect of uncovering more wisdom on the flipside of Friedman's paintings is tempting, but not so much that we start taking the pictures off the wall. It's what's up front that counts, and it counts for a lot. The Language of Paint, the first full-scale retrospective of the artist's work in over 50 years, confirms that Friedman is, in fact, an American master.
By organizing this show, Hollis Taggart Galleries and guest curator William C. Agee aim to right a historical injustice. Highly regarded in his lifetime, Friedman's paintings found homes in the Phillips Collection, MoMA and the Metropolitan Museum of Art and satisfied the uncommonly stringent standards of Clement Greenberg. Today, only a small coterie of admirers knows his oeuvre. Friedman is a specialist's passion. It's worth asking why that is.
In the catalog essay, Mr. Agee writes that Friedman was "by any account … a mainstream artist" participating "in the broad aesthetic thrusts that defined American art from 1905 to 1946." He suggests that Friedman's "originality" as a painter "caused him at times to appear as a kind of 'outsider.'" There's a headstrong awkwardness to his art, an eccentricity and drive not far from that of, say, John Kane, a folk painter whose striking images were much admired by modernists.
Yet Friedman wasn't a rube. He studied at the Art Students League under Robert Henri, who also taught the likes of George Bellows, Edward Hopper and Guy Pène du Bois. The early pieces on view at Hollis Taggart—formative attempts at Impressionism, Pointillism, Cubism and, a bit more furtively, Surrealism—demonstrate a deep, if not particularly distinctive, understanding of modernist currents.
But Friedman's art ultimately strayed from the avant-garde—or perhaps it's better to say that it enlarged upon the notion of what "avant-garde" could mean. Greenberg intuited as much when he likened Friedman to Pierre Bonnard and Édouard Vuillard, painters who proved that "there were possibilities in Impressionism which the nineteenth century failed to exhaust."
Friedman's art does bear some comparison to the French masters. Vuillard is evident in the density of surfaces, Bonnard in the fluctuating areas of closely valued hues. The example of both men can be gleaned in a devotion to representation—in particular, to domestic interiors, the landscape and people. Yet it's a mistake, I think, to peg Friedman as an "impressionist," as Greenberg did. It makes him sound altogether too French. If there is any such thing as an American artist, Arnold Friedman is it.
There's a marked shift in the work round about 1930. European precedent isn't assimilated so much as blanketed; sophistication and poetry are overtaken, if not completely stifled, by a dour pragmatism. The subjects of the paintings—whether they be the Grand Central Highway, a vegetable stand or the New Jersey wetlands—become unrelentingly and, at times, disconcertingly concrete. Facts take precedence over sensation. The pictures are blunt, terse, severe and uncompromising.
Friedman's willfulness can be traced, at least in part, to his duties at the U.S. Postal Service. Though he described his job as a "lame way of ducking" the concessions inherent in being a professional artist, he was mindful of the freedom a 9-to-5 gig allowed. Working for the post office "yielded a measure of independent and responcible [sic] citizenship! What American painter was permitted to retain them! Speak up!"
This degree of autonomy from the marketplace appealed to Friedman's Yankee individualism, and it lent power to the work's harsh integrity. His paintings from the 1940's go off on wild and unexpected tangents. Surfaces become sharp and gritty, spaces zooming and skewed. Some compositions are abruptly sectioned off. Others are engulfed by scratchy flickers of paint and an otherworldly light. The paintings court abstraction without sacrificing representation, which Friedman clung to with a forbidding resolve. An all but unbearable tension between material and illusion is brought to bear on paintings like Shore Path and At the Lake (both circa 1940-41).
The late landscapes are especially intense. Their blunt and monumental forms are barely held in check by the perimeters of the canvas. Surfaces are built up into all-over fields of crusty pigment. Friedman likened oil paint to "a coquette [who] must be variously coaxed, coerced, humored, driven or caressed." This pursuit clearly became more vexing the longer Friedman painted. Given the evidence on view, it also provided a greater sense of aesthetic reward.
Hollis Taggart and Mr. Agee have mounted an invaluable exhibition, and anyone interested in the art of painting should see it. Yet it seems unlikely that Friedman's achievement will ever receive as much acclaim as it deserves or garner a wider audience. The traditional nature of Friedman's subjects, Mr. Agee writes, obscures the "genuinely new and advanced" character of his work. His paintings can't easily fit into a culture that favors superficial novelty.
In other words, they aren't crowd-pleasers. Friedman probably would have considered such a thing a curse; so should we. His ornery sense of principle was a motivating force, and his marginal standing is something he worked hard to earn. How many other American artists have been as ruthlessly true to their art? As Friedman would demand: "Speak up!"
Arnold Friedman: The Language of Paint is at Hollis Taggart Galleries, 958 Madison Avenue, until June 30.