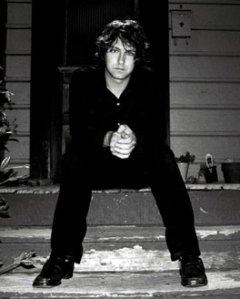 A musician who arranges the tracks of an album as if it were destined primarily for a double-faced plate of vinyl—complete with a 24-minute, side-two opus called "River of Transfiguration"—is obviously not embracing the earbud-wearing, shuffle-happy present. The Sun Awakens (Drag City), the latest offering from guitarist Ben Chasny, who goes by the Buddhist-inspired moniker Six Organs of Admittance, is a throwback, not only because it reflects different hues of the psychedelic-folk spectrum, but because it dares to seriously challenge the listener.
It's an album that creates atmospheres, but it's not background music. Though certain tracks are so brief, gentle and sparse that they seem to melt into air as they finish, to let your attention drift as they play is to squander their delicate beauty. Others require patience, coasting along repetitively before breaking into spells of blaring distortion. Much of the album doesn't stray too far from last year's stunning School of the Flower. But there are fewer songs with lyrics (just two, with underwater-sounding vocals) and more emphasis on electric guitars. Overall, a gloomier mood prevails: This sun awakens from a dark winter.
Two versions of the same short instrumental open and close the album's more accessible first half. "Torn by Wolves" (a much prettier tune than the title advertises) and, especially, "Wolves' Pup," the solo acoustic rendering, show off Mr. Chasny's sensitivity with the six-string. It's a sweet, unassuming folk melody, and only a player of real confidence could pull off its simplicity—not to mention the plaintive slides, bends and grace notes—with such effortless poise.
Between those bookends are the starry, psychedelic melancholy of "Bless Your Blood," and the galloping spaghetti-western theme of "The Desert Is a Circle." There are also a couple of hypnotic, droning rock 'n' roll ragas, "Black Wall" and "Attar," on which Mr. Chasny's fretting hand speeds nimbly through flights of rhythmic, Eastern-tinged acoustic riffing before corrosive electric noise invades to wash it all away. These aren't immediate or catchy like pop songs. To borrow a hippie metaphor, each one is its own miniature road trip with unexpected twists and turns, and signs and landmarks you might miss if you don't pay attention.
"River of Transfiguration," the epic conclusion that's longer than the rest of the songs combined, is a journey only the most intrepid souls will want to undertake on a regular basis. It might be the soundtrack for a Stygian amusement-park ride: It begins with a deep, ominous, engine-like vibration, then misty exhalations, eerie, high-pitched whines, faint bells, chimes and gongs slip back and forth in the stereo field. The drums don't come in until more than six minutes have passed, and then only aimlessly, languidly. The vocals start about a minute later—a wordless, minor-key chant that sinks repeatedly into the abyss as feedback begins to swell. O.K., quarter of an hour to go …. Everything slowly coalesces into what sounds like a choir of monks humming backwards. And then … um, are we there yet?
Distilled Scots
We're possessive of our Scottish bands. They're like Scottish terriers: tiny dogs with thick coats and sad stories in their eyes. We wouldn't want them any other way.
So when "Lloyd, I'm Ready to be Heartbroken," the first song on Camera Obscura's Let's Get Out of This Country (Merge), opens with an organ before adding a racing drum line and—get this!—rollicking strings, the possessive instincts twitch and you wonder: Is it a wedding or a funeral or, worse yet, overwrought shtick? It seems, anyway, that the Scottish indie group has suffered a sea change.
But you'll recover from the initial shock: Twee has traditionally harbored pop sensibility and musicality, and in the style of Heavenly and the Aislers Set, Camera Obscura has distilled rather than dismantled its sound.
The sextet, first conceived in 1996 in bassist Gavin Dunbar's parents' cellar, had by 2000 recorded its breakthrough, Biggest Bluest Hi-Fi. Produced and influenced by Belle and Sebastian chief Stuart Murdoch, the album established Camera Obscura's understated playfulness and fondness for 60's girl groups, but seemed exhausted by its own coyness. Vocalist Tracyanne Campbell's voice was trapped in duet with John Henderson, and the lethargic arrangements never quite matched her striking presence. A single, "Eighties Fan," hinted at the band's potential, and Underachievers Please Try Harder (2003) delivered: Quicker, catchier, more lushly produced, the disc delighted in the subtleties of Ms. Campbell's steely coos.
Like Belle and Sebastian, Camera Obscura hangs its sad songs on increasingly warm hooks. Here the fabric is rich and quite beautiful. On "If Looks Could Kill," amidst updated Spector-era production (expertly polished by Jari Haapalainen)—waves of overdubbed vocals and swarms of bells and whistles—Ms. Campbell bites, "When you act like a man who is cross with every woman he's never had / Maybe you'll have to go." There's plenty of melancholy and defensive wit here, and the album does begin with an organ—but it ends with a toreador's trumpet, a rebirth if I ever heard one.
Ms. Campbell is compelling thanks to her thinly veiled internal struggle. She demands a change of scene on the title track, confessing, "I am bored of me," and with a series of self-deprecating quips anchors the song. "Lloyd, I'm Ready to Be Heartbroken" shouts out to singer-songwriter Lloyd Cole and his sweetly haunting song "Are You Ready to Be Heartbroken?" "Dory Previn" addresses a troubled wife (of conductor and composer André Previn) who was replaced by Mia Farrow—a bit of erudition that heightens the idiosyncrasies of Ms. Campbell's nasal inflections.
More often than she should, Ms. Campbell shies away from intimacy, preferring generic complaints, as in the album's shallow trough, "Country Mile." It's an awful waste to leave Ms. Campbell's talents to the imagination; after all, she has lines like this at her disposal: "I drowned my sorrows and slept around / When not in body at least in mind."
With nine and a half excellent tracks, it's safe to let this young dog revel in some old tricks.
—Alex Gartenfeld