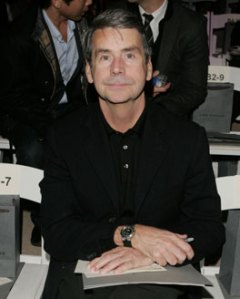 Anna Wintour was not pleased with what she saw on the cover. The Vogue editor is famously choosy about her covers, but this was someone else's: the front page of the May 3 Women's Wear Daily.
Two days before, she had hosted the Costume Institute Gala at the Metropolitan Museum of Art—the annual live, glittery enactment of Ms. Wintour's personally curated Friendster page. And WWD had buried it inside, in some 700 words, on pages four and five.
Ms. Wintour telephoned Patrick McCarthy, the editorial director of the Fairchild Fashion Group, which publishes WWD. She let him know her feelings.
"She called to express her frustration with the placement of the coverage," Vogue spokesman Patrick O'Connell said by phone on May 30. "It had nothing to do with the tone of the coverage.
"They're welcome to write what they do. But given the magnitude of the evening, with the enormous amount of celebrities, fashion designers, models and society figures there, their coverage to us felt very incidental.
"They covered it like a normal cocktail party."
"We gave it substantial coverage," said Andrea Kaplan, a spokeswoman for Mr. McCarthy. "The left-hand page was the whole 'Eye' column on Wednesday, with eight photos."
Ms. Kaplan added that WWD had run two preview pieces before the Met gala.
The affair has overtones of a sibling spat. Both Ms. Wintour and Mr. McCarthy are editorial directors at Condé Nast—reporting directly to S.I. Newhouse, independent of overall Condé editorial director Tom Wallace.
But Ms. Wintour's portfolio is growing—encompassing Teen Vogue, the newly launched Men's Vogue and potentially Vogue Living, if that prospective lifestyle title gets the go-ahead. And with the absorption of the former Fairchild Publishing into Condé Nast, Mr. McCarthy's holdings are shrinking.
Cookie, Jane and Details, which used to be under Mr. McCarthy before the formal merger, now answer to Mr. Wallace.
This coming summer, Cookie—the consumer-parenting magazine started by former Fairchild president and C.E.O. Mary Berner—is due to move out of the old Fairchild headquarters at 750 Third Avenue and into the eighth floor of 4 Times Square. It will be the first of the Fairchild titles to move under the same roof as the Condé flagship magazines—and as Mr. Newhouse.
"It's a launch, and they want to monitor it very closely," a Condé Nast staffer said of the Cookie move.
That leaves Mr. McCarthy with WWD, W, Scoop and retail trade titles including Supermarket News and Footwear News. With Fairchild scaled back, Mr. McCarthy has taken a more active role than before in the running of WWD and W, sources familiar with the publications said.
"He has been a more visible presence," one Fairchild staffer said. "He's been more involved." Mr. McCarthy has begun, for example, to ask to see a daily lineup of WWD's Memo Pad media column, according to sources familiar with the matter.
Ed Nardoza, WWD's editor in chief, declined to comment.
The shuffling of fashion titles at Condé Nast is continuing. W, which is still overseen by Mr. McCarthy, is now classified as a Condé Nast title, while its sister publication, WWD, is in the Fairchild Fashion Group. Sources in 4 Times Square said that Mr. Newhouse is in ongoing discussions about separating W entirely from WWD, making it into a traditional consumer-fashion title.
That would put W, with its trade roots and society pedigree, in closer competition than ever with Vogue. Mr. O'Connell downplayed any rivalry. "They've been very great colleagues for years," he said. "There's always going to be issues coming along. Each publication has its unique point of view. No one wants to get on each other's territory. We completely respect what they do."
When it debuted more than 30 years ago, W was put out entirely by WWD's staff. Since the 1990's, W has developed its own staff of editors and writers, so that now only a handful of WWD staffers still contribute to the glossy.
Condé Nast spokeswoman Maurie Perl declined to comment on internal discussions, but said there is no plan to separate W from WWD. "They're not splitting the way those synergistically work together," Ms. Perl said.
Multiple Fairchild sources also say that staffers have been told to watch expenses, without an explanation for the budget tightening. One theory circulating inside the company is that Fairchild titles are now responsible for a share of Condé Nast's corporate overhead, an expense that wasn't factored in before the merger. And WWD has recently launched Scoop and other spin-off titles, which have yet to recoup their investment.
Ms. Perl said that there have been no changes in Fairchild's budgets.
In one respect, at least, the publications are closer together. For the first time, at Ms. Wintour's Costume Institute Gala, Fairchild didn't have its own table. Instead, Fairchild employees were seated at the Condé Nast tables, alongside other Condé staff.
Mr. McCarthy was invited to sit at a table with Condé Nast president and C.E.O. Charles Townsend, Ms. Kaplan said. But he did not attend.
Three weeks before the Richard Stengel era was due to begin at Time magazine, the incoming managing editor was already making the rounds of his senior editorial employees.
Mr. Stengel made the trip from Philadelphia—Amtrak, coach class—to attend the May 24 session of the Time editors' weekly "big ideas" meeting. Earlier that day, he lunched with Time.com chief Stephen Koepp at Cite to discuss plans for the magazine's Web site.
"I think there's an incredible talent pool there," Mr. Stengel said by phone May 30, discussing Time's current staff.
The theme was continuity. Mr. Stengel, a past and future Time man, dismissed speculation inside the magazine that a shakeup is coming when he officially takes over for Jim Kelly on June 15. "I'm not looking to go in there and break a lot of china right away," Mr. Stengel said. "I've never had this job before. There are people I've worked with through a lot of my professional life.
"I think people can be re-inspired and reinvigorated. There's just great talent. If I'm the coach, I look at the players and say, 'Wow, this is a great team, a winning team.'"
Part of that reinvigoration, Mr. Stengel said, will involve the magazine's tone. By way of illustration, he turned the conversation to a figure from television.
"My father watched Bill O'Reilly all the time and disagreed with nearly everything," Mr. Stengel said. " … That's an example of how the health of the Republic is maintained by entertaining different points of view."
Shut up!
Well, for Time, Mr. Stengel said, the ideal for vigorous punditry would be more along the lines of Joe Klein. "Joe is the model of what we're talking about, in terms of voices in the magazine," Mr. Stengel said. "Not the model of his politics—as he says himself, he's a flaming moderate. It's the model of reported analysis. I didn't invent this—Henry Luce invented it. It's not just about narrative, color and scene; it's about analyzing why things are the way they are."
The latest issue of Time, under Mr. Kelly's command, seems to feature a shift in tone of its own. After winning two National Magazine Awards in May, one for general excellence and one for coverage of Hurricane Katrina, Time is fronting its serious side. The cover, with the magazine's banner in black, features the silhouetted image of an African child in a medical clinic, accompanied by the cover line "Congo: The Hidden Toll of the World's Deadliest War."
Other cover lines promote "Enron Justice" and "Haditha Massacre."
Neither "Haditha" nor "Massacre" appeared on the cover of the March 27 Time, which broke the news of the slayings of civilians. That scoop, which led the way for investigations by The New York Times and other major outlets, was flagged with a milder "Was Iraq Worth It?" on the front. The bigger question on the cover was "Are Kids Too Wired for Their Own Good?", accompanying a soft-news photo illustration of a boy with three cell phones, a Treo and an iPod orbiting his head.
"At the time, I knew if the allegations turned out to be true, then it was clear this would be a story of significance," Mr. Kelly said. "We put [Haditha] in the context of Iraq three years later, and we knew what we could talk about at the time was not a 10-page story …. If you're going to do it as a cover, you need that kind of weight. We gave it the space it deserved at the time."
Time correspondent Tim McGirk, who broke the Haditha story, said that in the weeks before publication, he had lobbied editors to use the word "massacre" in the March 27 story.
"That was a battle I lost," Mr. McGirk said by phone May 30 from Jerusalem, where he is currently based. "I think the editors felt 'massacre' was too heavy of a word. They didn't want to use it; they felt there was some justification for what had happened."
"I think it was definitely a massacre," Mr. McGirk said.
Has the Haditha story helped push Time back toward hard news, after swinging toward soft stories and trend pieces?
"I never took that charge seriously," Mr. Kelly said. "Ever since 9/11, I put out a magazine that tried to make people understand better the world that was created by 9/11."
"It was nonsense, that lifestyle tag," Mr. Kelly said. "If this is a lifestyle magazine, I don't know whose lifestyle it is."
—G.S.
The New York Times' in-house criticisms have gone paperless: With this month's retirement of standards editor Allan M. Siegal, The Times has ended its tradition of passing out the regular feedback memos known as the "greenies."
"With Al and [senior editor] Bill [Borders] departing, today's installment of the postmortems will be the last in this form," deputy news editor Philip B. Corbett—the inheritor of Mr. Siegal's language-policing duties—wrote in a memo May 19.
Future feedback reports will appear on the newspaper's intranet, Mr. Corbett said, and will appear weekly. Mr. Siegal's greenies, named for the green ink that he used to annotate stories, came out as many as four times a week.
"[W]e're envisioning a less frequent alternative—perhaps once a week, or twice a month—to foster a more thematic and analytical approach," Mr. Corbett wrote. "We may focus on just one or two topics each time, examining patterns or clusters of problems, or showcasing a range of outstanding work."
"Given the fact the greenies are so closely and commonly identified with [Mr. Siegal and Mr. Borders], we thought, 'Let's take another look at them and see if there's things we can do to give them a different cast,'" said Craig Whitney, the paper's new standards editor.
Mr. Siegal's notes—on matters of language and journalistic practice—were originally handwritten, and more recently typed in a sans serif font. Copy editors, who most closely handle style and usage issues, received them most often; on Wednesdays, stacks of the "Best of the Greenies" were distributed to the newsroom at large. Reporters who earned praise had their bylines left in place. Bylines of reporters who committed errors were removed, but staffers could easily pinpoint the offender.
Newsroom reaction to the greenies' fate was mixed.
"I loved them," one Times reporter said. "I looked forward to them every week. You wanted to see if your piece was being praised or criticized. And you not infrequently learned a lesson."
But another Times staffer had less fond memories.
"I'm not mourning the greenies," a staffer said. "They are just aggravating."
—G.S.
Correction: Among the works of now-retired New York Times standards editor Allan M. Siegal was the promulgation of proper correction form. A correction, by Times policy, should explain the nature and context of the error, then give the corrected fact, followed by the incorrect version. Last week's column describing Mr. Siegal's work and legacy gave an inaccurate account of his role in the production of the paper's "Ethical Journalism" handbook. Mr. Siegal was a contributor to the handbook; he did not lead the group that created it.