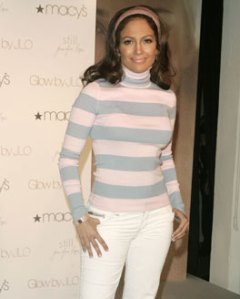 On May 24, Stefani Greenfield, owner of the popular boutique chain Scoop, appeared on NBC's Today show to herald the arrival of white clothing on city streets—which is supposed to happen post–Memorial Day but this year came alarmingly early. "It seems like we're seeing it everywhere!" said her interviewer, Natalie Morales. "It is white-hot this summer."
"We are," Ms. Greenfield said, all too eagerly. "Head-to-toe white, white mixed with metallics, shades of white …. " And then: "If you're going to have one white item for the summer, it is a must must-have: white jeans."
Help!
"I think white jeans are a staple in your wardrobe," Ms. Greenfield told The Observer a couple of days later on the phone.
They are?
Ask any woman and she'll tell you: Of all the articles of clothing that inspire anxiety and dread, white pants hold a special place in the mind's closet of woe. Miniskirts, strapless tops, bare-toed sandals—nothing quite lays bare the nexus of bad body image and fashion faux pas–ibilities like plain white pants. Black pants are your friend, if not your salvation: The all-concealing, all-matching staple New York ladies cannot live without. White pants are a tempting but treacherous foe.
So why, when we all know it's wrong, do we return to the white pants, like bad men, again and again?
The changing of the seasons brings all different sorts of sartorial misery. Winter reminds us of all the coats we cannot afford to buy; summer reveals the pallid flesh those coats are supposed to faithfully conceal. Global warming muddles the issue: The planet seeming to steam up way in advance of when it's supposed to, those strangely warm March weeks sending you in a fury to find the T-shirts you'd so carefully packed and stored in the three-foot space under your bed. (These are all dry runs before the apocalypse: Have you seen the Al Gore documentary in oppressive movie-theater air conditioning yet?) Finally convinced that the planet is actually dying, one dresses these days with fear.
Natural or not, warm weather ushers in the advanced panic of physical revelation: of bathing suits and spider veins, knobby feet and untoned arms, the threat of that first 80-degree day when fancy girls—the types who have time to plan such things—boast their finest, flimsiest outfits for all the men to see. The men, meanwhile, those sweaty bastards, only have to enjoy the view and consider wearing shorts.
But the fashion monarchy has decreed that white is safe and good for all. (The Washington Post's Robin Givhan agrees, and she won a Pulitzer.) "White jeans are pretty P.C. now all year round," Ms. Greenfield said. This year, the vexing problem of whether it was O.K. to wear white before Memorial Day caused almost every newspaper in the country (the Baltimore Sun was particularly comprehensive) to fill inches avowing that it doesn't matter, not any more. The hipsters broke this rule ages ago by wearing cute white shoes all year round. And consider the disconcerting emergence of eyelet girlying up every store window in town—because who doesn't want to feel 5 again?
Come again, Fleet Weekers! Hooray! White for everyone! Even when it snows!
Indeed, this strange, elitist, sort-of-colonial rule that New Yorkers used to follow with religious fervor seems to have been thrown out Barneys' window. "I mean, that's bullshit," said Joseph Quartana, co-owner and buyer at Seven New York on Mercer Street, of the rule. "I think when you wear white trousers, white pants, white jeans, just pair it with anything but white up top—otherwise it looks a little clinical. You know? I wear mine with a black tee, leather jacket, preppy nautical shirt to be cute, a polo.
"We've actually embraced the trend for the last spring-summer seasons," Mr. Quartana went on. He has "a pair from two seasons ago from Helmut Lang" he still wears. "Our client is a bit more on the edgy side, so I guess it's trickling down to more the masses at this point. We picked up a few styles, and it sold out as soon as they came in."
But it's not really about when to wear this unflattering non-color; it's about both wanting and not wanting to wear white pants in the first place. Those who have worn them well set super-high standards. Jackie O. frolicked, French and free and sexy and maternal (all at once!) with her kids in white Capri pants in Hyannis Port; Peggy Lipton did Mod Squad in white bells; tan and pretty Ali MacGraw, queen of the bo-ho white pants. For the Continentally conscious, there's the image of Blow-Up: David Hemmings in blazer and crisp, impossibly white slimmies. And for the cheerfully cheesy, there was a pre-nose-job Jennifer Gray shimmying in white jeans in Dirty Dancing, or J. Lo., who paraded her prominent caboose in bright, all-revealing low-riders and a half-top at the 2000 MTV Awards. The obsession becomes: But can I wear white pants?
"To wear them, you have to be body-confident," Ms. Greenfield said. "I don't think it's about size; it's about personality. Will women have some trepidation about wearing white bottoms rather than, say, black bottoms? Yes. But I think the stigma is lessening."
But is it?
'I Try Not to Ride the Subway'
Arsenio, 35, and Stephanie, 20, who were standing outside the Union Square salon where they both work, trying to attract "cute boys" for a haircut, offered their opinion on whether one should wear white pants.
"It depends on the fabric," Arsenio said.
"And how big the ass is," Stephanie added.
"It's awful because the wrong people wear it," said Arsenio, a pained expression on his face. "That's what I see everywhere. I'm not superficial, I'm just real."
Just as horizontal stripes on the bottom are an obvious no-no, white on the bottom can be problematic. Because the bottom is usually big. Or bigger. Unless you're lucky. Most of us are not.
Plus, considering the recent flood of cigarette pants and tight jeans into stores, it will be a terrible season for the muffin top, that strange umbrella of flesh that never existed before designers started torturing us with low-rise. And no matter what they say, pale flesh and the color white don't go together.
Also: New York and white? It makes very little sense. There's something very L.A. about white pants, in fact, as they seem more suited to car culture and anorexia, the rumps of the dainty and thin sliding in and out of leather seats.
"Well, you just have to be careful where you sit," said Mr. Quartana. "I try to not ride the subway. But I mean, if you're subscribing to the more indie-rock/punk aesthetic, they're cool when they get just dirty and beaten-up, and they look awesome that way, with holes or whatever. It depends on how you wear it, on how you want to work it."
Work it? What about the humiliation? What if everyone can see your underwear? All roads of fashion anxiety lead back to middle school, and not only to the inevitable red dot so mercilessly exploited by the comedienne Sarah Silverman. Really, life can go wrong in so many ways. Think back to the white pants you wore on the playground, stupidly inviting the school bullies—and not just the school bullies, even the nice kids—to catch you by surprise and push you into the mud puddle on the soccer field: you the stupid, vain idiot in the white linen pants. It was the 80's, and you liked Don Johnson in Miami Vice, but were the white pants and white blazer really necessary, when you were not only 10 but a girl to boot? No, you weren't cool. Even with your hands in your pockets. With so much terror in childhood, why bring on more pain by wearing those foolish trousers?
But Guys Love 'em
Four teenage girls who go to Friends Seminary on 16th and Third—Alicia, 16, uptown; Alessa, 16, midtown; Julia, 17, Chelsea; Rachel, 17, Greenwich Village—spoke for almost all the neighborhoods of Manhattan, dissolving into accusations and shudders when asked about whether they'd wear white pants.
"She would!!" Rachel pointed at Julia, who protested that she doesn't wear them that often. Rachel admitted to wearing white shorts sometimes. That led to a digression about short shorts and the declaration: "Never, not if you paid me!"
"White pants are not flattering unless you're really, really thin," said Alessa. "They show everything and they're see-through. You can definitely always see through them."
"I wouldn't 'cause my pants get dirty and I don't wash them, so it shows if they're white," said Alicia. "And white jeans are, like, 80's."
"White pants make me nervous in general," said Julia. "There's a fear factor. I'm not a fan."
The final verdict seemed to be that it's not the pants themselves, but the self-selecting bunch that wears them: "Women who wear white pants are always more confident and have better bodies," said Alessa. "So that's why guys like them more."
Men do gear up for the girls in white pants (maybe they know we're suffering). Many a lad has sullenly discovered the future beyond his X-Box when he realizes that curious light between the closed blinds is the summer sun, and he thinks not necessarily that it's the season of the Hamptons or Belmar, not the season of drunk, hot Sundays, not even the season of being able to successfully convince the women in the office that "yes, it's really fucking hot in here, so keep the air on."
No, he thinks: it's the season of women in white. Women in white pants. A virgin-whore complex writ long, cottony and see-through, on the streets and free of charge.
"You know how many compliments I've had from men today?" said Kacy Duke, 43, a celebrity personal trainer taking a break in between clients to go shopping on Broadway in the Flatiron district, wearing all white "fashion fitness wear," including loose white pants. "A lot more. And this is not a skintight outfit. Those tight white jeans, people look like they're trying too hard to catch a man, and then the men aren't interested. You've got to leave something to the imagination.
"I think it's very sexy, but there's also something very pure about it," she went on. "It can be goddess-like, and it's like a lightness of being, and it can be approachable. There was something more honest, softer and gentler, about their compliments."
Sue Sajewicz, 28, a buyer for Paragon Sports who lives in Hell's Kitchen, was walking through Union Square in white Capri pants and turquoise blouse, with cute open-toe Moschino shoes. She agreed that her male friends respond more to women in white pants.
They may not make a specific comment on her white pants, but "my guy friends are much more likely to say 'Nice outfit!' when I'm wearing them," Ms. Sajewicz said.
"Men generally like anything that's white, because it gives the possibility that they can see through," she added. "That's why they like white bathing suits and white miniskirts. 'Cause they're pervs!"
—additional reporting by Lidija Haas, M.K. Stump, Alex Gartenfeld and Margot Strohminger.