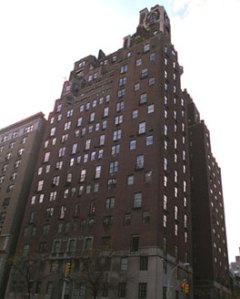 Reed Krakoff, president of the fashion-accessories giant Coach, has found a buyer for his $14.995 million townhouse on East 61st Street, according to a source with knowledge of the deal.
The leather man dropped $17 million on an East 70th Street townhouse back in September, but it was just two weeks ago that he put his old house on the market—so the news of a signed contract came quickly, considering the state of the townhouse market.
Why the delay in selling the old place? When Mr. Krakoff purchased his new 30-foot-wide townhouse on East 70th Street, between Park and Lexington avenues—the same tony block that director Woody Allen now calls home—it was reported that the fashion executive would have about $2.5 million in renovations in front of him.
But that's nothing for Mr. Krakoff, who renovated the East 61st Street home a few years back with the help of "an army of French craftsmen," according to the listing on the Brown Harris Stevens Web site. The house has a double-height living room with a 26-foot glass wall, as well as a master-suite floor, a second master suite with a terrace, and a loft space on top. Other features include Louis XVI parquet flooring (that's imported from France), a Meljac lighting system (complete with dimmable toggle switches) and a Macassar ebony powder room.
Then, after the drastic overhaul, the renovation got some nice publicity: Vogue and House & Garden showed up at the imposing front door, and interior shots of the French army's work ended up in several glossy-magazine spreads.
Paula Del Nunzio and Shirley A. Mueller, of Brown Harris Stevens, are the listing brokers. Ms. Del Nunzio declined to comment. Mr. Krakoff did not return calls for comment.
Democratic Moneybags Wants $20 M. for 'Money Pit' Co-op
Democratic fund-raising powerhouse Connie Milstein has put her apartment at 770 Park Avenue on the market.
And while the move isn't much of a surprise—she recently passed muster with the tough co-op board at 998 Fifth Avenue—the price tag of $20 million is news.
When the New York Post called 770 the "biggest Democratic presidential money pit in the city," they weren't talking about what shape the apartments were in.
Located on the 16th and 17th floors, Ms. Milstein's apartment includes five bedrooms and six baths. There is approximately 5,000 square feet of interior space, not to mention two terraces with open city views.
In fact, the Post was referring to the whole building—one of the city's biggest addresses when contributions to Democrats are tracked by address. The building is home to Democratic donors such as New Line Cinema chief Michael Lynne and Chase Manhattan executive Marlene Hess.
But it's also home to at least one prominent Republican: New York Senate hopeful Kathleen Troia (K.T.) McFarland.
If she wins the primary against former Yonkers Mayor John Spencer, Ms. McFarland can expect cold shoulders in the elevator when she begins her attack on Democratic rival Hillary Clinton—a favorite of the remaining Big Donkeys of 770 Park.
Rebecca Steindecker, of Prudential Douglas Elliman, has the listing. Ms. Steindecker did not return calls for comment.
Hedge-Funder Waits Out Construction at De Niro's
How do the super-rich wait out hefty construction projects? Why, you hide out in a simple rental, of course. Or maybe not so simple.
After hedge-fund manager Michael Novogratz bought Robert De Niro's Hudson Street triplex for $12.25 million, he added further to his luxurious Tribeca lair by dropping $5.3 million on a unit just below. Then he filed interior demolition plans with the Department of Buildings—giving neighbors the idea that a gut renovation was in the works.
So while the combined $17.55 million apartment takes shape in Tribeca, Mr. Novogratz has just rented a 5,000-square-foot loft in the meatpacking district for $33,000 a month, according to a source with knowledge of the deal. (That's a rental record for the trendy neighborhood.)
The temporary residence for Mr. Novogratz—whose Fortress Investment Group owns Michael Jackson's growing debt—is certainly not a step down.
The West 14th Street apartment has four bedrooms, three baths and a maid's room. It also includes a state-of-the-art kitchen, workout room and media room.
Bill Kowalczuk, of the Corcoran Group, was the listing broker on the rental. Mr. Kowalczuk declined to comment. Mr. Novogratz did not return calls for comment.
Upper Deck Chief Lowers Price, Again
For Upper Deck chief Richard McWilliam, flipping a 9,500-square-foot apartment isn't as easy as swapping a rookie Bucky Dent.
The sports-trading-card executive has just reduced the price of his Ritz-Carlton condo for the third time since last October: Now the huge apartment is available for $29.5 million.
Of course, that's still almost $9 million more than Mr. McWilliam paid for the full-floor spread in August 2004. So if he gets close to asking, Mr. McWilliam will still turn a profit (although it's decreasing every few months).
Located on the 23rd floor of 50 Central Park South, the apartment has five bedrooms and seven and a half bathrooms, and also includes a double living room, library, study and breakfast room. And the views from two terraces overlooking Central Park are supposed to be fantastic.
Although Mr. McWilliam hasn't had much luck yet, he can take solace in the fact that a couple of high-priced units recently moved in the building.
Earlier this year, a 4,729-square-foot apartment on the 33rd floor—which formerly belonged to embattled Tyco executive Mark Swartz—sold for $16.75 million. And right upstairs, the duplex penthouse—owned by Oracle's "principal architect," Roger Bamford—sold for close to $20 million to investor Andrew Barron Worden.
Heide Mamouris, of Prudential Douglas Elliman, is the listing broker for Mr. McWilliam's apartment. Ms. Mamouris did not return calls for comment.