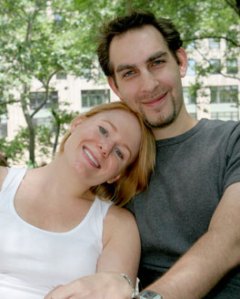 Peter Chaskes and Byrd Schas
Met: Sept. 13, 2004
Engaged: Dec. 19, 2005
Projected Wedding Date: Oct. 14, 2006
When Byrd Schas, an associate editor at Women's Health magazine, suggested to her bosses that she blog about the workout regimen she was undergoing before her wedding at the Yale Club, she didn't really expect them to bite—let alone put a personal trainer and nutritionist on the company tab. Surprise!
"I'm FAT and I want to look great (and maybe wear my mom's size-six wedding dress)," Ms. Schas wrote in her first entry, when she weighed in at 189 pounds. A cute strawberry blonde with a pixie hairdo, she has already lost 30 pounds and acquired an athletic build.
Ms. Schas was partly inspired by a trip to Belize that she took with fiancé Peter Chaskes, a lean, goateed actor with spiky, gelled hair who also works as a customer-service and operations specialist for Bluefly.com (hello, company discount!).
"Belize is all about bodies, and I felt so self-conscious," Ms. Schas said. "Peter was ogling the women on the beach, though he denies that he was ogling them." We hear ya, sister ….
The couple met on Nerve.com. Though Ms. Schas' online photo was blurry, Mr. Chaskes was intrigued by her purported love of Nabokov (he had just finished reading Lolita) and scary movies.
"I was like, 'Well, that's a bona fide bonus!'" he said. It took two weeks of e-mails to arrange a meeting at the Lincoln Center water fountain before heading to a nearby Cosi. Half an hour in, Mr. Chaskes leaned in for a kiss. "You're such a player," teased Ms. Schas, who is 30.
"I'm not nearly smooth enough to be a player," said Mr. Chaskes, 32. After about an hour of smooches washed down by coffee, he walked her to the subway.
Later in the week, she went to see him play Capt. Dick Scott in the Boomerang Theatre Company's production of Eugene O'Neill's Beyond the Horizon in Central Park (zzzzz). Three long hours after the performance began, Mr. Chaskes rushed offstage, eager to get out of costume.
"I could tell you were nervous," Ms. Schas said.
"It's hot in there," Mr. Chaskes explained. "Onstage in the summer, dressed as a sea captain for three hours, you're sweating your ass off." After the show, they headed to Ms. Schas' mother's apartment in Chelsea, where they made out like high-school sweethearts.
As the romance blossomed, they both dropped fallback courtships: she with a software engineer, he with a romance novelist. After one particularly steamy sleepover, she was nearly out the door of his apartment in Inwood when she heard a faint "Bye—I love you."
Ms. Schas turned around sharply.
"What?"
"Nothing."
"What did you say?"
"I … love you," Mr. Chaskes said sheepishly.
Just under a year later, one of Ms. Schas' vertebrae imploded an aftershock of injuries she sustained in a car accident as a child. She endured a 10-hour operation and a week of recovery at Beth Israel. "He visited me every day," she said. "That's when he really won my heart."
Mr. Chaskes, meanwhile, was impressed with Ms. Schas' post-op spunk. "She couldn't walk for more than 20 minutes, but she wanted to go out and get her own latte," he said.
After she recovered, he began sneaking his way into her one-bedroom in Harlem, bringing over his furniture piece by piece. "You can't move in unless you're 100 percent serious about us," Ms. Schas told him.
During her birthday dinner of salted cod and apple pie à la mode at Esca, Mario Batali's seafood outpost in Hell's Kitchen, Mr. Chaskes gave Ms. Schas a digital camera. "Great—just what I wanted!" she said.
"Here, I'll show you how it works," he said, turning it on and displaying a photo of himself holding a poster that read Will.
In the next photo, the poster read you, and Ms. Schas began to cry.
At the end of the series, she looked up to notice a ring box perched on top of the camera box. It contained a single-carat, European-cut diamond that had belonged to his maternal great-grandmother, which Mr. Chaskes had taken to Lee Jewelers in Queens to be reset in white gold and surrounded with micro-diamonds and a trapezoidal side-stone.
"God, I just cried and cried," Ms. Schas said.
"And they gave us free booze!" said her groom-to-be delightedly.
Matthew Cerrone and Dorian Pacelli
Met: 1983
Engaged: Dec. 4, 2004
Projected Wedding Date: June 30, 2006
Dorian Pacelli's family is devoted to the Yankees. "I was born in pinstripes," said Ms. Pacelli, 28, a petite, porcelain-skinned brunette with a sweet, toothy smile. Growing up in Trumbull, Conn., she always remembered the visits from her older brother's best friend, Matthew Cerrone. For one thing, he was a Mets fan. But there was something else. "He would always give me a hug when he came to the house," Ms. Pacelli said. "He wasn't annoyed when I played the piano, and he never hit me with things or threw stuff at me. He was nice."
On Memorial Day of her junior year at U. Conn., Ms. Pacelli ran into Mr. Cerrone at a barbecue and was immediately smitten with his dark, shaggy hair, piercing eyes and manly, stubble-covered chin. They escaped to a closet, where Mr. Cerrone quickly got to first base. "It was Mike Piazza's first day as a Met," he said. "That day sort of changed my life around." Now that's amore!
For six months they dated in secret, worried about enraging Ms. Pacelli's brother à la Scarface. When he did find out, he gave the couple the silent treatment for a while. "It took him a while to get used to it," Ms. Pacelli said.
Their relationship had its rocky moments. "It was a labor of love for a long while," said Mr. Cerrone, 30. "We weren't too friendly during the 2000 World Series," Ms. Pacelli said. In 2001, they moved to D.C., where they lived for two years while she earned a master's in deaf education from Gallaudet and he developed a blog, Metsblog.com, to the point that it could pay the rent. They had to order a special cable package to get the New York baseball games.
After she graduated, the couple moved to a one-bedroom apartment in Milford, Conn., and Ms. Pacelli got a job as a special-ed preschool teacher at Trumbull Early Childhood Education Center.
Mr. Cerrone proposed in Boston, after a birthday meal in the Little Italy there and a Bill Maher comedy show. "I love you so much," he told Ms. Pacelli, standing near Faneuil Hall, which was decorated with Christmas lights. "And we make such a great team. Will you marry me?"
"Whaaa?" she said.
Mr. Cerrone repeated himself, inspiring a Saved by the Bell–like "Ooooooh" from a passing group of adolescent girls.
They will be married at the Waterview, a catering space in Monroe, Conn.—with Ms. Pacelli's brother in the wedding party, of course. "He couldn't be happier," she said.