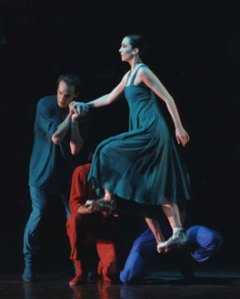 The City Ballet season just ended may prove to have been a defining moment in the company's history. A wave of talented young dancers has been advanced into the Balanchine repertory and thrust into an array of new works from this year's Diamond Project. Senior dancers past their prime are moving inexorably toward retirement—some gracefully, some with obvious reluctance. There are stirrings in the ranks of the ballet masters and mistresses which may gradually lead to needed changes in casting and coaching. Andrea Quinn, the stimulating resident music director, is leaving (her successor hasn't been announced). One can feel an effort being made to bring back to life certain Balanchine ballets that have been in dire decline, though there's never enough rehearsal time to get the job done properly, even if the coaching were consistently up to scratch. And the results of the Diamond Project itself, although over-publicized and underwhelming, were more positive than those of any of its five predecessors (a dubious compliment, it's true).
The Project's two final efforts made strong (and opposite) impressions. The first of them, Russian Seasons by Alexei Ratmansky, was eagerly anticipated, given the charm, ingenuity and fluency of his Bright Stream, a full-evening ballet that the Bolshoi brought to the Met last year. (Ratmansky is that company's 37-year old artistic director.) The new piece didn't disappoint. It's set to an intriguing score for chamber orchestra, violinist and mezzo by the Ukrainian composer Leonid Desyatnikov, and much of its strength lies in Ratmansky's response to the music—he listens to it, plays with it, enjoys it. A musical choreographer from Russia!
The material of the ballet is both folkloric and balletic. Three main couples and three subsidiary ones dance a series of episodes that have no direct story connection but are linked in style and feeling and reflect a community experience—a sad, fatalistic, Russian experience. Despite the difference in mood, it reminds one at times of Dances at a Gathering—the way the dancers both interact with each other and stand by observing each other—and, indeed, Jerome Robbins seems one of several influences on Ratmansky's vocabulary. There are also hints of Nijinsky's Le Sacre du Printemps and Nijinska's Les Noces from those Diaghilev Russian seasons that Ratmansky's title may or may not be referring to—but the tone is plangent rather than brutal.
Ratmansky knows how to get dancers on and off the stage naturally, alone and in groups (you'd be surprised how many choreographers don't); how to vary pacing and dynamics; how to capitalize on the individuality of his dancers. Wendy Whelan has the lyrical passages—at one point, she sits sadly on the ground, picking flowers, lamenting the loss of her soldier lover. ("We need nothing / Only six feet of earth / And four boards / Alleluia, alleluia," the singer chants—not that the non-Russian members of the audience could tell, since no words were provided in the program.) At the performance I saw, the more tempestuous passages fell to Rebecca Krohn, vivid in red. (The role was originally taken by Sofiane Sylve, the company's current powerhouse.) Jenifer Ringer's softness was used to advantage in a moving semi-spiritual sequence in which she steps longingly from one boy's hand to another's, reaching forward yet not arriving.
Russian Seasons isn't a masterpiece, but it's by far the most interesting and effective new ballet the company has given us in a long time, and a happy portent for the Bolshoi—and for City Ballet too, if it can bring Ratmansky back without waiting for the next Diamond Project. Here's a real choreographer at last.
The other big bang came from Jorma Elo, the Finnish resident choreographer at the Boston Ballet. Slice to Sharp is a perfect ballet for people who don't know much about ballet—it's all noisy surface, acrobatic effects, look-Ma-I'm-showing-off stuff. Again, Whelan has the (rare) quiet moments; Sylve, Maria Kowroski and the young and talented Ana Sophia Scheller are the other principal girls. Kowroski has had a terrific season, reveling in roles that don't demand of her the strict classicism she's never had and do exploit her open, exciting glamour. Sylve is clearly the dancer of choice for European choreographers—Elo and Ratmansky both respond to her formidable old-fashioned ballerina-ness. (Her problems lie in Balanchine, with certain exceptions like Cortège Hongrois and Firebird.)
The Elo piece, with its obvious sensational effects—high-impact encounters, daredevil throws, harrowing lifts—was a big hit with the audience, and the dancers were clearly happy barreling through it. But it lacks everything a serious work requires—and that Ratmansky displays. It's perversely set to music (by Biber and Vivaldi) that's radically at odds with the content of the dance; it has no discernible structure; it's almost all on one note; and it never suggests that it's about anything other than its snappy moves. Slice to Sharp—whatever that means—is febrile without being emotionally or intellectually engaging. In its high-kinetic emptiness, it's a true child of William Forsythe—only less competent and provocative.
THE QUESTION THE COMPANY FACES IS whether Peter Martins, now that he's developed a cadre of really promising new dancers, can reconcile his responsibilities to Balanchine with his impulse toward novelty. New work, as we're constantly being reminded, is important for the health of a dance company, but City Ballet is in the unique situation of being the chief guardian of Balanchine's legacy. Martins has frequently said that the company can't be a museum, and yet he must know that part of the company's job is to be a museum, and go on being one as long as Balanchine remains central to the repertoire.
When we watch young performers like Krohn and Teresa Reichlen and Sterling Hyltin (who brought the second movement of Western Symphony to life in her recent debut), and Sara Mearns, who has been handed so many of the big roles (with varying degrees of success), we can begin to hope for the future. But will these dancers be helped to dance Balanchine expressively as well as strongly—to phrase musically, to be open, large, fast, yet without push? Performances of Square Dance and Bourrée Fantasque at the School of American Ballet a few weeks ago prove that with enough time and dedication it can be done. And the person best equipped to help the company do it is Martins himself—he's a highly gifted coach. How fruitful it would be for his dancers if he could spend more time teaching and coaching them and less in making countless second-level ballets.
Since Balanchine's death, the quarrel between Martins' admirers and detractors has been an ugly one. Those of us who care first and foremost about the Balanchine repertory are labeled "Balanchine loyalists," a term used as a put-down, the way neocons use the word "liberals." No one, of course, openly puts Balanchine down, though there have been slighting references to Divertimento No. 15 and Duo Concertant in The New York Times in recent months. And only a few days ago, John Rockwell, The Times' chief dance critic, said of Balanchine's Episodes that "this is just the kind of austere, restrained idiom from which Mr. Elo provided such a liberating escape." I guess I'm such an old-fart loyalist that it's never occurred to me until now that Balanchine needed escaping from.
Rockwell goes on to say that "[t]he company, and the world of ballet, can and must encompass both extremes." But that implies that the two extremes are of comparable value. If only we did have new choreographers whose talent could balance Balanchine's. (Even Robbins wasn't on that level, as this season's revivals of the vapid Andantino and the tedious In Memory Of … remind us.) Yes, bad or mediocre ballets can be useful to the dancers and temporarily fun for the audience, but in the long run, the lowering of standards can only erode the art form we all love.