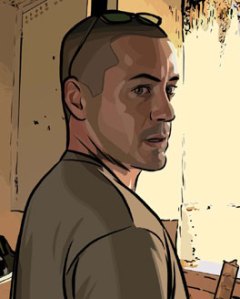 Richard Linklater's A Scanner Darkly, from his own screenplay, based on the 1977 novel by Philip K. Dick, is rendered in the same rotoscoping process that Mr. Linklater employed in Waking Life (2001). It's a means of expression resembling the eye-popping, hyper-android school of Japanese animation known as anime, except that it's actually modeled on the performances of real-life actors, in this instance Keanu Reeves, Robert Downey Jr., Woody Harrelson, Winona Ryder and Rory Cochrane. On another level, A Scanner Darkly unites the world of Austin, Tex., slackerdom that Mr. Linklater explored in his 1991 debut film, Slacker, with the only slightly futuristic world of expanded consciousness that Dick cerebrated in his more than 40 novels and innumerable short stories. The fluidly fluttery approximations of Mr. Linklater's technique are marvelously appropriate for this new breed of slacker in his adaptation of Dick's paranoid fable.
The time is whimsically described as "Seven Years From Now," as if our pharmacologically hysterical culture, with its ruinously long-running war on drugs and its orgies of universal pill-popping, has finally led to a total surveillance society with a camera on every street corner. The crystal meth that is allegedly sweeping across Middle America these days, far from the crowded cities and their cocaine, heroin and crack cartels, is represented here by Substance D, a high-powered hallucinogen derived from harmless-looking plants, which make their first appearance near the bitterly ironic final fade-out of the film. Substance D is ultimately linked with death in an afterword to the film that mourns the unhappy lives of the addicts known by Dick.
Mr. Reeves plays two sides of the same character: One side is a law-abiding and law-enforcing narcotics officer named Fred, whose identity is usually hidden behind a "scramble suit," which generates a stream of faces to make him a "blur" to the general public, particularly when he's addressing an audience of smug Rotarians. But inside his scramble suit, Fred's addicted alter ego, Bob Actor, is beginning to crumble from self-doubt under the pressure of working undercover as an all-too-convincing pill-popper and host at a group house of Substance D abusers. The latter includes Mr. Downey's practical joker and would-be government informant, Mr. Harrelson's wildly uninhibited and ostentatiously suspicious Ernie Luckman, and Mr. Cochrane's frequent visitor and drug-addled dealer, Charles Freck. Early on, the grotesquely shifty-eyed Freck dominates the proceedings with his insect-saturated hallucinations, as well as an imaginary encounter with a casually homicidal traffic cop. As it turns out, Freck is little more than a disposable lab-rat character who exists in the film simply to demonstrate the ultimate havoc inflicted on the psyche by Substance D.
Among the side effects of Substance D is the damper it places on sexual activity. Hence, when Bob makes a move on his apparently equally addicted girlfriend, Ms. Ryder's Donna Hawthorne, she repulses him with the strangely stilted admonition to keep his hands off her body. Yet when he walks out the door in angry frustration, she runs after him and begs him to stay and just talk. By this time, the atmosphere is so heavy with the miasma of deception, treachery and betrayal that it becomes increasingly difficult to follow the long, scattergun conversations. Throughout his career, Mr. Linklater has never been reluctant to overload his soundtrack with the most meandering philosophizing. Indeed, one of his most captious critics charged that his unfettered dialogue in Waking Life caused "metaphysical nausea." I would never go that far, even when Mr. Linklater is off in his calculations, if only because most of his films (and this includes A Scanner Darkly) make it all up with the poignancy and profundity of their dramatic payoffs.
But make no mistake about it: A Scanner Darkly isn't easy going; nor is it hypocritically moralistic and judgmental. The scramble-suit device does enable Mr. Linklater to enliven his narrative with two surprising revelations, though to describe these as shocks would be an overstatement. What is done in the film instead is the closing of the circle of human possibilities without blaming anyone in particular.
The performances of the small, multiply engaged cast are subtly engaging, particularly in the interplay between the impregnable passivity of Mr. Reeves' Fred/Bob and the antic energy of Mr. Downey's bee-like James Barris, who stings and stings everyone in sight with no discernible effect (or affect). In the final analysis, A Scanner Darkly provides a stylish peek at the future, which will probably be even more discouraging than the present—or have you stopped looking at the news too? Mr. Linklater emerges once again as the Austin auteur par excellence, even if A Scanner Darkly is set in a ratty precinct of Orange County.
The Breakup
Patrice Chéreau's Gabrielle, from a screenplay by Mr. Chéreau and Anne-Louise Trividic, based on the short story "The Return" by Joseph Conrad, turns out to be the most fascinating contemplation of the stormy breakup of a hitherto loveless marriage since Max Ophüls' Madame de … (1953) and Ingmar Bergman's Smiles of a Summer Night (1955). Since the original Conrad story was told entirely from the husband's point of view, Mr. Chéreau and Ms. Trividic rewrote the story to create a dramatic equilibrium in the screenplay between husband and wife. Pascal Greggory, as the wealthy Parisian publisher Jean Hervey, still delivers the complacent opening narration as he descends from a train into the heart of teeming Paris during La Belle Époque. While walking home, he reminisces about his fortunate marriage to Gabrielle (Isabelle Huppert) and the socially prominent life he has built for her in their palatial, overdecorated home, with its maze of statues and other artifacts across the dimly lit corridors and living spaces.
The film shifts frequently, from ominously shadowy black-and-white to mockingly riotous color, as the husband's memories shift accordingly from the mundane present to a recent dinner party presided over by Gabrielle in that regally detached manner which has always elicited his admiration, particularly since he privately despises most of the gossipy guests, especially a stout, pompous newspaper editor in his employ (Thierry Hancisse) who insists on pontificating on the latest theatrical atrocity he has witnessed. Still, Jean is reasonably complacent about the bargains he has made with society to achieve the status he holds. Yet a seemingly casual scene in which one of the guests leaves his party to go to a more "important" soirée suggests that Jean hasn't actually reached the top of the social ladder, and that perhaps Gabrielle has married just a little beneath her station.
When Jean reaches home, he is surprised at first by Gabrielle's absence, then devastated by a letter on her bedroom table telling him that she has left him for another man. With this one blow, all of Jean's inner feelings of security are shattered. When the front doorbell rings, Jean orders the servants not to admit anyone. But it is Gabrielle returning to retrieve her letter before her husband arrives home: As she later explains, she had simply changed her mind. The rest of the film keeps alternating between his point of view and hers as the entire history of the marriage is thrashed out, Jean exclusively with Gabrielle, and Gabrielle with her maid Yvonne (Claudia Coli).
There is one last soirée to endure before Jean and Gabrielle can find a kind of closure. It doesn't help matters for Jean when Gabrielle freely confesses that her secret lover is the very newspaper editor that he despises. What follows is full of both nuance and violence, compassion and contempt, irony and audacity. Mr. Chéreau and his collaborators have fashioned a visual masterpiece full of the most pungent and provocative dialogue. Cinematographer Eric Gautier and editor François Gédigier deserve much of the credit for the compelling inexorability of the narrative, and for the exquisite evocation of a luxurious dwelling that is at the same time a measure of the couple's material success as well as their spiritual and emotional impoverishment. In the end, both Jean and Gabrielle are admirable in the implacability of the courses they have chosen.
Deneuve et Depardieu
André Téchiné's Changing Times, from a screenplay by Mr. Téchiné, Laurent Guyot and Pascal Bonitzer (in French and Arabic, with English subtitles), reminds me of what I admire about the French cinema: its shameless adherence to the Hollywood work ethic in the good old days. At a time when box-office titans like Tom Cruise, Jim Carrey, Mike Myers and who knows who else are technically at liberty because no one in Hollywood can afford either their price or the budget for their pet projects, the French—big stars or small, young stars or old—keep grinding away. Here, Catherine Deneuve—now in her early 60's—takes on a part that is not exactly sympathetic or really substantial, and soldiers on with her erstwhile co-star, Gérard Depardieu—now in his late 50's, but still hot to trot in a strikingly masochistic role.
Set in Tangiers, Morocco, Changing Times is a multinational, multilingual mélange in which Ms. Deneuve's Cécile is the host of a French-Moroccan radio show who lives in Tangier with her much younger husband, Natan (Gilbert Melki), a Moroccan doctor who spends most of his time in the swimming pool, his career having stalled and his sexual interest having strayed to other women. Cécile is aware of her husband's infidelities, and she keeps her low-paying job as a means of retaining some measure of independence in case of a breakup. Mr. Depardieu's Antoine, an engineer temporarily in Morocco on a behind-schedule project that has him in a perpetual frenzy, is determined to renew an attachment to Cécile dating back 31 years. But when he sends her a bouquet of flowers, she throws it in the wastebasket, and when she finally confronts him after he has crashed clumsily into a glass door, she rebuffs him directly.
Meanwhile, Sami (Malik Zidi), the bisexual son of Cécile and Natan, pops up in Tangier from Paris with his Moroccan girlfriend Nadia (Lubna Azabal, who also plays Aïcha, Nadia's estranged identical twin sister, who works in a Tangiers McDonald's) and her 9-year-old son Said (Idir Elomri), whom Nadia has had with another man. To complicate matters still further, Sami has returned to Tangier at least partly to be reunited with his Moroccan boyfriend, Bilal (Nadem Rachatti).
In this torrid mix of alliances and misalliances, Mr. Téchiné manages to exploit the comings and goings of his restless characters to traverse much of the Moroccan landscape and seascape. Ultimately, the narrative is driven as much by its characters' aversions and indifferences as by their passions and affinities. Cécile and Antoine are tentatively reunited when he is on the brink of death from a near-fatal mudslide while driving his lethargic Moroccan laborers to greater efforts. The subtext of an outdated colonialism is never far from the surface, and so too is the arbitrary nature of our sexual choices and predilections. Changing Times is an interesting film experience, as much because of its chaotic narrative as in spite of it.